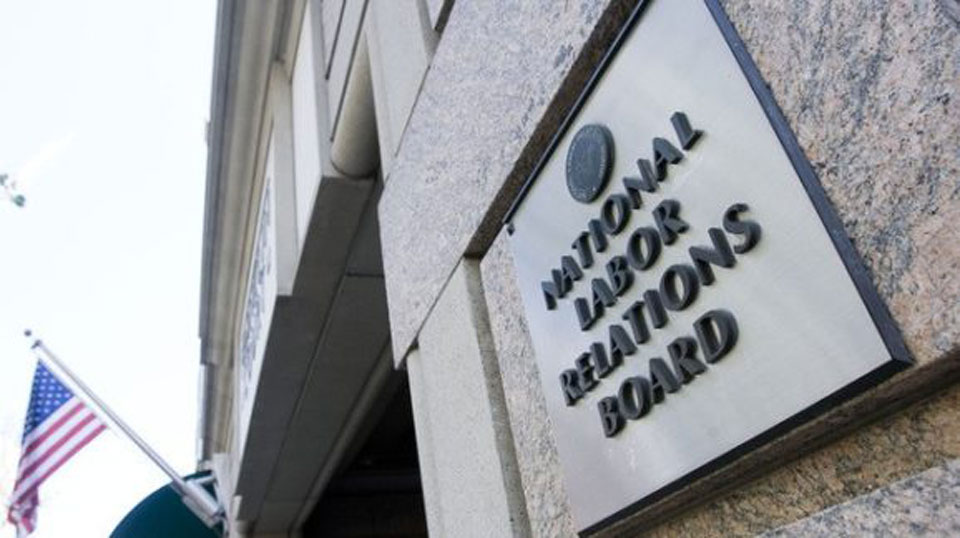 WASHINGTON —Union leaders and their congressional allies are pushing for more dollars for the National Labor Relations Board, as NLRB's top enforcement official, who also runs the staff, warned lawmakers that without an increase, she'd have to furlough people.
And such furloughs mean "union-busting CEOs" could run rampant, a top union leader, Communications Workers Secretary-Treasurer Sara Steffens, told a Dec. 13 Capitol Hill press conference organized by the Worker Power Coalition, which she co-chairs.
"What better present could the worst actors ask for than an understaffed NLRB that simply doesn't have the people power to oversee prompt elections or investigate firings and other forms of intimidation and unfair dealings?" asked Rep. Andy Levin, D-Mich., a former union organizer and AFL-CIO Deputy Organizing Director. "Congress must push for full funding for the NLRB—now!"
To back up their push, 24 organizations in the coalition—originally formed to campaign for the Protect The Right To Organize Act—launched a digital Facebook, Instagram, Google and LinkedIn ad campaign to advocate an increase.
Their demand comes as Congress is in a mad rush to fund the federal government for all of fiscal 2023, which began Oct. 1, and get out of town for good. If it doesn't, doors of much of the government will close starting Dec. 16 when a current temporary money bill expires.
Closure means layoffs of all but "essential" federal workers—and NLRB workers aren't considered essential on Capitol Hill.
NLRB's need for more money is drastic, say the lawmakers, unions and NLRB General Counsel Jennifer Abruzzo. The agency's funding has been frozen at $274 million since the start of fiscal 2014 on Oct. 1, 2013, she wrote to top lawmakers in charge of doling out federal funds. If it doesn't see an increase, she'll have to furlough staffers, she warned. That's on top of a decline in the number of NLRB workers over the last nine years.
Meanwhile, the number of unfair labor practices—labor law-breaking—complaints rose by 59% since 2014. And even though the NLRB has shortened the time its field staff takes to solve cases by 14%, there have been so many new cases that its backlog is up by 28%. A rising backlog slows justice for workers and costs employers money, too, Abruzzo added in a recent letter. They have to shell out more money for damages and backpay.
Abruzzo calculates NLRB needs at a minimum $15 million more to cover a planned 4.6% federal pay raise and 8% inflation for its non-labor costs. It also needs $3.7 million to move its offices into new quarters in Newark and Los Angeles and from Overland Park, Kansas, to Kansas City, Mo., as demanded by the government's "landlord," the General Services Administration.
"At this point, the agency has exhausted its ability to absorb cost increases through staff attrition and operational efficiencies," Abruzzo wrote.
The lawmakers and union leaders at the D.C. press conference on Dec. 13 made the same points. One, Rep. Alexandria Ocasio-Cortez, D-N.Y., was blunt about why this Congress must approve the increase now before it quits for good and a new Congress comes in.
"We have to attack this problem with urgency. We can't count on a Republican" U.S. House "to prioritize labor. We have to pass this now," she declared.
"As someone who was fired for union organizing, I know firsthand how dangerous it is to leave union-busting CEOs unchecked," said coalition co-chair Steffens, a News Guild member.
"Whether it's Starbucks workers in Memphis, an Amazon warehouse worker in New York, or a Verizon retail worker in Seattle, the fact is far too many workers are fired for exercising their right to form a union and demand the better working conditions they have earned. The NLRB must receive the full funding it needs to hold these billionaire CEOs accountable.
"Every Democrat who made campaign promises to stand with workers needs to put action behind their words by ending the funding freeze and giving the NLRB the resources it needs to level the playing field for workers. The Worker Power Coalition and the 24 million workers we represent are watching, and if Democrats fail to stand with workers now, we will remember when we go to the ballot box in 2024."
CWA, the Service Employees, the Auto Workers, the Painters, the United Electrical Workers, the National Employment Law Project, Jobs With Justice, Pride@Work, the Union Veterans Council, the Hoosier Heartland AFL-CIO, the Economic Policy Institute, Gig Workers Rising, the Working Families Party, Indivisible and MoveOn are among the alliance members.
Added Painters President Jimmy Williams, the other coalition co-chair: "Workers across the construction industry report widespread harassment, intimidation, and bullying from bosses, when they try to simply exercise their rights at work as guaranteed by law.
"The drastic underfunding of the NLRB means many of these workers will face delays in getting a union vote or receiving justice for illegal retaliation or termination from their employers–which is why Congress must respond to this crisis to stand with workers and fully fund the NLRB with this urgent budget bill."
Echoing Ocasio-Cortez and Steffens, Rep. Ilhan Omar, DFL-Minn., said the NLRB's funding freeze has cut its money by 25% in real terms in the last nine years.
"We are seeing a massive rise in organizing and worker power at levels not seen in decades. We are also seeing big corporations and their CEOs routinely violate the law to bust unions and cling to their profits. It is the NLRB that holds these billionaire CEOs accountable when they try to stand in the way of worker power. But they are under threat from Republicans who want to weaken them and undermine their work," Omar said.
But even as Abruzzo says she wants to avoid furloughs, not all is sweetness and light between the former CWA counsel and her NLRB staff. On Dec. 1, the staff's union set up an informational picket line in front of its own main offices in Southwest D.C.
The cause: Abruzzo's demand that everyone return to their desks downtown and in regional offices, rather than choosing to work from home to avoid the still-prevalent coronavirus pandemic.
"Our own NLRB bosses will soon make our jobs even harder by restricting our ability to work remotely," the union tweeted on Dec. 1 during its protest. "Starting 12/26, @NLRBGC will force us to waste time by commuting more to the office. Our work and lives will be needlessly burdened. Our mission will suffer."
'Race to the bottom much?" NLRB staffer Mike Bilik tweeted in response. "Like an anti-pension argument. Our ability to work remotely is what makes this job doable. We are being defunded, have lost half our staff, and we need to maintain flexibility. We suffer and the mission suffers. And yes we are suffering right now."