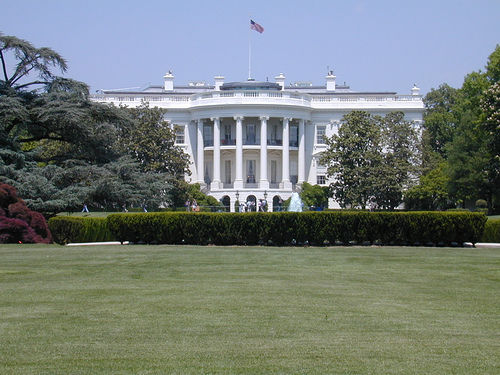 WASHINGTON (PAI)–Democratic President Barack Obama tried Jan. 11 to convince top union leaders to drop labor's opposition to taxing workers' health care benefits. But if remarks on the issue earlier in the day by AFL-CIO President Richard L. Trumka are any indication, Obama may not get very far.
Obama was scheduled to host Trumka and nine other leaders at a 4:30 p.m. Eastern Time meeting at the White House to discuss the tax. Labor has other problems with the Senate-passed health care revision, too, Trumka said. They include its lack of a public option to compete with the private insurance companies.
At issue is a key provision in the Senate's version of health care revision, taxing 40% of the value of workers' health insurance above minimums of $8,500 yearly for an individual and $23,000 for a family. Labor has been dead set against that, a stand Trumka repeated in a nationally broadcast speech Jan. 11 at the National Press Club.
"Thanks to the Senate rules, the appalling irresponsibility of the Senate Republicans and the power of the wealthy among some Democrats, the Senate bill drives a wedge between the middle class and the poor," he said. "Instead of taxing the rich" — as the House-passed health care revision does — "the Senate bill taxes the middle class by taxing workers' health plans."
And it's "not just union members' health care. Most of the 31 million insured employees who would be hit by the tax are not union members," he added.
In Q-&-A after the speech, Trumka went even farther. "The Senate bill is inadequate and does not deserve the support of working men and women," he stated, before adding the union leaders "are meeting with the president as friends to try to solve matters.
"But we aren't going to accept a bad bill just to get an agreement," he declared.
The "bad bill" Trumka cited is presumably the basis for the final version of health care revision. That's because Senate Majority Leader Harry Reid, D-Nev., had to make many compromises — including taxing workers and dumping the public option — to get the 60 Senate Democratic votes he needed to halt a GOP filibuster and pass the bill.
Besides Trumka, the other union leaders at the White House meeting — no staff were allowed — included Change To Win Chair Anna Burger, Steel Workers President Leo Gerard, Communications Workers President Larry Cohen, Teachers President Randi Weingarten, AFSCME President Gerry McEntee, Laborers President Terry O'Sullivan, Teamsters President James Hoffa and SEIU President Andrew Stern. The identity of the tenth leader was not immediately available.
The AFL-CIO is sponsoring a National Call-In Day, Wednesday, Jan. 13, urging everyone to call toll-fee 1-877-3-AFL-CIO and urge their representatives to support the changes it is seeking in the health care legislation moving through Congress.