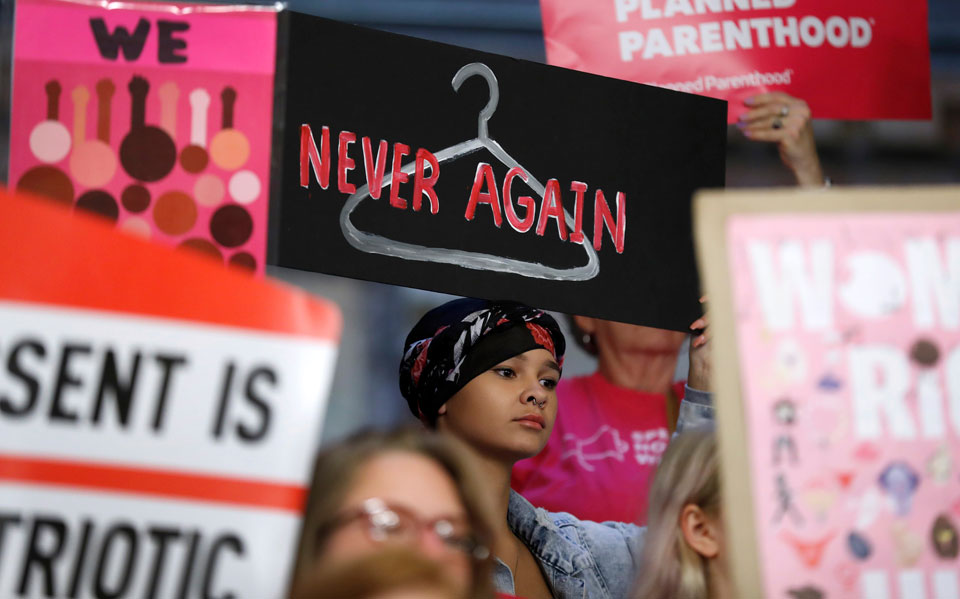 PHILADELPHIA (PAI)—With a Supreme Court ruling looming abolishing the 49-year-old right to abortion, prominent unionists recently discussed with a top White House aide how to protect women's access once the Republican-named Supreme Court majority yanks the right.
Representatives of the United Teachers of Dade (AFT), the Michigan Education Association, Service Employees 1199, National Nurses United co-President Deborah Burger, and Coalition of Labor Union Women President Elise Bryant got sympathy from Democratic President Joe Biden's director of the White House Gender Policy Council.
But they didn't get a commitment for specific moves, Bryant told People's World during the AFL-CIO Convention in Philadelphia.
And White House council director Deborah Klein "underscored the president's commitment to reproductive rights." Abortion advocates have recently been engaged in a debate about whether to stick with that euphemism or bluntly use the word "abortion."
The abortion ban is important because "workers of color, the poor, and working-class people are going to be hurt the most," said Washington Baltimore News Guild board member Elise Bryant, president of the Coalition of Labor Union Women.
Some will still be able to get abortions, but only by traveling across multiple red-state lines to reach a blue state that still protects the right to abortion.
But to give an idea of how disastrous outlawing abortion would be, Bryant quoted the White House official, Jennifer Klein, as telling of two women raped by their father, in pre-Roe days, gave birth. "Those women should have had the right to terminate a pregnancy."
Texas criminalized abortion after six weeks, by establishing $10,000 bounties for anyone who turns in somebody aiding a woman who seeks an abortion. So women now travel to New Mexico, Colorado, and East St. Louis, Ill., at great personal expense for one. If they can afford to do so, that is.
And if the majority completely overturns Roe v Wade, the historic 1972 decision that made abortion constitutional, the Texas law would become even worse, the Texas Tribune reports. The only exception would be to save the life of the mother, or if the mother risks "substantial impairment of major bodily function." Doctors who break the law would face fines of up to $100,000 and up to life in prison.
Bryant said she raised the idea of a one-day nationwide women's strike, but offered no date. She also got no reaction. "We have to do something," she urges. "This is not an intellectual process.
"This is about power—power over their (womens') own bodies. That's what's being challenged." Of abortion foes, Bryant commented, "They want to go back to the days when women were barefoot and pregnant."