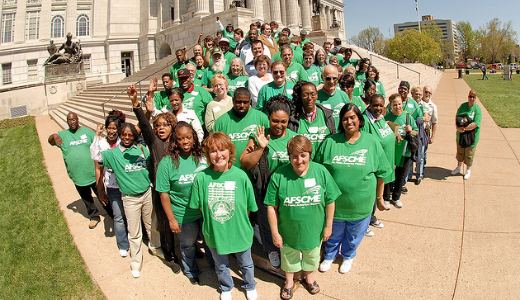 ST. LOUIS – "This is all about consolidating power," Jeff Mazur, executive director of AFSCME Council 72, told union and community leaders via conference call, as they packed into the American Federation of State, County and Municipal Employees (AFSCME) Local 2730 conference room, here April 13.
"This is about eliminating the organizations that represent people. With one vote they are trying to take away our rights," Mazur continued.
Mazur was referring to so-called paycheck "protection" legislation, specifically SB 202 that passed the Missouri Senate last Thursday, April 7.
Paycheck "deception," as it is referred to by union leaders, attacks organized labor, collective bargaining and all workers' rights by severely weakening public sector unions' ability to collect dues and spend money on political campaigns. SB 202 would specifically target public sector unions and force up to an $8 surcharge on all union payroll deductions for every withdrawal. Other organizations with payroll deductions do not face the same surcharges.
Additionally, SB 202 will put paycheck "deception" on the Missouri ballot in 2012, which will mobilize the right-wing base in an all-important presidential election year.
With only four weeks left in Missouri's legislative session union leaders expect paycheck "deception" legislation to be heard in the House sometime next week.
However, according to Josh McCarroll, Council 72's legislative director, "We are opposed to paycheck 'deception,' not just one bill. There are different bills that achieve the same goal. This is a moving target. The time to act is now."
Alabama recently passed a paycheck "deception" law, and legislation has also been introduced in Arizona, Kansas and Mississippi. Ballot language in favor of paycheck "deception" has also been filed in California.
Council 72's political director, John Noonan said "How we talk about paycheck 'deception' is really important."
"We can't fight their message with facts and figures. It doesn't work. It won't even work on other union members," Noonan added.
Instead Noonan suggested that union members and their allies talk about "our right to make decisions about who and what we support, and that this is an attack on the middles class." He said, "They just want to pay back their CEO buddies who tanked our economy."
The meeting at the AFSCME hall was one of five state-wide strategy meetings taking place this week in Missouri to formulate a fight-back strategy.
AFSCME, the Service Employees International Union (SEIU), the Missouri State Workers' Union (MSWU-CWA 6355), among many others, are leading the fight-back with partners like Missouri Jobs with Justice, Missouri Pro-Vote and the Missouri AFL-CIO.
Photo courtesy AFSCME Council 72.