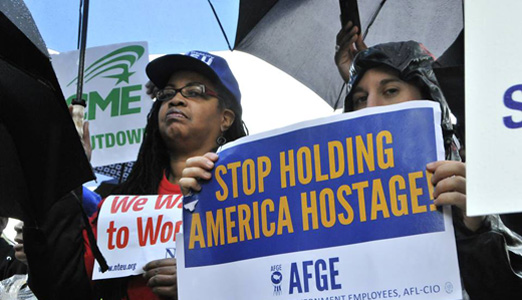 WASHINGTON (PAI) – Union leaders welcomed Congress' end of the two-week partial federal shutdown and the decision to suspend the nation's debt limit, thus avoiding what would have been a first-ever default by the U.S.
But one, AFGE President J. David Cox, also warned we could be right back in the same partisan soup in several months when the legislation mandating those two moves expires.
"On behalf of the 670,000 federal employees represented by AFGE, I am thrilled a deal was reached to put our members back to work and restore the services American taxpayers count on," said Cox, most of whose members were locked out of their jobs for more than two weeks.
"Thousands could not manage through the shutdown on goodwill alone, and they lost their apartments, daycare slots, and good credit scores.
"Make no mistake about it: This is not a happy day for federal employees. The Senate deal is simply a brief reprieve from the suffering federal employees and their families have endured for the past 16 days. We cannot accept another government shutdown in just a few short weeks. Federal workers and the public they serve have suffered enough," Cox declared.
The lockout, caused by tea party demands that any law funding the government must also "de-fund" the 2010 Affordable Care Act – the tea party insultingly calls the law "Obamacare" – idled at least 800,000 federal workers starting on Oct. 1.
When that tactic failed, the tea party schemed to block the debt limit increase, which would have caused the U.S. to default on its bond interest payments and payments to Social Security recipients, veterans, workers, vendors and more. Cox, a Veterans Affairs Department worker on leave, concentrated on the impact on the workers and the public.
"Countless federal workers have been forced to choose between paying their mortgage and feeding their families, between buying gas to get to work or paying the electric company," Cox said. "Countless members have called me in tears looking for answers to the financial burden this reckless shutdown has put on their families.
"Federal workers are also deeply frustrated by the impact the shutdown has had on their ability to serve the public," he said. They wanted "to go to work and provide for their families and their country, but were turned away by shameless politics.
"When federal employees look back on this fiasco, they will remember the veterans who were prevented from filing for disability benefits, the patients turned away from cancer treatment trials, polluters who were left to foul the air and water, the miners who died from lack of Mine Safety and Health Administration enforcement. They will think of the homebuyers who couldn't apply for mortgages, the soldiers who had to make do until weapons were repaired and delivered.
"The economic and social costs of shutting down vital government services for weeks will be felt for months and possibly years. Backlogs will eventually be processed, and federal workers' savings will slowly be restored. But the taint of this outrageous effort to undermine the Affordable Care Act will likely affect government service for a long time," he predicted.
He also asked voters to remember who – the tea party – was responsible for the chaos. After thanking Senate Majority Leader Harry Reid, D-Nev., for holding firm against "a radical group of hostage takers," Cox said that "those who perpetrated this inexcusable catastrophe on the American people should be turned out of office in 2014."
He also vowed his union and its members "are nobody's bargaining chip" and will not be scapegoats or asked to shoulder even more cuts. The federal workers have already endured 11 days of furloughs due to "sequestration" – Washingtonese for GOP-imposed budget cuts – and a 3-year pay freeze.
"Our message to lawmakers is clear: No more cuts, no more furloughs, no more sacrifices on the backs of hardworking Americans. We will also fight to protect Social Security and Medicare benefits from any reductions, including cuts from the so-called chained CPI." Service Employees President Mary Kay Henry agreed.
"While the deal announced today is a short-term fix to a crisis manufactured by the far right wing of the Republican Party, it should not be the end of the debate over our fiscal priorities," she warned. "Devastating cuts under the sequester remain in effect and Congress in the coming months should restore funding to vital services that millions of Americans depend on and make new investments to get our economy moving again.
"Fortunately, today's deal does not significantly impact the Affordable Care Act," Henry added. Reid, House Minority Leader Nancy Pelosi, D-Calif., "Democrats and reasonable Republicans deserve credit for not allowing far right extremists to undercut a law that will expand healthcare coverage to millions of Americans," she declared.
The end came near 5 p.m. on Oct. 16, when Reid and Minority Leader Mitch McConnell, R-Kent., announced the deal. House Speaker John Boehner, R-Ohio, threw in the towel, saying he would not prevent a vote on it there, despite the outraged howls of his tea party wing. He vowed to keep fighting to kill the Affordable Care Act.
Photo: At an Oct. 10 rally against the government lockout. AFGE Facebook page.
TOWN HALL May 2 – Confronting the COVID Economy: Women Fight Back