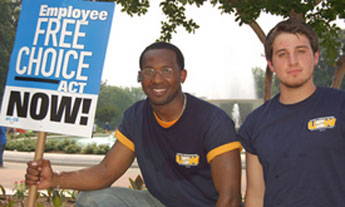 WASHINGTON – Union leaders applauded President Obama's emphasis on creating more jobs and aiding the middle class in his Feb. 12 State of the Union address. They wish, however, that he had included in the speech some mention of the importance of fighting for the union organizing rights of workers.
They know the president is a strong supporter of unions and they note that lawmakers who attack the president are almost always the same ones going after union rights. Tea Party Sen. Rand Paul, R-Kent., for example, delivered the tea party response to the State of the Union Message in a live online presentation after Obama finished speaking. Sen. Paul, before giving that speech, introduced his national right to work (for less) bull into the Senate. Union leaders see the weakening of union rights and the drop in union membership numbers as key factors in the backward movement of the middle class and in the economic crisis as a whole.
Nevertheless, Obama spent at least 60 percent of his hour-long speech on the jobs related issues that are of utmost importance to unions and their members. His key points included encouraging more U.S. manufacturing (such as creation of more manufacturing innovation centers to add to one now operating in Ohio), a raise in the minimum wage to $9 an hour and indexing it to inflation, and adding 70,000 jobs "right now" as part of a $50 billion infrastructure construction program.
Obama also reiterated his demand for strong and comprehensive immigration reform, including a road to eventual citizenship for the 11 million undocumented workers in the U.S. Granting citizenship to the undocumented brings them under the full protection of all U.S. labor laws.
That would let the workers organize, end some of the ways employers now discriminate against them, and end employer ability to leverage their existence to drive down wages for all workers.
AFL-CIO President Richard Trumka pledged that unionists "will fight by his (Obama's) side to build an economy that works for all.
"Obama rightly put rising wages and good jobs as his top priority, and we fully support him," Trumka continued. That includes immigration reform, the minimum wage hike, ensuring the right to vote, campaigning for early childhood education, and emphasizing manufacturing and infrastructure."
Trumka added two critical comments. One called on Obama to publicly campaign for legislation strengthening the right to organize. The other said both Obama and Congress must end "the emphasis on wrong-headed austerity that will only weaken our economic recovery.
"We need an immediate solution to growth-killing sequestration cuts and a balanced approach to deficit reduction, including steps such as closing tax loopholes, and ending subsidies for exporting and offshoring jobs, " Trumka added.
"Today's economic challenges result directly from decades of inadequate job growth, wage stagnation and growing inequality. If there is one tool workers need to succeed, it is the right to organize and bargain collectively. But in the end, the President's words are meaningless if they do not produce action – and it is our responsibility to fight for the president's vision and the policies outlined tonight," he said.
UFCW President and Change To Win Chair Joe Hansen also said Obama should push the right to organize and bargain collectively:
"For the last couple of years," Hansen noted, "Corporations and their cronies in government have constantly attacked unions and the freedom to collectively bargain. It would be welcome for Obama to outline his second-term vision for a strong economy by condemning the "right to work" campaign that is threatening the middle class. This isn't just important to union members – it's important to the entire country that the right of workers to collectively bargain for the wages and benefits that they deserve is protected."
Steelworkers President Leo Gerard applauded Obama's emphasis on increasing manufacturing and raising the minimum wage.
Obama's "network of 15 high-tech innovation hubs will help ensure the United States is prepared to lead the next industrial revolution," Gerard explained. "His ideas to revitalize our crumbling infrastructure not only will bring our education, energy, transportation and communications systems into the 21st century, but also will grow the middle class with tens of thousands of solid, family-supporting jobs, the kinds of jobs that Americans need and deserve.
"Also, the president's proposal to increase the minimum wage is long overdue. Too many Americans for too long have been working long hours at multiple jobs and still struggling just to survive. We cannot call ourselves the greatest country on earth and allow that to continue."
Laborers President Terry O'Sullivan, like other construction union leaders, greeted Obama's remarks on renewing U.S. infrastructure. Earlier in the day, at a symposium, O'Sullivan commented: ""Taking care of the basics of America is a core function and responsibility of the federal government. America's infrastructure – our roads, bridges and highways and water systems – are in a state of crisis.
"Across the U.S., 26 percent of all bridges – are structurally deficient or functionally obsolete. A third of major roads are in mediocre or poor condition and 36 percent of major urban highways are stretched beyond capacity. Each day, seven billion gallons of clean drinking water is lost to leaking pipes. The scope of our needs is beyond the capacity of cities, counties, even states or private investment to address and the economic impacts could be devastating."
AFSCME President Lee Saunders and Amalgamated Transit Union President Larry Hanley also applauded Obama's jobs emphasis. But while Trumka contented himself with calling on other – unnamed – political leaders to back the president, Hanley and Saunders were more caustic about the Republicans' role: "Our nation has become a nation of two classes – the small cadre of the super rich and the rest of us – bus drivers, hotel workers, school teachers, fire fighters, and working families who have been victims of and taken the blame for this recession," Hanley said.
"It's time for Republican leaders in Congress to get serious about shared sacrifice in our nation by requiring the wealthy to pay their fair share of taxes," to pay for mass transit, he added. Then people can "safely and affordably get to and from work, school, the doctor and the grocery store," and the nation can also pay for infrastructure improvements and other job creation measures."
"Congress must stop partisan posturing and do the job they were sent to do," Saunders said. "We stand at a pivotal moment in this country. We can either pull together and rebuild the middle class, strengthen vital services or we can cede more power and wealth to a chosen few. It is up to all of us, to make our voices heard, to stand up for working families, and to demand that those of us who play by the rules and work hard have the same benefits and rights as those who earn millions."
Ai-Jen Poo of the National Domestic Workers Alliance – a group with many members with undocumented-worker relatives – lauded Obama's immigration push, but said the undocumented workers "should not go to the back of the line."
"We must be careful the road to citizenship for aspiring Americans does not become an obstacle course with unrealistic requirements. Millions have already waited for years, while helping to build the economy in many industries. Their work makes all other work possible. It's time we make America work for all of us."
And Saru Jayaraman of the Restaurant Opportunities Center, a union-backed organization of workers who survive on tips, said Obama should have proposed raising their minimum wage, too. It's now $2.13 an hour and hasn't been raised in 22 years. Jayaraman and Rep. Donna Edwards, D-Md., unveiled legislation on Jan. 13 to raise it to $3.75. "Then, and only then, can we ensure that all workers earn a fair day's pay for a hard day's work," Jayaraman said.
Photo: Union leaders wish the President had given specific support to legislation making it easier to organize a union. In this photo, two USW workers support the Employee Free Choice Act, which would have made it easier to organize a union. The bill was killed in the Senate three years ago by a Republican filibuster. PW