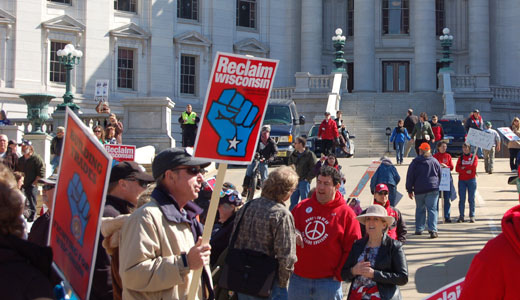 NEW YORK (PAI) – With sights set on the November 2014 elections, Graphic Communications Conference and International Brotherhood of Teamsters leaders are pledging to work tirelessly for pro-labor candidates and assure there is no repeat of the disastrous midterm contests of 2010.
What they aim for is to prevent a repeat of the mid-term results four years ago. That's when, analysts say, a Tea Party-fueled backlash against Democratic President Barack Obama and his signature Affordable Healthcare law ousted 63 Democrats from the U.S. House and six from the Senate.
The GOP momentum spread to states like Wisconsin, where right winger Scott Walker was elected governor and, with Republican state legislative colleagues, quickly enacted legislation that stripped basic bargaining rights from public employees.
GCC/IBT leaders vow not to be caught flatfooted this time around.
"We let down our guard in 2010," said union President George Tedeschi. "It won't happen again." Other union leaders voiced similar sentiments.
"I would tell people that labor should reward its friends and punish its enemies," said Frank Golden, business representative and organizer for District Council 4 in the Chicago area, quoting American Federation of Labor founder Samuel Gompers. "I use that as a stepping stone and tell these people, because we got a little time to go, and just throw that straight at them as a reminder."
It's a general rule of politics that midterm election results are largely determined by a president's job approval rating. If the chief executive is well-regarded, voters are apt to favor his party. A president with low public opinion scores can be a detriment.
"Using the president's approval rating, even in a midterm election, is useful because, for better or worse, a president is the face of his party," wrote Charlie Cook, editor of The Cook Political Report and one of the nation's leading political analysts. "Although voters rarely reward a party for having a popular president, they are quick to register their displeasure with a chief executive by voting against the candidates of that party in a midterm election." That's especially true in a president's second mid-term.
In 2006, GOP President George W. Bush was struggling and Republicans lost 30 House seats, six Senate seats and majorities in both houses of Congress. Polls show history may repeat itself.
That's because Obama also has lost ground recently. By mid-June, an average of 49 percent of those surveyed, in dozens of polls compiled by Real Clear Politics, said they disapproved of the president's performance.
Obama's slide was tied to several embarrassing episodes — Internal Revenue Service agents allegedly hounding tea party-affiliated groups, secret collection of data from Associated Press reporters, and the National Security Agency's surveillance of phone calls and overseas Internet use.
Next year, all 435 seats in the GOP-dominated U.S. House are up for election in the president's second mid-term. And 33 Senate seats, a majority of them Democratic-held, will be contested.
Overall, Democrats hold 52 Senate seats, Republicans hold 45, and independents, two. Sen. Frank Lautenberg, D-N.J., who died in June, held the other. GOP Gov. Chris Christie appointed a Republican to replace Lautenberg until a special October election, upping the GOP's Senate total, temporarily, to 46.
There will be 36 statehouse battles in November 2014, with most in GOP hands. Among the most closely watched will be the gubernatorial race in Wisconsin, where Walker is running for re-election. The GOP governor beat back a recall election in 2012 despite efforts by organized labor to oust him after Walker pushed legislation virtually killing collective bargaining for most of the Badger State's 200,000 public workers.
Similar pieces of legislation also were proposed in Ohio and Michigan, now a right-to-work state.
Golden said that Democrats must be held accountable, too. "There's a lot of Democrats out there who made a lot of promises that they haven't really been stepping up on either," he said.
The fights over worker rights, in both the states and over the NLRB, show the stakes are high in 2014 even though midterm elections lack the fanfare – and turnout – of presidential contests.
"We need to find and support the candidates that serve our members interests," said Ronnie Pineda, president of GCC Local 140-N in Los Angeles. "In the last 10 years we've gotten people elected and they've betrayed us. I for one am a big believer in education. We need to educate ourselves completely with every one of the candidates and any other new laws that may be on the ballot."
Jack Noone, president of Local 241-M in Scranton, Pa., said union leaders must help members – and their families – stay focused.
"Right off the bat we have to try to educate people so they understand what the really important issues are, and not be distracted by these scandals," he said, adding some of Obama's performance must be attributed to the Republicans' willful obstruction of his efforts.
"We have to try and get them involved and help them understand the issues," Noone said. "We have to get people on board."
Zachary Dowdy writes for the Graphics Communicator.
Photo: Unions found it necessary to occupy the Capitol in Madison Wisconsin after Scott Walker, who was swept into office in the last mid-term tea party wave, attacked the collective bargaining rights of workers. Blake Deppe/PW