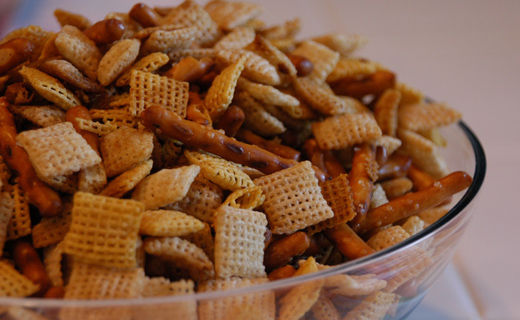 No doubt during this upcoming long July 4 weekend-maybe at a backyard gathering of your family and friends or during the World Cup games-you'll likely feel like a little snack. Well, here's a list of union-made-in-America snacks-from the salty, like Lay's Potato Chips and Cheez-Its, to the sweet, such as Cracker Jacks and Oreos. And for those of you trying to keep the weight off, we have some more healthy options, too.
These treats are made by members of the Bakery, Confectionery, Tobacco Workers and Grain Millers (BCTGM), United Food and Commercial Workers (UFCW), Machinists (IAM) and United Farm Workers (UFW) and Teamsters (IBT). For more union-made-in-America products, be sure and visit the Labor 411's website and the Union Label & Service Trades Department.
Sweet and salty snacks
Act II Popcorn, Bagel Bites, Bakenets, Barnum Animal Crackers, Better Cheddars, Bugles. Cameo Cookies, Cheese Nips, Cheetos, CheezIt, Chex Mixes, Chips Ahoy!, Cornnuts, Cracker Jack, Crunch N' Munch, Doritos, Fig Newtons, Frito Lay Dips, Fritos, FudgeO's, Funyuns, Ginger Snaps, Grandma's Cookies, Honey Maid Graham Crackers, Keebler Cookies.
Krispy Crackers, Lay's Potato Chips & Dips, Lorna Doone, Mallomars, Marshmallow Peeps, Matador Beef Jerky, Maui Style Potato Chips, Miss Vickie's Potato Chips, Mission Chips, Munch 'Ems, Munchos Potato Crisps, Nabisco Nilla Wafers, NutriGrain Bars, Nutter Butter, Old El Paso Chips, Dips and Salsa, Oreos, Orville Redenbacher Popcorn.
Pinwheels, Premium Crackers, Quaker Oats Granola Bars, Quaker Snack Mix, Rice Krispies Treats, Ritz Crackers, Rold Gold Pretzels, Royal Brand Pudding & Gelatin, Ruffles, Slim Jim, Smartfood Popcorn, Snackwells, Snyders of Berlin, Stacy's Pita Chips, Sun Chips, Tastykake, Teddy Grahams, Tostitos, Tostitos Dips & Salsa, Triscuit, Vegetable Thins, Welch's Fruit Snacks, Wheat Thins, Wheatsworth Cracker, Wise Chips & Snacks. (story continues after video)
Healthier alternatives
Andy Boy Vegetables, Blue Diamond Almonds, California Mushroom Farm Inc., EuroFresh Farms Vegetables, Fresh Express Salads, Hidden Valley Salad Kits, Monterey Mushrooms, Ocean Spray Cranberries, Sunkist Citrus Fruit-look for the UFW black eagle.