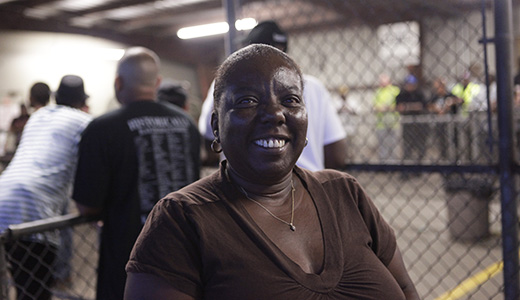 NEW ORLEANS – As they operate the cranes and forklifts at this famous port, workers here say they are 100 percent behind the fight for union rights being waged by their fellow workers across the country.
David Magee, vice president of International Longshoremens' Association Local 3000, invited People's World reporters to mingle with hundreds of dockworkers as they shaped up for the day's work on the port at 6 a.m. last Saturday. They had a lot to say.
"They are attacking unions, that's plain crazy," said Denice Armsted, an African American who was the first female ILA member to come to work on the docks here 15 years ago. "If it weren't for a decent union job how would I have raised my three kids?"
"I couldn't bring up a family on a low-wage job in a tourist trap or at a fast food restaurant," she said. "And this job makes me feel like I am somebody. I drive a forklift and I match up with the best of them."
"What we do here keeps this whole country going," she added.
Armsted has a reputation as one of the best crane operators on the port.
"At first some of the men didn't think I could do the job on the docks, but now they all know that I know what I'm doing," she said.
When she went to work at the port, she said, "people in my family thought I was crazy and even now sometimes they tell me to quit. I won't. I love this work."
Armsted said that creation of good paying jobs is a critical need in the area.
"The only way to bring back New Orleans is to create thousands of union wage jobs. Rebuild the 9th (Ward) and expand the port and pay the people well and then you'll see this city really get cooking," she said.
Reginald Johnson, an African American, is a lasher – he secures containers on the large cargo ships that continually leave from the port here. Johnson has a wife and four children and has worked almost 20 years on the docks.
He came back to New Orleans within days after the Katrina evacuation and began to repair the damage to his home – several feet of water and a torn roof. He got together with some of his buddies, commandeered some boats, and spent a week rescuing people.
His 19 year-old-daughter, a medical student, lives at home. She has cancer.
"If it weren't for the union I wouldn't have the health coverage that keeps my baby alive," he said, "and keeps her healthy enough so she can have a life that means something."
Johnson said his job allows his 21-year-old son Eric, who also lives at home, to attend Tulane University here. Eric is becoming a professional photographer.
He said his 22-year-old son Jallmal studied art and his 24-year-old daughter Brandy is a fitness instructor.
"A job isn't a job," Johnson said, "unless it allows you to do something like that. The union is the reason I got my fair chance to live like a man and raise a family. We got non-union people doing on the docks for $5 what the union guys get paid $22 to do."
Johnson said the fact that Louisiana is an "open shop" state is a major reason it has been so difficult to rebuild after Katrina.
"When Bush was president the government came in here and gave contracts to non-union outfits. You can't rebuild if you reconstruct something and leave behind afterward people who can't afford to buy anything," he said. "It's crazy. It doesn't make any sense."
Johnson pointed out that Republican attacks on Obama are being orchestrated by the same people who oppose unions.
"They are going after President Barack because they know, deep down, he is on the side of the workers," Johnson said. Speaking of Obama's election in 2008, he said, "That election really wasn't an election. That was a movement. You had a movement like this country never saw before and we are going to have to do it again. Otherwise we are in deep trouble."
Dockworker Reginald Johnson talks about what a union means to him:
Video by Blake Deppe/PW.
Photo: ILA member Denise Armsted is proud of her union job. Colin Gray/PW