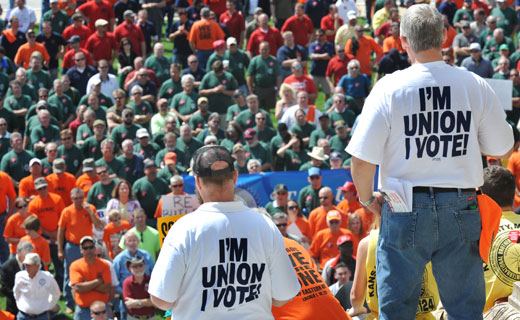 NORTH LAS VEGAS, Nev. – Steven Horsford wants to be inducted into a very small group: members of Congress who are, like him, active union members.
In an era when most lawmakers are millionaires, business owners, lawyers, and professionals, Horsford join a precious few others, led by Democrats Mike Michaud of Maine, Linda Sanchez of California, and Stephen Lynch of Boston, as current unionists. Those three co-chair the Congressional Labor and Working Families Caucus.
Horsford also symbolizes another union goal: To get more unionists to run for and win office, for everything from school board on up. At one point, the AFL-CIO had a "2,000 in 2000" program with a target of 2,000 elected unionists nationwide.
No figures are available of how many unionists actually now serve as elected officials. Past results have fluctuated. After the 2008 election, for example, the Democratic-Farmer-Labor (DFL) Party controlled the Minnesota legislature and one-sixth of all lawmakers there carried union cards. But many of them were swept out in the 2010 GOP – Independent Republican in Minnesota – landslide.
And New Jersey's Democratic-run legislature agreed to anti-worker GOP Gov. Chris Christie's 2011 plan closing a state budget gap by – among other things – tripling state workers' health insurance premium payments.
That scheme brought 30,000 protesting Communications Workers into the streets of Trenton, and cost State Senate President Stephen Sweeney, an Ironworker, and other Dems a lot of labor backing this year. Yet New Jersey claimed several hundred unionists held local elected offices, most of them non-partisan posts.
In Oregon, AFSCME member Geri Hauser, IBEW member Claudia Kyle, Fire Fighter Paul Holman, and Oregon Education Association members Chris Gorsek and Arnie Roblan and an incumbent, Carpenter Paul Holvey, seek state legislative seats. OEA member Jeff Reardon, a shop teacher, is already in.
Having upset a Democratic incumbent – a Laborer – in the primary, Reardon's unopposed for a Portland-area seat. "When it comes to bread-and-butter labor issues, bargaining rights, rights at work, people who understand the labor movement and who have lived those values as union members themselves make better advocates," Elana Guiney, Oregon AFL-CIO political and communications coordinator, told the Northwest Labor Press. "The more that people can talk first-hand about those issues, the better off workers are."
Missouri State Sen. Tim Green, a Democrat and building trade member, forced to retire by term limits this year, proved that point. Though Democrats were in the state senate minority, Green pushed through legislation in 2012 extending to utility workers protections against violent attacks.
That leaves Horsford. Even though he's got a Democratic-leaning district, Nevada's new 4th , Horsford, a member of Culinary Workers Local 226 – Unite Here's largest local – faces several problems. His race is a tossup. Earlier, it leaned his way.
One is that even though Horford's the state senate Democratic leader and CEO of the union's Culinary Training Academy, he's virtually unknown outside his senate district in North Las Vegas. The new congressional district takes in much of Nevada's rural, GOP-leaning areas, too.
That's where his foe, Danny Tarkanian, has a huge advantage: Party affiliation and 100 percent statewide name recognition. Danny is the son of Jerry Tarkanian, the longtime, fabled, controversial basketball coach at the University of Nevada-Las Vegas.
Both candidates raised plenty of money: Horsford $1.27 million and Tarkanian $934,000 through Sept. 30. But outside special interest spending tilts Tarkanian's way: $885,000-$742,000 according to OpenSecrets.org. And Tarkanian had $388,000 in the bank compared to $248,000 for Horsford as the race entered its final days.
So Horsford must again rely on his union local and its 60,000 members to be his foot soldiers. His story, the local's backing and the difference in his legislative impact were part of a recent American Rights At Work report on unionists seeking office.
When elected, ARAW analyst Michael Wasser's study says, unionists – predictably – have much better pro-worker voting records than their non-union colleagues, regardless of party.
"Horsford notes his Culinary Academy work provides valuable experience for serving in elected office," Wasser wrote. "Just as legislators face varied factions and interests clamoring for attention, Horsford must find ways to satisfy multiple interests in the labor-management partnership" with gaming owners to ensure the academy fills their needs. That means achieving the objectives of all stakeholders and forging consensus sometimes when it does not look like it is there initially," he told Wasser.
"What I have tried to do in my experience at the [Culinary Academy] has been to try to inform [the legislative work], not just for union members, but for all people that are trying to get access to employment or trying to move their career or advance their career," Horsford added.
Photo: Julie Smith/AP