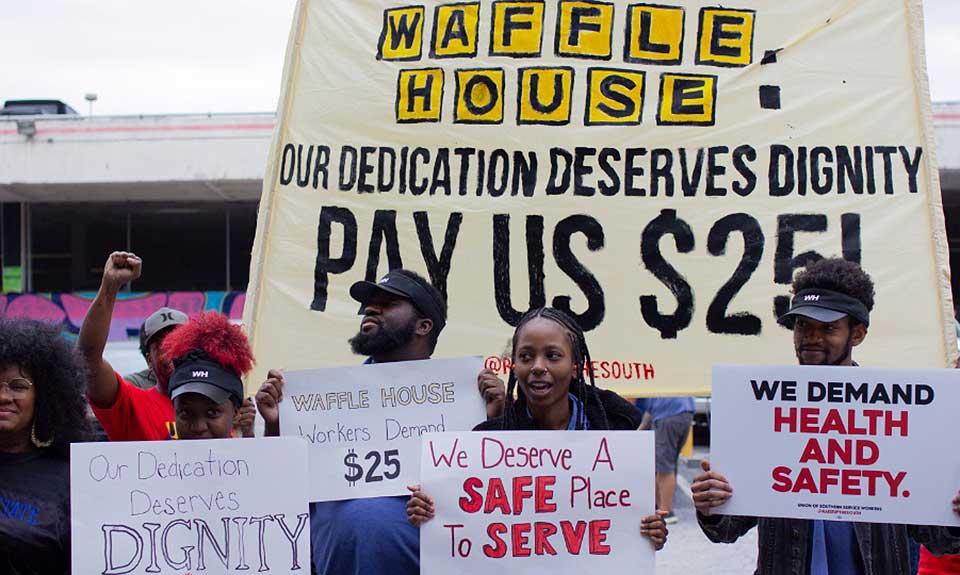 ATLANTA—On Thursday, Sept. 21, 2023, members of the Union for Southern Service Workers (USSW) gathered in a downtown Atlanta parking lot on a brisk early fall morning. As union members rubbed their hands together and joked about being underdressed, many held protest signs, megaphones, or carts carrying water bottles.
Their mission?
To march on a Georgia State University (GSU) Waffle House location and raise the demand for a guaranteed $25/hour pay rate for all workers. They aren't alone in their struggle. Across the South, in cities such as Durham, N.C., and Orangeburg, S.C., USSW members and allies would soon be marching on other Waffle House locations to raise the same demands. The Atlanta USSW rally was just the kick-off for a day of regional action.
On Sept. 9, USSW members and GSU Waffle House workers delivered a letter to the location management calling for better pay and workplace safety. Their request fell on deaf ears, however, and union members knew it was time for action.
As GSU students held out their phones to film the action, the USSW marched towards the Waffle House in a tight formation to the tune of various union songs and chants. Upon arriving at the location, supporters cheered on the marchers as they packed inside the restaurant waving a banner reading: "Our Dedication Deserves Dignity, PAY US $25!"
Supporters gathered around USSW member Mo Haskins as he read a list of demands: a guaranteed wage of $25/hour for all employees, 24-hour security at all Waffle House locations, and an end to the meal deductions that are taken off each employee's paycheck, regardless of whether they eat shift meals or not.
The rally finished off with several USSW members, including GSU Waffle House workers, delivering remarks to the crowd and their co-workers about why they deserve higher wages and safer working conditions.
Speakers also addressed the fact that Waffle House executives sit on the board of the Atlanta Police Foundation, and are using company profits to fund a militarized police training facility known as "Cop City." If Cop City is built, close to 300 acres of forest will be torn down in metro Atlanta to build a $90 million dollar police training complex where police would practice raids on fake schools, homes, and barber shops.
As the speakers wrapped up, the crowd erupted into more union tunes, each of which called for the pay raises and other demands. As the USSW members filed outside, members spoke to the crowd about the unsafe working conditions and unfair wage practices Waffle House employees endure.
One worker reported that Waffle House failed to cover replacement costs when a customer stole her phone; other employees reported having to deal with customer assaults with little accountability or protection by Waffle House.
Red, a GSU Waffle House server, expounded on the meal deductions and low wages that come with every paycheck. Red said Waffle House "nickel and dimes us for everything, but they don't want to give the nickels and dimes back." According to her, "Even if you eat or not" while working, "they're gonna charge you ten dollars" per paycheck.
That, however, wasn't the only way employees noted about how Waffle House unfairly reduces their wages. For Red's usual 9 p.m. to 7 a.m. shift, the doors are locked and all orders must be placed through a carry-out window. With every carry-out order, the restaurant charges a ten percent "to-go" fee, however, workers don't see the extra profits for this extra service reflected on their paychecks.
According to Red, while a "to-go" fee is included on the wage statement, "If you go down to the deductions section, they take it right back."
As USSW members moved away from the GSU location, one member read from her phone that members in South Carolina had begun their rally and would be making noise for the same demands the union had just raised in Atlanta.
USSW is asking supporters and allies to sign a petition backing the demands on their website to show Waffle House executives that the general public is on the workers' side. All Waffle House employees and all service workers are encouraged to reach out to the union and become involved with the fight for fair wages and safe workplaces.