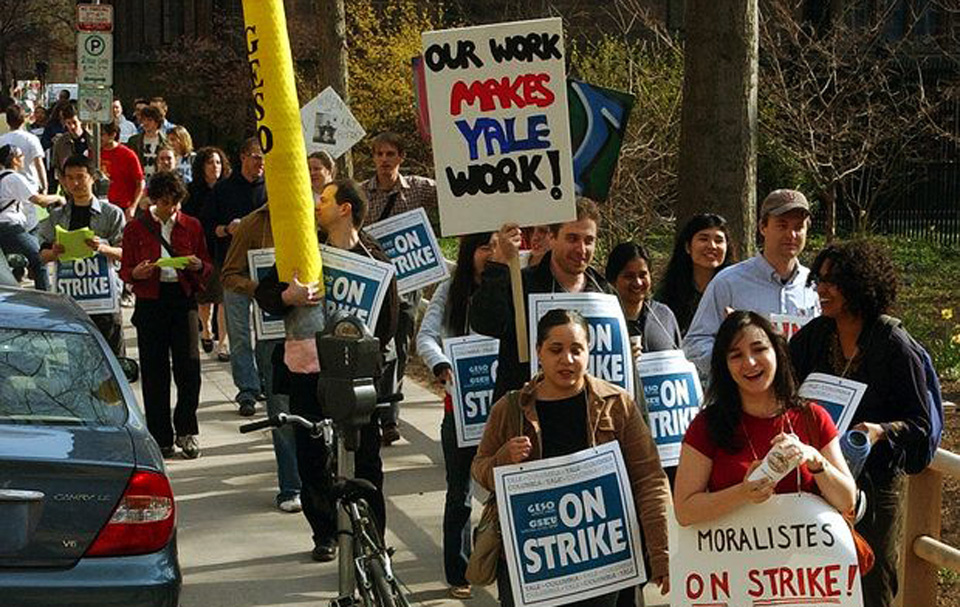 A steady stream of union recognition drives among teaching and research assistants at private colleges turned into a torrent last month, an outcome of last year's ruling by the National Labor Relations Board that those workers, mostly graduate students, have the right to collectively bargain.
At the University of Chicago last week, hundreds of members and supporters of Graduate Students United gathered on the campus quad to push their demand that the prestigious university comply with last year's NLRB ruling and recognize the union, according to the campus newspaper the Chicago Maroon. GSU members are concerned that delays in the process will increase the likelihood that President Trump will appoint anti-labor Board members who will reverse last year's historic decision, according to the Maroon report. GSU is associated with both the American Federation of Teachers and the American Association of University Professors.
Hard on the heels of the University of Chicago action, at the University of Pennsylvania, an Ivy League college, teaching and research assistants, represented by the American Federation of Teachers, filed a petition for union recognition with the NLRB this week.
Earlier in the month, TAs and RAs at Boston College cheered an NLRB ruling upholding their right to organize with the United Auto Workers. BC, a Catholic university, had claimed that allowing its TAs and RAs to organize would conflict with its religious mission. The NLRB rejected that idea in prior cases involving universities with religious ties.
Yale is another elite university flouting the law, stalling until Trump's new NLRB is installed and empowered to overturn the decision that the graduate teachers have the right to a union and collective bargaining, as reported in People's World.  Eight Yale TAs and RAs staged a hunger strike in May to demand the university recognize and bargain with Unite Here, which they voted for months ago. The Yalies drew a supportive speech from AFL-CIO Secretary-Treasurer Liz Shuler.
"Stop delaying. Stop scheming. Stop lying. Teaching assistants won the election, fair and square. Now it's time to negotiate a first contract. Anything less violates the laws of our land" and Yale's own mission statement, Shuler declared to a massive demonstration on Yale's commencement day.
At Cornell University, another Ivy League college in upstate Ithaca, N.Y., an American Federation of Teachers organizing drive lost narrowly, 856-919. But there were enough challenged ballots (81) to leave the outcome in doubt.
The tens of thousands of TAs and RAs at the nation's private college campuses provide an overwhelming majority of the research at the schools, and handle much of the teaching load. But unless they're organized and have a contract, their jobs are at the whim of administrators and professors from year to year, their stipends are low and their benefits – particularly health insurance – may be non-existent.
The UPenn bargaining unit would cover more than 2,300 TAs and RAs, their organization, Graduate Employees Together-University of Pennsylvania (GET-UP) said. Key issues there are "funding insecurity, healthcare costs, family leave, vision and dental care, and inadequate mental health resources," GET-UP added.
Education and anthropology doctoral candidate Miranda Weinberg told AFT that workers were organizing in order to gain a real voice in determining their working conditions. "Graduate workers do important work at the university as teachers and researchers, and deserve to be treated with respect," she said.  "Forming a union will allow us to do a better job of advancing our goals and those of the university: achieving excellence in research and teaching."
The pro-union NLRB ruling for the BC workers comes after a two-year organizing drive there by the Boston College Graduate Employees Union-UAW (BC-GEU).
"We are thrilled about turning to our election, and are looking forward to having a seat at the bargaining table," history TA Betsy Pingree told the union. "Having a union contract will have a major material impact on our lives," added Chad Olle, a PhD candidate in educational psychology.
UAW Region 9A Director Julie Kushner said she was glad to see the workers at Boston College join with other grad workers around the country. Kushner called this  "an amazing time for graduate workers in the labor movement."
Meanwhile, at the University of Chicago, 100 professors who are members of the American Association of University Professors, signed an open letter to the university administration urging the administration to "remain neutral, not use any university funds or institutional resources to oppose unionization" and "not employ any union avoidance consultants."
On the same campus, in a groundbreaking move, Teamsters Local 743 filed a union recognition election petition for 225 undergraduate students who work in the university's library system.
"Wages, hours, and third-party legal representation in cases of Title IX (sexual discrimination), the Americans with Disabilities Act and labor law violations," are key in the undergrads drive, according to a union statement. "Only as unionized workers will students be able to protect their rights as well as fully engage in the academic mission of the University of Chicago," their statement added.
Third-year undergrad Alex Peltz, an advocate for disability justice, said creating a union would allow him to feel safe and supported in his own workplace, and have defense against ADA violations, "so that I can actually be a student at my own school," he said.
Campuses of colleges, both private and public, have been a hot spot of union organizing and solidarity in recent years. Student groups have backed up campus workers' efforts. Adjunct professors have demanded recognition. The recent spate of organizing victories by student workers adds one more layer to a focus on campuses as a site of struggle for social and economic justice.