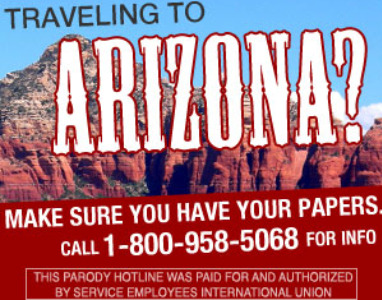 Are you traveling to Arizona but worried about the state's new draconian racial profiling law? If so, check out a new service provided by the Service Employees International Union to help you know what you need to avoid bad encounters with that state's police.
The country's biggest labor union now provides a "travel advisory hotline" for summertime tourists fearful of being stopped by Arizona law enforcement officers under the new law known as SB 1070. (Call 1-800-958-5068.)
Launched as part of the union's "It Stops in Arizona" campaign, the travel advisory hotline offers tips on how to avoid being racially profiled. These include not wearing jeans. "Please wear slacks or khakis" to avoid suspicion, the hotline advises. Do your best to "resemble a J. Crew or Ralph Lauren model," the hotline operator says, as "working people come in many shapes and sizes" and fitting into that category will arouse police suspicion.
The tongue-in-cheek messages conclude with an invitation to visit ItStopsInArizona.com, which makes a serious call for a boycott of travel to or doing business with Arizona.
SEIU Immigration Campaign Director Javier Morillo remarked, "On behalf of working families in Arizona and on behalf of American values of fairness and equality, SEIU is pushing back online, in the courts, in the field and through a union-wide boycott to stop this harmful law before it goes into effect and before it spreads to other states."
He added, "America wants serious solutions to our immigration problems – not frivolous policies, like Arizona's SB 1070, that undermine public safety, waste millions of taxpayer funds and imperil our most basic civil rights."
SEIU last month joined a coalition of labor and civil rights groups in a lawsuit to strike down SB 1070.
SEIU noted that SB 1070 actually puts Arizona's economy at risk. It would force the state to pay for massive new immigration enforcement, diverting taxpayer dollars away from state services.
In a piece for HuffingtonPost.com, Arizona State Director for SEIU Scott Washburn wrote that passage of the law "feels good" because it seems like it might fix a serious problem. But in fact, the law will impose new financial burdens on the state, and "create an environment of panic and fear throughout the entire Latino community."
The law serves as little more than a distraction from the real causes of the fiscal and economic problems that face the state. Indeed, massive deportations of immigrants, aside from the sheer cost of that activity, would cost the state billions in economic activity each year.
Photo: http://www.itstopsinarizona.com/