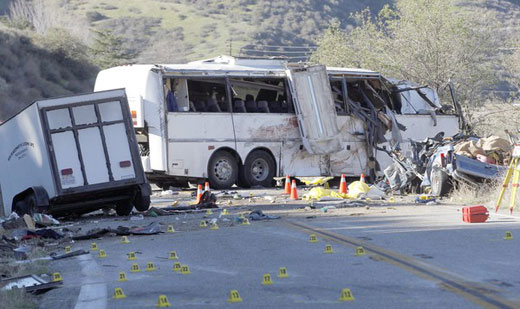 WASHINGTON – The government's Dec. 12 shutdown of 52 intercity and tour bus companies for unsafe conditions and unsafe driving is welcome, but does not solve the basic industry ills that lead to those problems, Amalgamated Transit Union President Larry Hanley says.
That's because intercity bus firms are exempt from the Fair Labor Standards Act, the law that orders firms to pay workers a minimum wage and overtime. That allows bus firms to overwork and underpay their drivers, leading to fatal crashes caused by fatigue, Hanley adds. The firms don't maintain their buses, either, federal data show.
"While this 'Quick Strike' operation" against the offending bus firms "is critically important, any serious proposal to clean up the discount bus industry must, unequivocally, address driver fatigue," Hanley says. His union represents workers at Greyhound and other intercity bus companies, along with city bus and subway workers.
Those workers, under union contracts, don't suffer fatigue, and get decent wages so they – unlike the intercity and tour bus drivers – don't have to take second jobs to make ends meet. "Until Congress deals with bus driver fatigue we will continue to see carnage on the highways," Hanley explained. Citing federal figures, ATU notes driver fatigue produces 36 percent of U.S. motor coach fatalities.
Hundreds of the "fly-by-night" bus firms – Chinatown expresses and the like – "get away with paying their bus drivers criminally low wages, forcing drivers to work 100 hours a week or more, often balancing two or three jobs, just to make a living," says Hanley. "Unsuspecting customers get on these buses and disaster can strike."
ATU has campaigned for regulation of the bus firms, and legislation to mandate decent pay and overtime. The firms sprang up after bus deregulation in 1980. Sen. Charles Schumer, D-N.Y., introduced a bill with those mandates, but it's gone nowhere.
Those were the bus firms the Federal Motor Carrier Safety Administration, which regulates buses, shuttered on Dec. 10, the culmination of an 8-month investigation of more than 250 intercity and tour bus firms, Transportation Secretary Anthony Foxx said.
"Bus travel is increasingly popular because it is a convenient, inexpensive option for students, groups and families," Foxx said in a statement. "But it must also be safe. Through Operation Quick Strike and our regular enforcement, we're shutting down companies that put passengers at risk and educating the public on safe motor coach travel." Besides shutting 52 firms, FMCSA pulled 340 unsafe buses off the road, out of 1,300 inspected. It's targeting another 240 bus firms for follow-up probes. Riders can check a firm's record through a mobile phone app (application), SaferBus.
Photo: Federal regulators shut down 52 bus companies nationwide in a safety crackdown that started in April. Federal Motor Carrier Safety Administration officials acknowledged the investigations were partly prompted by a February bus crash near San Bernardino, pictured above, that killed eight people. Nick Ut/AP