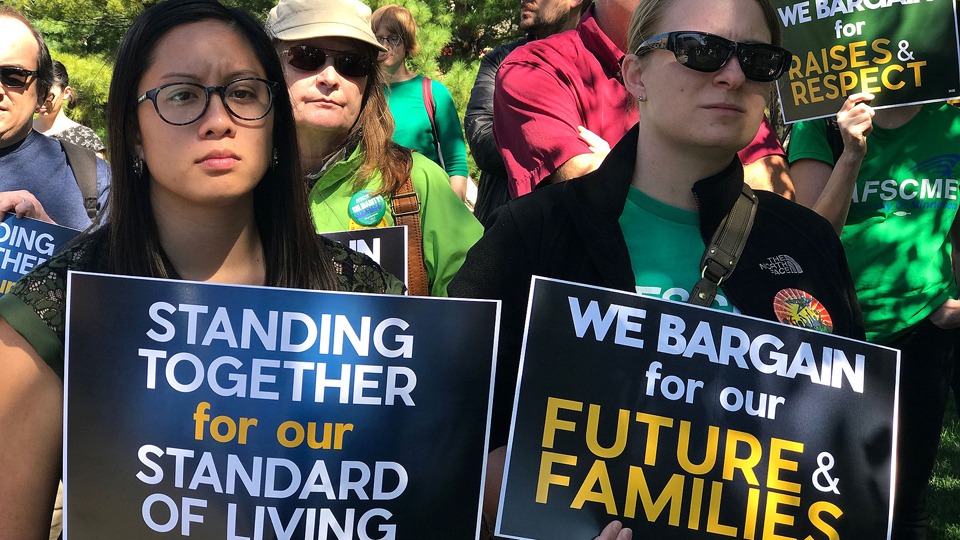 ST. LOUIS — Key unions representing state and local government workers are responding to the looming threat of a devastating U.S. Supreme Court decision with wall-to-wall internal organizing.
Their aim: To re-sign their own members, and more of them, for long terms of voluntary dues-paying, before the justices declare each of the nation's seven million state and local workers may convert themselves into freeloaders, able to use union services without paying one red cent for them.
The High Court will hear arguments in months in Janus v AFSCME Council 31, a case by the right-wing National Right to Work Committee to ban unions from collecting dues or agency fees from all those state and local workers as a violation of the U.S. Constitution's 1st Amendment free speech clause.
The RTW group recruited Mark Janus, a dissenter in an AFSCME-represented workplace, to say that by the very act of collecting the money, the union – through state action—forces him to support political stands he disagrees with. The original complainer, right-wing Gov. Bruce Rauner, R-Ill., has conducted a three-year war to destroy public worker unions. Rauner tried to bring the case himself, but lower courts threw him out of it because he isn't directly helped or hurt by the fees, or the free speech curbs.
Unionists meeting in St. Louis for the AFL-CIO convention are assuming the court will rule against them and overturn the 42-year-old decision that lets public worker unions collect dues and agency fees.
A previous virtually identical case ended in a 4-4 tie among the justices after conservative Justice Antonin Scalia died in early 2016.
An anti-worker decision could devastate union finances. One union editor told the International Labor Communications Association convention the week before that her local alone would lose $5 million.
"It's terrifying to me that only 54 percent of our members said they would continue to pay dues if they weren't required to do so," Communications Workers Secretary-Treasurer Sara Steffens, whose union represents 60,000 New Jersey public workers and 14,000 more in right-to-work state Texas, told the AFL-CIO delegates on October 23.
"This case threatens the freedom of public workers," AFSCME President Lee Saunders said. His union, with 1.6 million members, is one of two that stands to lose the most from a hostile decision. "If the court rules against workers, 'right to work' will be the law of the land" in state and local government.
Teachers President Randi Weingarten, whose 1.7-million-member union also would be threatened, extended the warning labor-wide. "The other side will stop at nothing to destroy us," she declared. "The Koch brothers" – billionaire oil men from Kansas City – "are spending millions to suppress the vote, getting rid of unions and oppressing workers. As they say, their aim is to de-fang and defund unions."
The solution, all the speakers said, is in essence to re-recruit their own members. Saunders said his union has gone worker-to-worker in one-on-one discussions, asking them what they want from their union, and showing them what AFSCME has done. Discussions ended with unionists not only signing cards to pledge dues for years, regardless of what the court decides, but some also became organizers.
The same thing happened in Illinois, said state Teachers President Daniel Montgomery. In Peoria, IFT and the Service Employees jointly knocked on doors of 1,600 union members in Peoria alone. "One discussion I had lasted two hours and at the end, he signed the new union card and agreed to be part of the union organizing committee."
But door-to-door is not the only method unionists will use to combat the Janus decision, before and after. California AFL-CIO Secretary-Treasurer Art Pulaski said his federation has a multipart plan to combat the right wing's push: Work your people at their worksites, recruiting and training leaders, listening to members, and "tell the union story."
And Oregon AFL-CIO President Tom Chamberlain conducted a summit in August on internal organizing "to drive home the message that we are in a war for the heart and soul of workers in America." That included steward training and organizer training for multiple unions in his state.
Like Texas and other RTW states – now including industrial bastions such as Michigan and Wisconsin – federal workers toil in so-called "open shops" where dues and fees are not mandatory, but unions must represent non-members anyway, Government Employees deputy organizing director Tee Williams said during a panel discussion on the issue.
She said her union has moved from a servicing model to an organizing model. As a result, AFGE is now up to 310,000 members with 25 consecutive years of increases. But to do that, it had to retrain its members. To combat the "harsh and relentless attacks on federal employees, we're using organizing workshops to retrain our members in convincing their colleagues to call members of Congress and participate in rallies and protests for good working conditions and for maintaining due process."
Still, she said, the ultimate solution to combating the Janus ruling is "to get off our butts and get into the workplace."
By shoring up union finances and by practical action nullifying the decision's pending impact, the result, "would be to make the American Dream real again for our members and for other workers as well," Pulaski predicted.