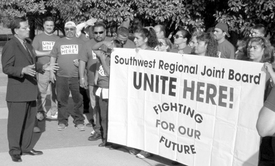 FARMERS BRANCH, Texas — The Unite Here union struck a blow June 24 against some particularly vicious anti-immigrant ordinances in place in a Texas town.
One of the worst of those ordinances seeks to instill fear by making it a crime to even go home after a long day's work. A new law on the books in Farmers Branch, Texas, imposes fines on landlords who rent rooms or apartments to people who might be undocumented.
Despite the fact that the Texas Supreme Court has declared the town ordinance in violation of the state constitution, city leaders, including the mayor, are pushing hard to levy the fines on landlords.
More than 50 members of the union, joined by activists from the Ironworkers Union and Jobs with Justice, marched in front of the Farmers Branch city hall to protest what they called a "racist" and "cruel" ordinance.
The unionists and their supporters support an overhaul of immigration laws with a path to citizenship for undocumented workers.