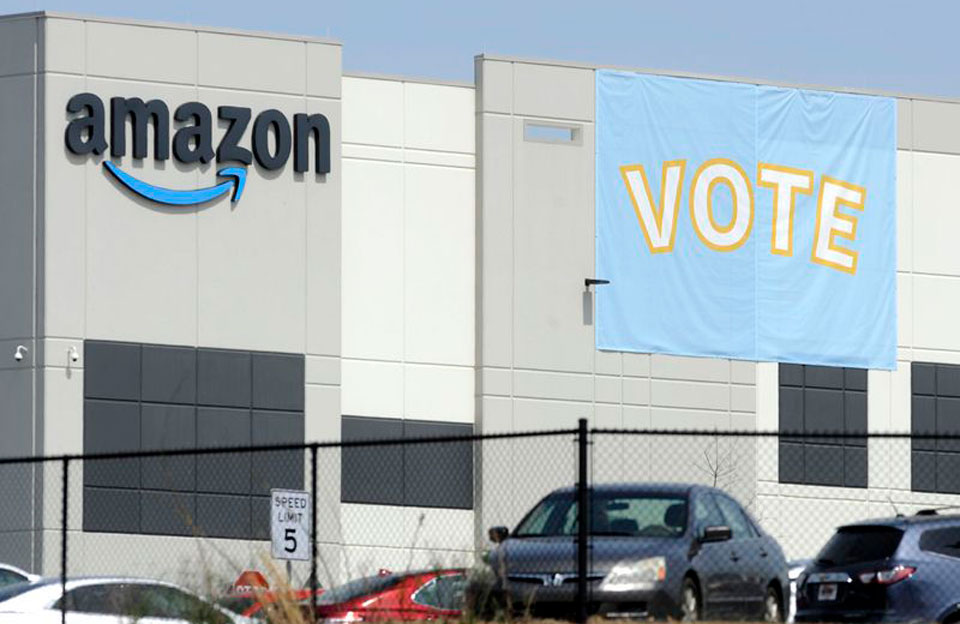 BESSEMER, Ala.—The Retail, Wholesale and Department Store Union is using the rerun of the unionization vote at Amazon's big Bessemer, Ala., warehouse to try to outlaw one of the big tools in bosses' anti-union anti-worker toolbox, captive audience meetings.
The challenge is in the form of one of three labor law-breaking—formally called unfair labor practices—charges RWDSU filed February 22 with the National Labor Relations Board's regional office in Birmingham, Ala., which covers Bessemer.
The rerun election will occur next month, as well as a vote, March 25-30, at Amazon's big JFK8 warehouse in Staten Island, N.Y. The NLRB's regional office in Brooklyn OKd a settlement specifying conditions for that vote, also on February 22. The independent grass-roots Amazon Labor Union is trying to unionize that 6,000-worker warehouse, along with another 1,500-worker facility there.
The Bessemer rerun, among 5,600 workers, is occurring because the board threw out the results of the first Bessemer vote, a year ago, due to massive Amazon labor law-breaking which skewed it.
But the big deal in Bessemer, at least among the formal charges RWDSU, is the one challenging the captive audience meetings.
In such sessions, bosses—or their hired-gun "union avoidance consultants"—harangue workers against unions. The bosses and union busters often stop just short of breaking labor law during such rants. For example, they threaten a firm  "might close the plant" if workers vote unions in. That's chilling, and legal. Outright predictions to close plants aren't. Unions get no rights of reply at all.
Bosses also mandate attendance and can penalize workers who are no-shows, or who show up and speak up. But RWDSU goes far beyond denouncing such tactics. Its labor law-breaking charge says the whole captive audience meeting concept is illegal.
"When workers are forced to attend required meetings during work-hours to hear the company's anti-union propaganda that violates their right" under labor law's Section 8 "to refrain from any or all such activities," RWDSU explained. "This ULP charges Amazon is in violation of" two parts of Section 8.
The union "seeks to challenge the current case-law precedent, which has for too long allowed employers to compel attendance to anti-union meetings. These aptly named 'captive audience' meetings are coercive and workers should have the right, as is already protected under the law in Section 8, to not engage in them."
"Being forced to attend the captive-audience anti-union trainings was degrading," Bessemer warehouse worker Roger Wyatt told RWDSU. "Amazon treated us like mindless robots, downloading mis-information to us. And the irony is, these meetings are the longest I've ever gotten to sit at work. If it's impossible to allow me adequate break and bathroom time, why is it possible, let alone mandatory, for me to sit through hours of anti-union trainings?"
The union's other two counts of labor law-breaking in the runup to the rerun election are specific to the battle to unionize Bessemer.
In one, the "Amazon Union Worker Organizing Committee members have been posting pro-union literature in non-work areas on non-working time alongside anti-union postings from the company.' Amazon removed the union fliers, breaking labor law.
And the company, owned by one of the nation's three richest men, Jeff Bezos, also unilaterally "promulgated a new rule limiting workers' access inside" the Bessemer warehouse "for any time period greater than 30-minutes prior to and after their shift. This rule is not in their policy handbook and violates status-quo" labor law mandates for the rerun, RWDSU said.
Meanwhile, the Staten Island vote agreement sets up an on-site vote in a tent in the warehouse parking lot at 546 Gulf Avenue—complete with required face masks, physical distancing and plastic shields to protect workers, staffers and observers from community spread of the coronavirus.
But if the modern-day plague becomes too virulent, the National Labor Relations Board's regional director in Brooklyn, whose office is running the vote, can step in and postpone or cancel the vote or switch to mail-in balloting, the agreement says. And the JFK8 warehouse's 6,000 workers. Are going to be called in groups, the pact adds.
In addition, the union filed election authorization cards with the board to demand a vote at a second Staten Island warehouse, LD5, which employs 1,500 workers. The NLRB is still checking those cards.
There are both similarities and differences between the Staten Island and Bessemer drives. Both are part of the mass movement nationwide of low-page, ill-treated and exploited workers who—thanks to the pandemic—realize they have leverage over bosses.
Other groups of workers exploiting such leverage include Starbucks workers—the count of organizing drives at that nationwide coffee chain just passed 100 stores—non-tech Google workers, port truckers in Los Angeles, adjunct professors, college RAs and TAs and retail and fast food workers.
The big difference is the Amazon Labor Union is independent and from the grass-roots, with an ever-growing organizing committee of inside-the-warehouse workers who have credibility with their colleagues—and who deliberately shun outside political support.
The big similarity is that Amazon, owned by one of the three richest men in the U.S., Jeff Bezos, is running its usual virulent anti-union campaign, featuring those in-house "captive audience" meetings and lies about cutting benefits and reducing pay to the minimum wage if the union wins—not realizing the minimum wage in New York City is $15 an hour.
For its part, the union at Staten Island, while promising it will fight for better pay and working conditions, also warns workers the struggle will continue even after it wins.  "Amazon Corporate is a formidable adversary. Every ALU member can see it will be a long and bitter fight to get what we need and deserve. If you want $30/hour, job security, and better working conditions, you'll have to fight for it. The bosses won't just give it to us," its website warns.