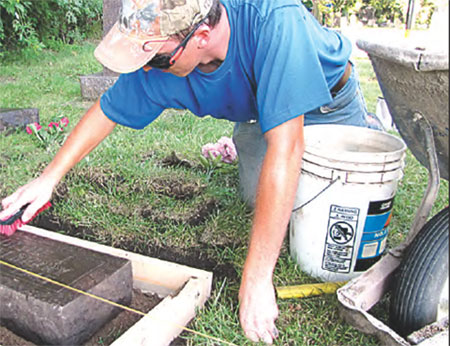 WRIGHT COUNTY, Minn. – A mile or so beyond the pavement down a gravel road, the historic Kriedler Cemetery lay nestled in between farm fields and showed the wear of time. Some weathered gravestones were difficult to read. And grass was growing over gravestones which were sinking into the earth. But on a day in July when the heat index threatened 100 degrees, a team of 25 union members came for a day of community service to help restore what time hath wrought.
The Minneapolis Regional Labor Federation's North Suburban Labor Advisory Council organized the day of community service in the rural Wright County, Minn., graveyard. The team consisted primarily of Boilermakers Local 647 apprentices and instructors, joined by Tom Reger, apprentice and training coordinator for Cement Masons Local 633.
They used spades to dig up gravestones which were sinking into the ground, cleaned the stones, then placed the stones level inside wood frames which they filled with concrete. The new concrete base will keep the stones above ground longer.
"The work that they're doing for us is priceless," said Terry Walker, a fifth-generation Wright County resident who volunteers with the Kriedler Cemetery Association. "The work they're doing would be impossible" for the small nonprofit, he said.
"I could imagine three of us working for a month," said Matt Walker, Terry's son, who also cares for the cemetery.
Four years ago, Matt Walker was involved with the former Wright County Labor Council when the group was looking for a community service project. Walker proposed the council help restore stones at the Kriedler Cemetery, which contains graves for U.S. military veterans going back to the Civil War.
In 2009, a group from the Wright County Labor Council, including Boilermakers apprentices and the Cement Masons' Reger, repaired 25 gravestones. "We tried to start with veterans' graves that were in need of repair and we went on from there," Walker said. "We've wanted to get back for four years," added Carey Kowalski, coordinator and director of training for Boilermakers Local 647. "We're back to finish the job."
"I hadn't really asked again and they got hold of me," said Matt Walker, a former Wright County police officer and former Teamsters Local 320 member. The regional labor federation's community service arm, Working Partnerships, helped with planning and supplied food and water for the day while Cement Masons Local 633 provided a cement mixer and cement.
Bryan Bistodeau of Big Lake, now a welding instructor for Boilermakers Local 647, participated both in the 2009 work at the cemetery and in this year's work. "Back then I was a second year apprentice. Now I'm a journeyman," he said. "We're just giving back to the community.
"The Boilermakers always have been a strong trade as far as work ethic," he added. "This is part of our program to instill that in the apprentices."
"It feels good to be giving back, finishing what we started," said Ben Lewis of Pine City, a third-year Boilermakers apprentice. "When we heard we had the opportunity to do it again, we were all excited to do it."
Lewis used a knife to scrape moss off of a stone which read, "Little Eddie, November 2, 1895." "I'm just putting a little extra effort into this one," he said. "This appears to be a baby."
Terry Walker, 87, who spent eight years in the U.S. Marines, shared some of the cemetery lore, telling the young apprentices how some of the graves include veterans who fought with the third Minnesota Regiment in the Civil War. Gravestones also noted service in the Spanish American War, World War I and World War II.
"You get going through the cemetery, there's so much history here," Terry Walker said. "We should pay a little more attention to our history."
"A lot of these graves probably aren't visited anymore but they should still be remembered," Matt Walker concluded.
Steve Share is editor of the Minneapolis Labor Review.
Photo: Ben Lewis, a Boilermakers Local 647 apprentice, brushes a gravemarker clean with water. Minnesota Labor Review