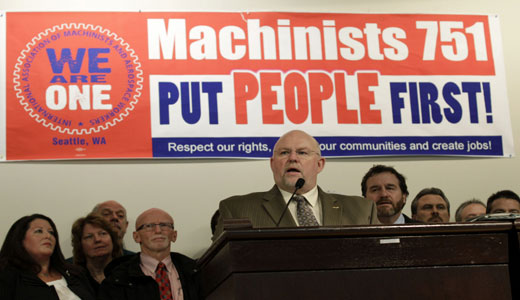 SEATTLE – The long and bitter battle over Boeing's retaliation against the Machinists – by moving production of its 787 Dreamliner from unionized Pacific Northwest plants to anti-union South Carolina – may end with a vote: The union's vote.
That's because Machinists District 751 announced Nov. 30 that its bargainers, working in secrecy after being approached by company managers, reached a new four-year contract extension with Boeing, far in advance of the 2012 expiration of the pact.
Members will vote on it on Dec. 7, and bargainers unanimously recommended an OK.
And that contract extension guarantees so many aircraft factory and parts jobs in the Pacific Northwest on the Boeing 737MAX that the fight over the Dreamliner would be dropped, as there would be more than enough work to go around, news reports say.
District 751 President Tom Wroblewski and other bargainers said the key point the union won, which IAM members at Boeing plants in the Puget Sound area, Wichita, Kansas and Portland, Ore., made their top goal for 2012, was job security.
"The proposed contract extension would secure thousands of jobs while raising Machinists' pay and pensions," he said. "Hopefully it also signals the start of a new relationship that can both meet our members' expectations for good jobs, while giving Boeing the stability and productivity it needs to succeed."
One other key section of the extension establishes joint "top-level" labor-management committees "to address conflicts and opportunities," and iron them out without bitter confrontations, the union's detailed contract summary says.
It was such bitterness – where Boeing forced IAM to strike several times in the last two decades – that led the firm to retaliate by building the Dreamliner in South Carolina. Boeing executives, from its CEO on down, openly said they moved production there, and planned to cut production in Seattle, in retaliation against IAM.
Such retaliation against workers exercising their rights breaks labor law, and brought the National Labor Relations Board into the fray after an IAM complaint. The board's acting general counsel tried to get the two sides to work together. When they couldn't, he filed unfair labor practice – law-breaking – charges against Boeing.
His action in turn set off an uproar among the GOP House majority, which was seeking an excuse to trash workers' rights. Its "Boeing bill," passed in September, strips the agency of any power to move against firms that retaliate against workers.
The contract extension would "secure the future of the 737MAX for Puget Sound, including current parts manufacturing, assembly, and supporting shops," the union said.
It also would "continue Boeing's firm commitment to widebody (aircraft) production in Everett" and tanker and P-8 manufacturing in Puget Sound; preserve the present pension for new hires, with yearly increases; give each worker a $5,000 signing bonus on ratification, plus two percent yearly raises plus cost-of-living increases; add two to four percent annual gross pay bonuses and preserve medical care for present and future retirees.
Secrecy for the talks "was the right decision," Wroblewski and other negotiators said. "What resulted is an unprecedented commitment by Boeing to Puget Sound and Portland for the 737MAX and related manufacturing that's being performed here. This will generate long-lasting security for our members. It also resulted in a Boeing commitment to the success and continuation of the other airplane programs where our members have shown time and again their expertise, productivity, and quality."
Photo: Tom Wroblewski/AP Images