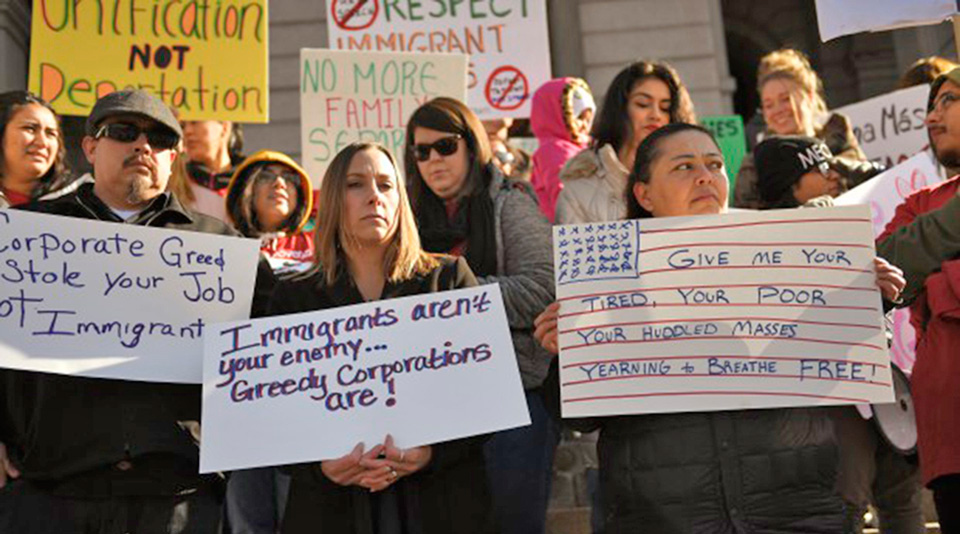 WASHINGTON — Yves Gomes, a member of United Food and Commercial Workers Local 400 and a board member of the AFL-CIO's Asian-Pacific American Labor Alliance (APALA), has two dreams. One is to stay in the U.S., continue his education and on-the-job training and rise to ever-more skilled jobs in order to earn enough to ensure a secure future for his family.
The other is to see his parents again, for the first time in eight years.
Gomes is one of the 700,000 "dreamers." These are people whose parents brought them to the U.S. when they were young children. Today they are working, going to school or serving in the military. Like their parents, they are undocumented.
But unlike their parents, they've been protected under an Obama administration program, Deferred Action for Childhood Arrivals (DACA).
The dreamers now fear deportation, family breakup, or both because Donald Trump has threatened to end DACA.
Gomes' parents have already been deported.
So January 27 Gomes joined a rally staged here by the constituency groups of the AFL-CIO.
There were similar rallies around the nation January 26.
Gomes' group, APALA, and the other constituency groups – the Coalition of Labor Union Women (CLUW), the Coalition of Black Trade Unionists, Labor's Council for Latin American Advancement (LCLAA), the A. Philip Randolph Institute and Pride at Work – announced that they will work together to save DACA and support each other's campaigns.
Together, members of the groups will lobby lawmakers. They will also campaign against police stop-and-frisk tactics – a particular threat to black and brown immigrants and refugees.
And they will launch an app that lists sanctuary cities and provides contact information for elected officials in non-sanctuary cities so that they can be lobbied to get their cities and towns to become sanctuaries, too.
There is a simple reason for launching this united program: the members of the constituency groups want to protect their families and to protect all workers.
At the rally, Hector Sanchez  said, "[Trump] has attacked all of us in the labor movement, and we're here to say 'enough is enough!'" Sanchez is a former top official of LCLAA who now chairs the National Hispanic Leadership Agenda.
"Immigrants and refugees are our families," he stated. "They are our members and we will defend their rights and resist their deportation" no matter where they live.
"Is there no shame?" asked Carlos Jimenez, executive director of the Metro D.C. Central Labor Council, when discussing Trump's threat to yank money from "sanctuary cities" such as Chicago, Los Angeles, New York and Washington.
"And the refugees?" Jimenez added, referring to Trump's ban on entrance to the U.S. by anyone – even with proper papers — from seven majority-Muslim nations. "We have Muslim members and we are committed to fighting for them, too."
After Trump's order, the fight over admitting refugees is continuing nationwide. Trump's ban on Muslims caught people in transit who had landed here or are being turned away even outside the U.S.
Protest demonstrations erupted at airports as large as JFK in New York City and O'Hare in Chicago and as small as Gowen Field, in Boise, Idaho, a deep-red pro-Trump state.
Meanwhile, unions and other groups are laying plans to resist his anti-undocumented, anti-immigrant actions, too.
Tim Schlittner, a co-vice-president of Pride at Work, said the AFL's gay-lesbian-transgender-bisexual constituency group, and the broader gay rights movement, "will provide sanctuary to our immigrant brothers and sisters." LGBTQ immigrants and refugees are in particular peril, he added, because for many being deported to their home nations is a death penalty."
Three-fourths of immigrants and refugees are women and children, added CLUW Executive Director Carol Rosenblatt. "Those women are also exploited when they get here, with 60 percent working in so-called contingent labor jobs, mostly in elder and child care."
Gomes' parents were undocumented, but they had solid middle-class jobs, he said in an interview after the rally. His father, Robin, was a restaurant worker at the unionized Washington Hilton Hotel and a member of D.C.'s UNITE HERE Local 25. His mother, Cecilia, was a computer science professor at Northern Virginia Community College.
A local police officer stopped them for a broken taillight and discovered they were undocumented. The police department then alerted the U.S. Immigration and Customs Enforcement (ICE) office.
ICE agents raided the home of Robin and Cecilia Gomes, breaking down the door at night. They hauled them away in handcuffs. They were deported to India, their native land. The story made the Washington Post.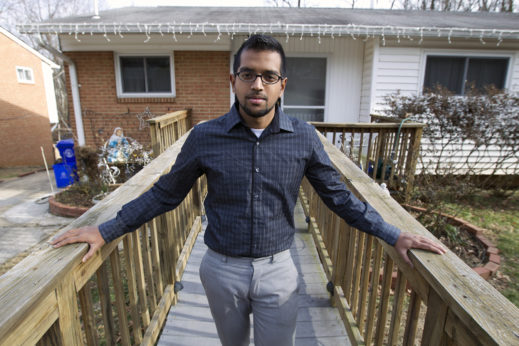 Since that time, Yves Gomes has not seen his parents in person.
As a "Dreamer," Gomes has strong support from Local 400 in his battle to stay in the U.S. while working his way up in a local Safeway supermarket and studying to be a pharmacist. "I'm scared for my wife, too," he says. "We will resist and we will fight."
At the rally, Hector Sanchez urged everyone to join the campaign. "Silence is not an option," he warned.
And former Metro D.C. Central Labor Council President Joslyn Williams, speaking for the Coalition of Black Trade Unions, said that even people in the U.S. with proper papers must fight for the undocumented.
"Don't rest easy. Today, those who are undocumented are in trouble. Tomorrow it could be those who are documented," he warned.