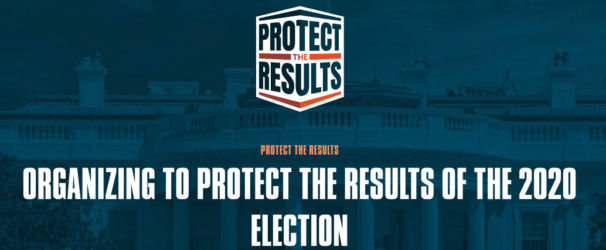 Unionists and their allies from coast to coast rallied in more than 140 cities on Nov. 4, the day after the close and contentious national election, demanding "Count every vote!" over and over.
In a line that could speak for tens of thousands who rallied nationwide, Unite Here Local 25 activist Patricia Namyalo told hundreds of people gathered in D.C. that "As gatekeepers, we are here to ensure every vote has been counted and will be counted."
Meanwhile, right-wing backers of GOP Oval Office occupant Donald Trump tried intimidation. They surrounded the Maricopa County, Ariz., elections board office and its tally staff far into the night, wrought mayhem in Manhattan, and rioted in Portland, Ore.
The intimidation was frequent enough that ProtectTheResults.org, which coordinated the marches demanding complete counts, called off other events that day.
But Planned Parenthood sponsored another march in D.C. on Nov. 7, and ProtectTheResults added a march near New York's Columbus Circle that same day.
ProtectTheResults sponsors included Indivisible, civil rights, Latinx and women's rights groups, United We Dream, Government Employees Local 704 (EPA workers), the Teachers (AFT) nationally and in D.C., the Amalgamated Transit Union, the New York State Nurses Association, the Service Employees and particularly its Local 32BJ sector, the Communications Workers and United Food and Commercial Workers Local 770.
The pro-count rallies, including a large one led by the Chicago Teachers Union and seven other unions at Federal Plaza in downtown Chicago, were designed to counter Trump's demand that all ballot counting, especially of mailed-in ballots, immediately stop.
Indivisible co-founder and campaign director Sarah Dohl said in a statement that "with every tweet and refusal to commit to accepting the legitimate election results, Trump is trying to stoke chaos and fear. It's all he has left in his playbook. But we are ready."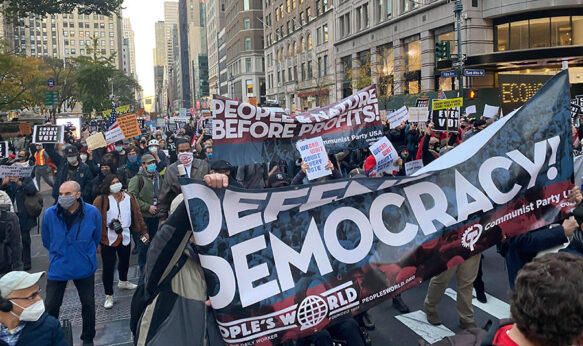 "Should Trump declare victory before all the votes are counted or prevent the legitimate counting of votes, we will mobilize in every corner of this country to ensure voters have the last word."
The "Count Every Vote" rallies, including a rally in D.C. that drew almost 200 people—many clad in purple Service Employees T-shirts–were peaceful.
"We essential workers are committed to this fight," SEIU 32BJ board member Judith Howell, a security officer, told the D.C. crowd. "For us, it's a matter of life or death." Trump's threats to stop the vote count "are also an attack on the very civil and voting rights we fought for for years," said Howell, who is Black.
That's because "essential workers," such as truckers, grocery workers, security officers, and nurses are particularly exposed to the threat of the coronavirus pandemic, a plague that Trump refuses to do anything about.
He's also refused to recognize the disproportionate hit, both in illness and economically, that the coronavirus causes to Black and brown workers, such as those at the D.C. rally.
As of 10 a.m. on Nov. 5, the pandemic has killed 233,777 people out of the 9.495 million who have tested positive. Daily positive tests have now passed 100,000, and still, Trump refuses to mobilize the full powers of the federal government to battle the pandemic.
Instead, he continues to lie about its virulence, demanding the economy and schools reopen in the face of the danger and peddle false cures.
In return for putting their lives on the line "essential workers like me demand essential pay and essential services," including protective gear against the pandemic, said Howell. Unions have repeatedly lobbied and sued Trump, to no avail, to get such personal protective equipment (PPE) for workers, along with a mandate to force bosses to protect them.
Trump has no control over state and local elections boards, including the Maricopa board in Phoenix, doing the tallying. So he's backing up his demands by egging on his supporters, many of them white nationalists, to try to provoke riots and intimidate elections officials. Their actions harkened back to the GOP-fueled "Brooks Brothers riot" in Miami during the Bush-Gore count there in 2000.
Trump's also headed for court, demanding the U.S. Supreme Court throw out mailed-in ballots in Pennsylvania, the largest state yet to be called in the presidential race. Even without it, Democratic nominee Joe Biden leads Trump 264-214 in electoral votes, with 270 needed to win.
Trumpites rioted in Portland, Ore., but they didn't stop Oregon's count. They did force Gov. Kate Brown (D) to call out the National Guard. Portland police arrested 11 Trumpites and seized fireworks, hammers and a rifle, CNN reported. CNN also covered the Trumpite siege of the Maricopa County elections board offices.
New York City police arrested more than 50 pro-Trumpites there after some set small fires in the West Village. The hundreds of "protect every vote" marchers there were peaceful.
"We support everyone's right to self-expression, but setting fires puts others at risk and will not be tolerated," the NYPD tweeted.
The police reaction was different in the Twin Cities, though. There, after hundreds of peaceful marchers paraded down I-94, backing up traffic, police pepper-sprayed them.