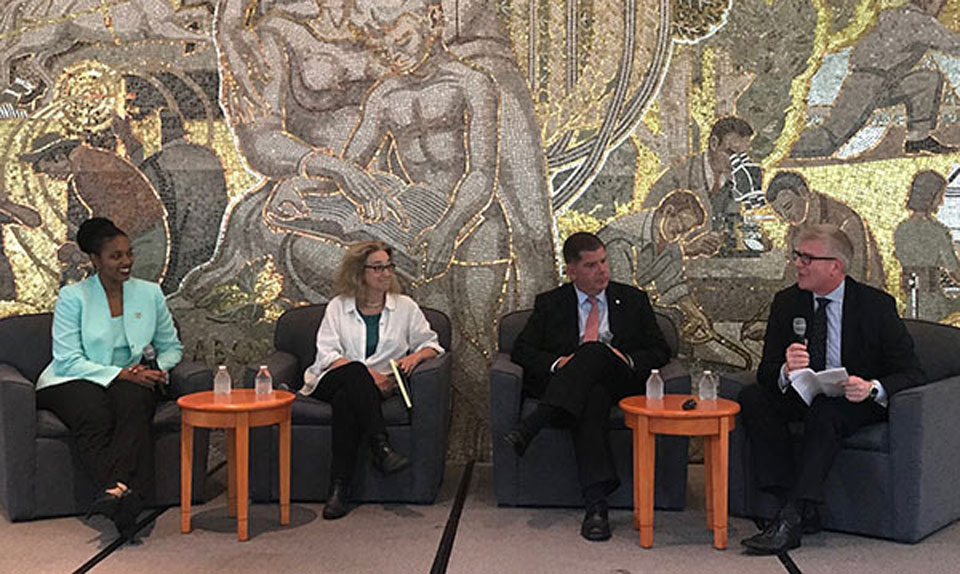 WASHINGTON—Saying union members need a seat at the political table – as mayors, lawmakers, city councilors and members of Congress — three unionist elected officials urged workers to run for office nationwide.
Hundreds are doing so this year, but we need more, say Boston Mayor Marty Walsh, a Laborer and former head of the city's building trades, International Union of Operating Engineers member and Hillside, N.J., Mayor Dahlia Vertreese and Washington, D.C., Board of Education member Ruth Wattenberg, a Teachers (AFT) member.
The three spoke at a September 18 session at the AFL-CIO, against the backdrop of the looming 2018 mid-term election. Some 354 union members, by the federation's count, seek office this fall.
They include dozens of teachers, especially in Arizona, West Virginia and Oklahoma, three of the red states which saw massive teachers' strikes for better schools, more money for education and decent pay for teachers and staffers. They also include at least one campaigning for governor, Tim Walz, a history teacher and U.S. representative who is the Democratic Farmer Labor Party nominee in Minnesota.
Part of that new push on the campaign trail is a reaction to anti-worker, anti-union and pro-corporate policies pushed over a decade or more by big business, the radical right and their usually Republican political handmaidens. For example, GOP-run governors and legislatures shortchanged schools in favor of tax cuts for the rich and for companies. That sent the teachers into the streets and onto the hustings.
"Why shouldn't labor have a seat at the table when we talk about workers' rights?" Walsh challenged. "All these other special interests" have seats, especially in legislatures and Congress, he noted.
"For decades, we've suffered under a broken political and economic system" where business, the right and their politicians "have chipped away" at workers' rights and economic well-being in state capitals and in Washington, federation President Richard Trumka said. "Just imagine what we could accomplish if we could fill the halls of power with real advocates for working families."
The panelists answered his challenge with examples of pro-worker policies they've pushed through while emphasizing they've often convinced competing interests – especially business – to agree. Those policies include:
Creating and implementing apprenticeships, especially for people of color, in the building trades. Walsh made that a top cause both in his union post and as a mayor and legislator. Boston is now half-minority and 28 percent immigrant, he noted. And while citywide unemployment is 3.4 percent, it's double that in majority-African-American Roxbury.
"We've trained 400 (young) people in seven years. It's not enough, but it's a foundation," he said. And Vertreese, the Operating Engineer and a former organizer for her union, noted that apprenticeships lead to well-paying jobs with well-trained workers – who don't carry loads of college loan debt. As mayor only since January, she's working to get local businesses to agree.
"As a labor person, I can open a whole set of doors that somebody else can't," Walsh added.
In D.C.'s case, it's improving the city's public schools, Wattenberg said. The city board of education has little actual power since a "reform" 12 years ago put D.C. schools under mayoral control. But the board oversees policies.
"As union members, we think of schools as places our members work in, but they're also the places we send our kids," Wattenberg said. And the unity came in her school board campaign when, despite the opposition of the Washington Post – which, Wattenberg said, hates the Washington Teachers Union – she united the community "because I had all the PTA leaders" from her 20 years of service at AFT.
In Hillside, it's economic development, Vertreese said – but the right kind of economic development.
The community recently lost three pharmaceutical company plants and she's now seeking jobs for more workers, Vertreese explained. She got the state to declare Hillside an opportunity zone, with incentives for incoming businesses. "But when U-Haul wanted to build a storage unit that wouldn't employ a lot of people," she looked for an alternative. "We want industries that would employ 30 people or more" in a town with a 5 percent jobless rate. She also looked for a partnership with nearby Hudson County.
"It's important to get pro-labor candidates in the legislature, and to educate officials" and even the opposition, Walsh told questioner Tom Killeen, business representative and political director of Sheet Metal Workers/Smart Union Local 100.
"Even if your opponent wins, they know what working people are concerned about. You have to build relationships and have conversations so people will know where you're coming from."
That facet also means union membership is good training for politics, the panelists said. And it provides networking, too. "You have to start at the foundation," Walsh explained, just like in the building trades.
"Apprenticeship prepares you to become a journeyman member and membership prepares you to become a leader," he said. Politics has the same progression.
It also takes the same skills, of networking and negotiating, and creating contracts – laws – said the panel moderator, Jeffrey Soth, national political director of the Operating Engineers and onetime mayor of Snohomish, Wash.
"It's about getting people on the ballots who understand organized labor," and who also can dispel stereotypes that unionists seeking political office are only interested in union issues, Walsh said. But it's also about building relationships "across the board – even with Republicans behind the scenes," the Democratic mayor said.