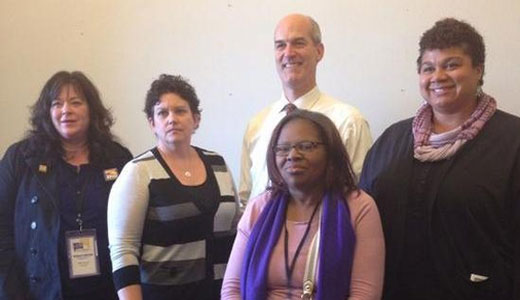 WASHINGTON – More than 150 union activists and leaders, marshaled by the AFL-CIO, AFSCME, the Service Employees, and the National Education Association, flew into Washington Nov. 27-28 to lobby lawmakers to preserve Social Security, Medicare, and domestic programs from budget cutters, while raising taxes on the rich.
The fly-in preceded dozens of rallies and events planned nationwide around the same theme, starting Dec. 1, according to an AFL-CIO website.
The unionists campaigned against any budget package imposing large cuts on Social Security and Medicare while refusing to raise tax rates on individuals making more than $200,000 yearly or families earning above $250,000.
GOP congressional leaders wanted cuts in the two big programs, and another tax cut for the rich, in its closed-door talks with Democratic President Obama.
Obama has repeatedly made the point that he won re-election on a platform of increasing taxes on the wealthiest and on spending to create jobs, especially in infrastructure. Both measures would increase revenue and close the budget deficit, the subject of his talks with congressional leaders.
If Obama and the lawmakers don't act, payroll taxes – which hit the middle class – would rise on Jan. 1, while Bush-era tax cuts for the rich end. Domestic programs – everything from jobless benefits to airport security – would be cut. Economists of all say that combination would throw the economy back into recession.
"Working people, jobless people, and retirees, who just voted for a middle-class economy, shouldn't have to sacrifice their health care and retirement security so that the richest two percent can continue getting more tax breaks," said AFL-CIO President Richard Trumka, before sending the workers to Capitol Hill.
"It's time to protect Social Security, Medicare, and Medicaid benefits that support our working families. It's time to eliminate tax breaks for the richest two percent. That's fair, reasonable, and good public policy," he added. The worker-lobbyists were armed with an AFL-CIO study of the state-by-state impact of the Medicare and Social Security cuts.
One SEIU Local 105 activist, in a nationwide email, explained why she flew to DC to lobby lawmakers. She declined to give her last name, calling herself "Melissa."
"We won't tolerate cuts to programs that working Americans depend on," her e-mail said. "When I voted for President Obama and other champions for the 99 percent, it was a vote to strengthen the middle class and put people back to work – not for tax breaks for the rich, and attacks on Medicare, Medicaid, and Social Security.
"It's horrifying to think that Republicans in Congress are willing to balance the budget on the backs of some of the most vulnerable people in our country like seniors, children and the sick. We must work together to oppose this unacceptable assault on working people. There are better ways to reduce deficits and generate revenue without shifting costs to already cash-strapped state budgets and threatening vital services. The rich must pay their fair share.
"Our message of jobs, not cuts doesn't have to end after our visits today," she said, a message the federation said will be transmitted through rallies and marches nationwide, after the legislative lobbying ends. It plans hundreds of events in states and congressional districts during December.
As of Nov. 27, scheduled events included rallies in Dallas (Dec. 1 and Dec. 10), Duluth and Mankato, Minn., Stockton, Calif., Little Rock, Ark., Burlington and Des Moines, Iowa (Dec. 10), and candlelight vigils in Boston and in Portland, Ore. (Dec. 10).
Photo: Union members meet Nov. 28 with Rep. Rick Larsen (D-WA). Photo courtesy of AFL-CIO.