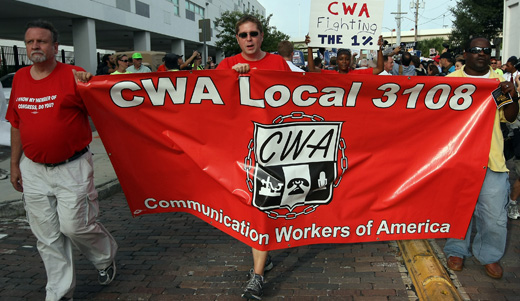 TAMPA, Fl. – On the third day of the GOP convention here this week, AFL-CIO marchers used theatrical presentations to paint a picture of what unions say could be a nightmare scenario in America if Mitt Romney were to be elected president.
Teachers, postal workers, and many others marched. Florida workers alerted others who joined them that what is going on now under a Republican governor in their state could be the fate of the nation were Romney to win in November.
"The one percent own the corporations and they aren't creating any jobs," laborer Mike St. Claire told the local press.
Marchers depicted scenes of what they said Romney's America would like. They gave out "Romney dollars," little dollar bills that illustrate the difference between the minimum wage and a living wage.
Workers carried "Save America's Postal Service" signs, wore shirts with slogans such as "I make a difference every day."
"They are killing the middle class," said protester Pat Kelly, an Ocala, Fla. Member of the Communications Workers of America union. "We are becoming a third world country."
Communications Workers of America member Steve Wisniewoki of Orlando works for AT&T Century Link and said his employer was taken over in the past year by an investment firm similar to Bain Capital, a company that Romney once headed. Since the takeover, the investment firm has stopped paying into pensions for new hires. "They are taking away our overtime," said Wisniewoki, who is also the local union president.
"A Romney presidency would be a mirror of what he did at Bain for workers – layoffs and outsourcing," said Eddie Vale, the former AFL-CIO spokesman who now speaks for its Super PAC, the Workers Voice,
The GOP platform is the most anti-labor platform it has ever adopted, endorsing open shop states, ending project labor agreements, privatizing the postal service, weakening OSHA, and calling for vouchers for private schools.
Unions are fighting back, however.
"The attacks on working families all cross the country has fired people up about the threat they are under and has them ready to oppose Romney bringing these attacks to the national level," Vale said.
Unions have pledged to put 400,00 "boots on the ground," union workers who will canvass door to door.