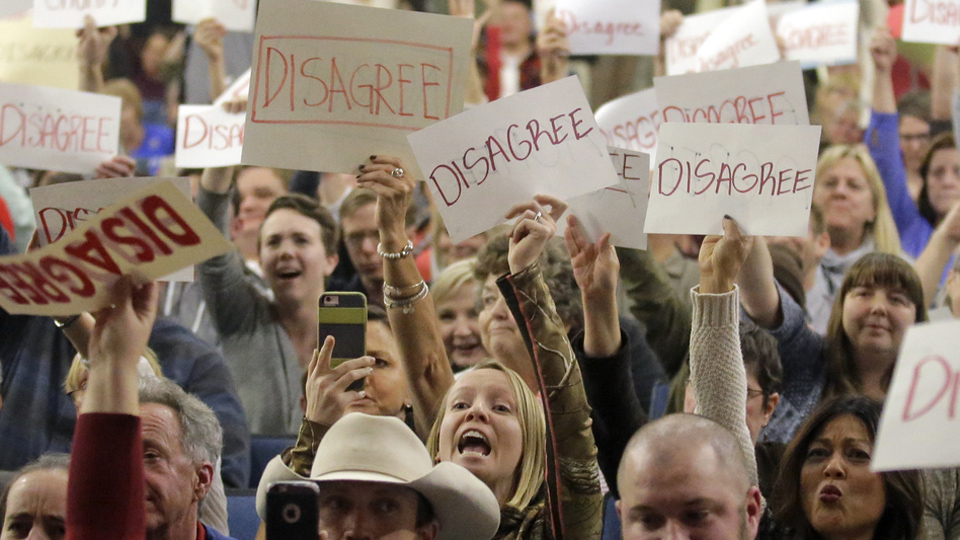 Tens of thousands of unionists nationwide joined in during the congressional recess in late February to resist the pro-corporate agenda of Republican President Donald Trump and the right wing schemes of his GOP congressional minions.
From Anchorage, Alaska, to Murray, Utah, to Overland Park, Kansas, to the Twin Cities, Chicago and Portland, Ore., constituents jammed congressional town hall meetings in dozens of districts. They also made thousands of phone calls flooding senators' offices on Capitol Hill.
In all of them, workers and their allies made clear their opposition to Republican policies, plans and personnel.
Among their targets: GOP House Speaker Paul Ryan's plan to turn Medicaid into a block grant, Trump's nomination of appellate judge Neil Gorsuch to the U.S. Supreme Court and the combined plans of Trump and congressional Republicans to trash federal rules that protect workers and consumers.
Some organizers intend to carry the resistance through at least Trump's first 100 days in office, which end on May Day. It's an outgrowth of prior mass movements against Trump and the GOP.
Those include the enormous women's marches that drew millions in U.S. and worldwide—even in Moscow – plus protests at airports around the U.S. against Trump's ban on travelers and refugees from seven majority-Muslim nations. Trump calls that "a Muslim ban."
They also include the Feb. 16 protests by Hispanic-Americans and undocumented people. Those protests shut restaurants and construction sites nationwide. And, coming up, social networks plan a nationwide women's strike on International Women's Day, March 8.
"This could be one of the most-noteworthy congressional recesses in recent memory," says AFL-CIO spokeswoman Carolyn Bobb, referring to more than 250 events planned at congressional "town hall" meetings during the President's Day break, Feb. 18-26. A list of meetings is at www.resistancerecess.com.
Some "town hall" meetings have already seen GOP lawmakers confront people irate over Republican plans for health care repeal and other outrages. Several GOP lawmakers had to be escorted off stages after facing angry constituents, and at least one state's entire Republican congressional delegation canceled its town hall meetings.
"We will make it clear how troubled we are by the nomination of Judge Gorsuch. Our review of Judge Gorsuch's rulings to date raises very serious concerns about where he stands on issues like worker health and safety, equal opportunity in the workplace and legal deference to the expertise of federal agencies."
But the town halls are not just forums for confronting Republicans. Constituents also fill auditoriums demanding that Democrats stand up to Trump and the GOP.
"This is the perfect time to ask the questions that we, as constituents, deserve answers to and to demonstrate, in no uncertain terms, that tolerance of Trump's attacks on our health care, our communities, and our democracy are unacceptable and politically toxic," said one group that headed for the Manassas, Va., regional office of Sen. Tim Kaine, D-Va.
"We will show up at our elected officials' events, town halls, and other public appearances to make it clear to those who represent us in Congress, as well as to the media, that tolerance of the Trump administration's hurtful policies is intolerable, that indifference or idleness is not acceptable, that complacency is politically toxic," their statement added.