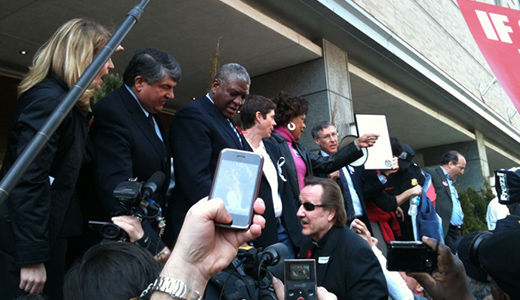 WASHINGTON (PAI) — Thousands of unionists and their allies marched on and surrounded the hotel where the nation's health insurance firms were meeting, demanding a citizens' arrest of company CEOs and their lobby for greed, corruption and 45,000 deaths a year.
Led by AFL-CIO President Richard Trumka, the federation's other top two officers, Change To Win Chair Anna Burger, AFSCME President Gerry McEntee and AFT President Randi Weingarten, demonstrators marched a mile on March 9 from the union groups' headquarters to the Ritz-Carlton. They demanded the insurers and their lobby, America's Health Insurance Plans, stop trying to kill health care reform-and that Congress stop listening to the lobby and instead listen to voters and pass pending health care legislation.
Trumka and the other leaders also brandished an arrest warrant for the insurers, which was taken inside. The peaceful protesters, met by police-one mounted outside the hotel's main entrance-stayed outside.
The protest came as Congress tries to move to final votes by mid-month on health care, with details of complex fixes to health care legislation still being worked out. Legislative leaders are still trying to round up the needed votes to push through a final version of both health insurance reform.
It also comes as the Obama administration appealed to health care groups nationwide to bombard Congress with calls, e-mails and other messages demanding an up-or-down vote on health care. A White House-sponsored conference call on health care garnered a renewed commitment to public pressure from the American Medical Women's Association, among others.
"The American people really trust their physicians. If you get your voices out there and get on camera, it would be terrific," Obama advisor David Axelrod told AMWA.
The demonstrators raised their voices and got on camera, too, while the insurers and their lobby stayed inside the Ritz-Carlton hotel.
"They can lie, they can cheat, they can spend millions of dollars, but they can't win," McEntee said of the insurers and their lobby. Then he warned Congress: "If you don't act, we'll come to arrest you."
Trumka declared the insurers are "the dark titans of greed who have ruined our health care system with their unquenchable thirst for profit over people." He added that "The only thing that will stop them is legislation that forces them to become more human," meaning the health care bills now stalled on Capitol Hill.
"Congress should, Congress must and Congress will listen to working people and not the insurance companies," Trumka predicted. "But when the insurance companies come together to plot how to stop health care reform, that's a crime-and this is a crime scene," he said. To back up his point, the protesters surrounded the block-square hotel by standing inside yellow "Crime scene-do not cross" plastic tape.
Burger and Weingarten cited the unnecessary deaths the insurers cause. Burger, whose union, SEIU, includes a million health care workers among its 2 million members, was blunt. "They have the nerve to sneak here in the dead of night to plot against us," she said. "We're here to call them out for their crimes against humanity …Every half hour in America, someone dies because they don't have health insurance. If we want to talk about 'death panels'"-a GOP theme in opposing health care reform — "the death panel is in there," she said, pointing across the street to the meeting hotel.
Weingarten gave an example of what happens to citizens when the insurers raise their rates. "At the Willow Run School District in Minnesota, the premiums went up to $24,000 a year" per family "for a mid-level insurance plan. They (the school district) couldn't afford it, so they canceled the insurance. Where is it going? To a 428% increase in profits. Is that a crime? Should they be arrested?
"We're doing this for people who work every day, and for people who lose their lives every day to the insurance industry," Weingarten, a high school teacher, declared.
Unionists from UFCW, the Steelworkers, AFSCME, AFT, the Laborers, The Newspaper Guild, the Letter Carriers, the Communications Workers, the Office and Professional Employees, AFGE and SEIU joined the protest-which made very clear the insurers are villains, or worse.
The insurers ignored the protesters and continued with their meeting inside. Axelrod and other White House aides spent their time on the conference call that day reiterating the benefits of reform and urging participants to mobilize nationwide.
"We're on the doorstep of dealing with something that the country, families and businesses have grappled with for over a century," the cost and availability of health care, Axelrod said. "And it'll get worse if we don't succeed."
Photo: http://www.flickr.com/photos/healthcareforamericanow/4419737589/ Copyright HealthcareforAmericaNow