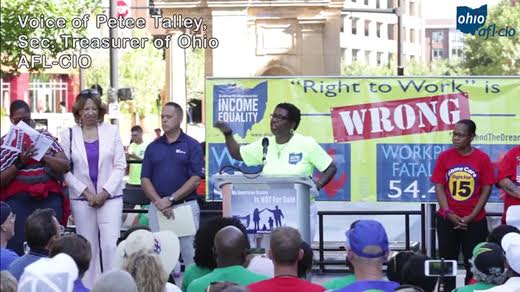 Bringing memories of the massive 2011 union/coalition mobilizations that defeated the GOP's anti-labor Senate Bill 5, hundreds of union members and supporters packed the Ohio statehouse this past week to protest introduction of a new "right-to-work" bill and an "unemployment reform" bill which would make Ohio the "worst state in the union for unemployed workers," according to Matt Smith, Ohio AFL-CIO Legislative Director.
"They tried to slip this one by us," stated Ohio UAW CAP Director, Sarah Laws. "They should've learned their lesson when they tried this before. This is unsafe for Ohio's workers. It is only about trying to drive working people's living standards down, just to enrich the wealthy. It is not just about unions. If they pass this it will drive all workers standards down, not only union members. Union contracts set the standard for everyone. We're not going to let them drive us down!"
IN 2011, Republican legislators passed a 'right-to-work' bill, directed toward Ohio's public workers, kicking off a gigantic mobilization of unionists and allies against it. After regular and huge, militant mobilizations, culminating in a march of thousands to present hundreds of thousands of signatures on recall petitions, that legislation was overwhelmingly reversed by voters in a recall election that year. Reverberations from the Senate Bill 5 fight echoed through the statehouse this past week, as chanting workers packed not only the hearing room, but three overflow rooms as well.
"Right-to-work' is just plain wrong," shouted Doug Stern, a teacher, AFT member, who came with a carload of friends from Cincinnati. "Everybody talks about the middle-class, but all these guys do is work to wipe out the middle-class. Everything is now going to the rich. They take from our children, seniors, disabled! We're here to say that 'Enough is enough!' It stops here!"
Clearly, those pushing the bill heard the voices also.
Ron Young, R-Chair House Labor Committee, sponsor and supporter of the bill, stated "If we can do anything, it will take a long time. There is a lingering reluctance to act because of what happened to Senate bill 5."
Another 'right-to-work' supporter, Cliff Rosenberger, R-Clarksville, acknowledged that the attacks on labor had strong public opposition. He volunteered that he "did not know" if the House would also take up this legislation. "We've only got about 9-10 sponsors," he stated. "We have to be cautious," he said. "We know what happened with Senate Bill 5. We'll just have to let the process work."
On the other side of the issue, Rep. Alicia Reese, D-Cincinnati, was greeted with wall-shaking cheers when she pointedly asked "Haven't you already tried this? Isn't this just Senate Bill 5, #2? Really, is this bill worth dividing a state that has already settled this issue at the ballot?"
Teresa Fedor, D-Toledo, joined in, stating that 'right-to-work' would be a disaster for Ohio. "All it is is a race to the bottom! It would make Ohio's citizens and children poorer."
The following day, the conservative, Republican Columbus newspaper, the Dispatch published an editorial, titled; "No Time for a New Fight," urging the GOP to withdraw the 'right-to-work' bill and avoid a confrontation with organized labor, its allies. This appears to reflect thinking of 'mainstream/corporate' Republicans in the state, who have coalesced around Ohio Governor Kasich's weak bid for the White House, and do not want another major battle with working folks hanging around his neck.
While the 'right-to-work' initiative appears, for the time being, to move to the back burner, forced there by labor's mobilization, another legislative attack on Ohio's working folks was also floated at this same hearing. HR 394, a major overhaul of the entire program of unemployment compensation in Ohio, was also introduced at the hearing.
If passed, HR 394 would:
Cut unemployment benefits to the lowest in the nation.
Require workers to work in three consecutive quarters to qualify for compensation, instead of the two now required.
Off-set any other income, should as Social Security, from compensation amounts. This would essentially disqualify retirees, partially disabled workers and many others from being eligible to receive unemployment comp at all.
Eliminate dependents of unemployed workers from the calculations for compensation amounts, replacing it with an extremely low 'all size fits all' qualification amount.
Require workers to have worked, consecutively, for 26 weeks to be eligible for compensation, up from the present 12 weeks that need not be consecutive.
The most punitive section allows employers to deny any laid off worker benefits if they determine, subjectively, that the worker had 'violated' any section of a company "employee handbook."
While the angry unionists and their supporters hammered the proposed 'right-to-work' bill, the GOP-corporate attack on worker's ability to receive unemployment comp was also the subject of their fury!
"These aren't just attacks on union workers and their families," said Cincinnati Boilermaker Tim Barker, "these are attacks on every working person, every disabled and retired person. These guys were sent here to represent us and all the do is attack regular folks and help their billionaire buddies!"
According to Dan Ramos, D-Lorain, while the corporate/GOP legislators have the votes in the Ohio Senate to pass these bills, they are extremely wary of provoking another major upsurge by Ohio's union workers and their supporters.
"We've already voted on attacking working families in Ohio, and those wanting to do so got their lunch handed to them! We don't want to, but if we have to we'll do it again."
"All these guys want to do is enrich the wealthy at the expense of regular working families that have already been hard hit," said Ramos . "Their agenda is to cut people's health care, make work unsafe and increase deaths on the job, increase fear and insecurity among regular people in order to enrich the wealthy."
Ramos asserted that the entire Democratic caucus was in opposition to both the anti-labor measures, and intended block them, if possible, at all levels.
HR 394 had also been pulled back by the end of the day, but is expected to reemerge early next year, according to numerous sources.
"These are vicious assaults on our already embattled working families, working and retired people in Ohio, by the Republican majority," stated Norm Wernet, President of Ohio Alliance for Retired Americans (ARA). "Their misplaced agenda is to try to balance budgets, further enrich the super wealthy, at the expense of the decent, working families of our state. This thing is DOA—'Dead-On-Arrival!' We've seen this before, their floating issues, then saying that 'we're just kidding,' in order to refloat them later. We're all here, and here with just a day's notice, to let these guys know that it is dead now, dead tomorrow and, Ohioans will oppose it, in force, whenever they try to bring them back up!"
Photo: Screen shot from video: Working People Rally in Columbus. Thousands of Ohio unionists joined together to rally against the Koch Bros.' agenda of keeping the economy out of balance for average Ohio families. Ohio AFL-CIO