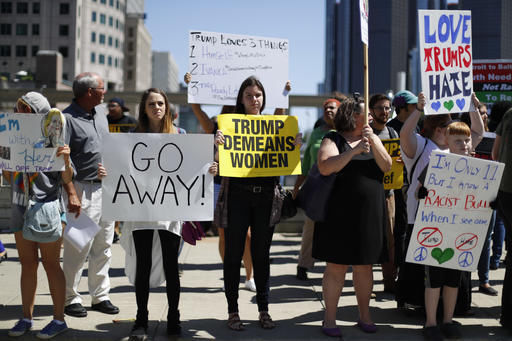 DETROIT (PAI) – Unionists outside, protesters inside, fact-checkers at The Wall Street Journal and other media and even some conservative economists all panned Republican presidential nominee Donald Trump's major economics address, given August 8 in Detroit.
Trump gave the speech at the Detroit Economic Club, a frequent venue for major political and economic addresses. The conservative business owners in the audience sometimes applauded him, especially when Trump's security guards ejected 17 female protesters from the room.
The women protested Trump's anti-woman stands – and his outsourcing.
"You want to close Michigan plants and outsource our jobs!" one autoworker from Grosse Pointe Woods shouted. As she stood on her chair, she added: "How are we supposed to raise our families without good jobs? Is that what you call 'winning'?" She was then tossed.
Trump's speech itself had few clues about what his policies would be towards workers, other than his promise to renegotiate trade treaties and a flat ban on federal regulations, including pro-worker rules. He also declared "our education reforms will help parents send their kids to a school of their choice," code words for supporting private – not public – schools.
And Trump promised to "immediately cancel all illegal and overreaching executive orders," without specifying which ones. Several Obama administration orders aid workers, notably low-income workers.
"Nothing would make our foreign adversaries happier than for our country to tax and regulate our companies and our jobs out of existence," the business mogul stated – before announcing he would propose cutting the federal corporate tax rate to 15 percent, if elected.
The stated federal corporate tax rate is now 35 percent, but businesses use deductions, exclusions and income-shifting overseas to pay an average of 12.6 percent, Wall Street Journal fact-checkers noted. That's lower than the rate imposed on most individual taxpayers.
Unionists outside the hall-where 1,500 corporate executives and guests paid $45-$55 each to listen to Trump-gave his speech failing grades.
Trump "spent his life getting rich by hurting working people," said AFL-CIO President Richard Trumka. "Now he returns to Michigan for an economic speech almost one year to the day after he suggested automakers move production from Michigan to states with lower wages. It's ironic, deceitful, and simply offensive.
"Trump will say he speaks for all Americans, but his all-white, all-male, Wall Street banker economic team proves his intentions. Trump has chosen to get his real advice from people just like him – people who have made millions off the backs of hardworking families.
The Auto Workers led on-site protesters outside the hall, and both UAW and the Michigan AFL-CIO lambasted Trump's promises as empty or worse.
"Trump would be an absolute disaster for working people in Michigan," the UAW said. "This is the same guy who said 'our wages are too high.'
"And Trump said he would close 'a couple of plants' and send Michigan auto jobs to other states as a way to cut the wages of Michigan autoworkers. That kind of thinking is downright dangerous, and will kill Michigan jobs."
State Fed President Ron Bieber called Trump's plant-closing schemes and plans to cut workers' wages "just nuts" and "downright dangerous." He added Trump would send the state economy "right down the drain."
"All we heard from Donald Trump today was a lot of hot air," Bieber added. "Trump doesn't give a rip about helping working people in Michigan. If he did, he'd hire Michigan workers to make his clothes, instead of producing his ties in China and his suits in Mexico. The truth is Trump only cares about making more money for himself.
And given Trump's past denunciations of women, Hispanics, Muslims, veterans and others, Bieber called on top Michigan Republican officeholders to withdraw their support from the controversial nominee.
"Michigan can't afford Trump's reckless ideas. That's why I'm calling on Republican leaders like Attorney General Bill Schuette, Lieut. Gov. Brian Calley, Congresswoman Candice Miller, Congressman Tim Walberg, and House Speaker Kevin Cotter to do what's right for Michigan and withdraw their support for Donald Trump," Bieber said.
Cotter and Calley did not attend Trump's speech, though Calley stumped with Trump's running mate in late July. Nor did right wing GOP Gov. Rick Snyder, who announced in June he would not endorse Trump.
Former GOP Michigan Gov. William Milliken, a moderate, is backing Democratic presidential nominee Hillary Clinton. Former GOP Gov. John Engler, now head of a top D.C.-based business lobby, has been silent so far, but supports "free trade" pacts that Trump denounced.
Photo: Demonstrators protest during Trump's economics address in Detroit. |  Paul Sancya/AP