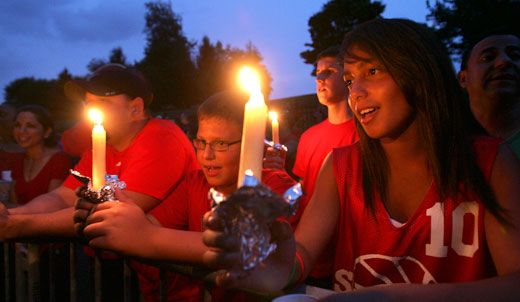 NEW YORK (PAI) – Some 45,000 unionized Verizon workers, members of the Communications Workers (CWA) and the International Brotherhood of Electrical Workers (IBEW) returned to work at a minute past midnight on Aug. 23, ending their 2-week strike. The old contract was reinstated, pending the outcome of re-started bargaining between the telecom firm and the two unions.
"We have reached agreement with Verizon on how bargaining will proceed and how it will be restructured. The major issues remain to be discussed, but overall, issues now are focused and narrowed," the two unions said in a statement three days before.
"We appreciate the unity of our members and the support of so many in the greater community. Now we will focus on bargaining fairly and moving forward," they added.
The unions did not say what big issues are still on the table, but Verizon demanded huge changes in health care coverage and pensions, among others. It also did not want to retrain landline workers in newer technologies.
But CWA, just two days before the return to work – and after the two sides agreed to do so – demanded Verizon renounce a statement by the company's VP for Human Resources, Marc Reed, that claimed the unions "agreed to bargain in good faith." As records previously provided by CWA and IBEW show, the situation before talks broke off was exactly the other way around. The unions were willing to bargain, but Verizon had not budged from demands that would have cost each worker $20,000 a year – or $1 billion in givebacks overall.
The 2-week strike was marked by mass outpouring of union and community support for the workers nationwide. Though Verizon's main coverage area runs from Maine through Virginia, informational picket lines sprang up at more than 400 Verizon facilities nationwide, including one in Hawaii.
Community groups, realizing the Verizon workers are fighting for middle-class jobs, joined the protests. Some politicians, including Sen. Ben Cardin, D-Md., joined the picket lines.
Details of the return-to-work agreement include "indefinite extension" of the current contracts between Verizon and the two unions. But either side, on seven days notice, may end the old contracts, starting a month after the return to work.
The two sides also set up a process to resolve company claims of picketers' alleged law breaking – and CWA had previously issued a strong statement to its own members criticizing those scattered incidents.
Both sides agreed to dump National Labor Relations Board complaints, court suits and other legal actions against each other, except that the unions can still file unfair labor practices charges with the NLRB against Verizon for incidents of company "retaliation for protected activity" that occurred before unions and Verizon signed the back-to-work pact.
Photo: Verizon workers and their families hold a candle light vigil at the home of Verizon CEO Lowell McAdam in Mendham, N.J., Aug. 18. (Rich Schultz/AP)