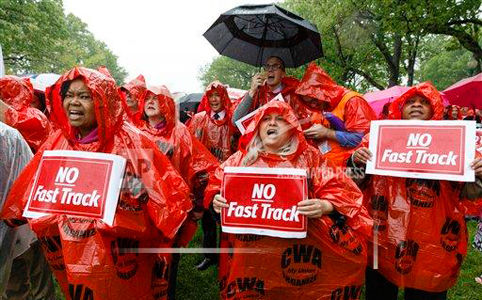 WASHINGTON (PAI) – Energized by speeches of support from union leaders from Oregon, California, and Maryland, and combative House Democrats ready to take on their own president, several hundred unionists fanned out over Capitol Hill on Mar. 4 to lobby lawmakers to vote against so-called "fast-track" trade promotion authority.
The rally and lobbying, which included the Machinists, Steelworkers, the Association of Flight Attendants-CWA, the Communications Workers http://www.cwa-union.org/ and the American Federation of Government Employees, was to convince Congress to deep-six fast-track.
While they claim popular support (a poll released during the rally in the Capitol shows 75 percent support "fair trade that protects workers, the environment and jobs" and only 11 percent oppose that), Congress may be another matter.
That's because fast-track and the job-destroying "free trade" pacts that it would let President Obama jam through are one of the few issues that Obama, big business and most of Congress' majority Republicans agree on. And not all Democrats are on board with workers, either, several of the workers told PAI.
The President's use of fast-track would push through three looming trade pacts: one with Europe, another covering public services and the third, the dangerous Trans-Pacific Partnership (TPP), with 11 Pacific Rim nations. Congress couldn't change the pacts, and all three would lack worker rights. They also would let business use secret trade courts to challenge and override federal, state and local laws if those laws even threatened potential corporate profits, speakers said. Everything from state minimum wage hikes to Buy American laws would be under the gun.
"Fast track is the wrong track," said Rep. Rosa DeLauro, D-Conn., who hosted the mass rally, which marked the start of at least six weeks of lobbying on fast-track. DeLauro added that bad public policies including bad trade agreements played a role in stagnation of wages and decline of the middle class for the last 30 years. Fast-track and stopping the TPP is where lawmakers must draw the line, even against their own president, DeLauro vowed.
"We're not going to rubber-stamp this bill," she said. "If we get fast-track, we'll lose," added Rep. Vic DeFazio, D-Ore. Passing the TPP, he warned, "would mean the end of us as a manufacturing power."
Oregon AFL-CIO President Tom Chamberlain faulted Congress for not addressing a number of pressing issues: "Income inequality, wages are stagnant, manufacturing is decaying, the minimum wage is too low, and families struggle."
Instead, he said, lawmakers tackle job-losing measures with trade pacts at their head. "We can't afford another bad trade deal that undermines our standard of living. Working families deserve better and we've come to Washington to tell our congressional delegations to stand up for all of us."
Harking back to the string of trade pacts started 20 years ago by NAFTA, the controversial job-losing U.S.-Mexico-Canada trade pact, California AFL-CIO Executive Secretary-Treasurer Art Pulaski said workers had one question for lawmakers: "How dumb do you think we are? Then came CAFTA, Chile, Korea, Peru," he said. They cost "a total of 5.5 million jobs.
"Not only did NAFTA not create jobs" as Clinton promised and labor doubted then "but hundreds of thousands of jobs were taken away, stolen and offshored. Families that lost those jobs, lost those wages, permanently," Pulaski pointed out. Those who got new jobs were and are paid a lot less.
Rep. Keith Ellison, DFL-Minn., co-chair of the Congressional Progressive Caucus, pointed out the unionists are not alone. Spreading his arms wide, he declared, "we've got a big coalition here and you have every right to feel enthusiastic and confident that we will win."
He also reminded the workers to tell lawmakers that they, too, were shut out of the secret talks about the TPP, but big business was not. Citing the U.S. Constitution, Ellison said workers should demand their lawmakers not cede their authority over trade.
"You get some big corporate interest in there and what are they going to look out for? Their bottom line. My role is to look out for the public interest, not somebody's bottom line."
Laurel Brennan, Secretary-Treasurer of the New Jersey AFL-CIO described unstinting and unanimous support from five Garden State Democrats against fast-track and TPP whom she and her colleagues met. DeLauro has more than 100 signers on an anti-fast track letter.
But not all congressional Democrats are on board with workers in the fast-track fight.
Bobbie Mas, Juliana Ulbrich and Mark Gangler of the Association of Flight Attendants-CWA said they got polite receptions, but no commitments, from three lawmakers.
"They understand what we're saying," but would not commit to vote for fast-track. Gangler said of Reps. Steny Hoyer and Chris Von Hollen, both D-Md. Hoyer is the House Minority Whip and Van Hollen is the top Democrat on the Budget Committee, so both are under White House pressure even more than their colleagues.
Ulbrich got a similar reaction from Rep. David Price, D-N.C., a political science professor on leave whose district includes the Research Triangle. "He was very open-minded and heard what we had to say," she said. But Price, too, gave no promises.
Photo: At a 2014 anti-TPP rally at the Capitol in Washington. | J. Scott Applewhite/AP