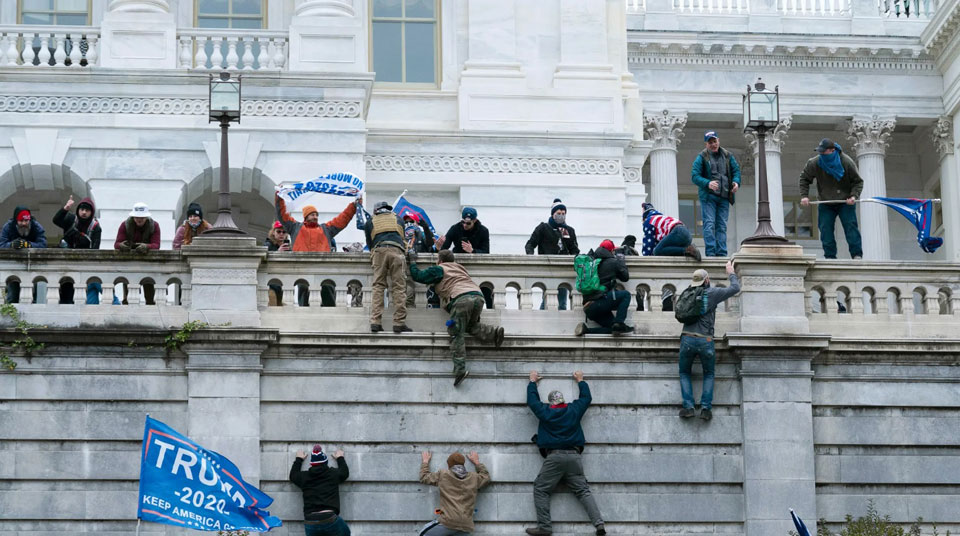 WASHINGTON—When it comes to fighting the fascist right, there's no shortage of ideas from union members—at least from those attending small-group discussions on the issue at the AFL-CIO's Martin Luther King Jr. commemorative conference in D.C.
The Jan.14 seminars, led by AFL-CIO Associate General Counsel Raven Hall and federation Senior Field Representative Jocelyn Woodards, saw participants offer a wide range of tactics to combat the right—battling the same menace the legendary civil rights leader discussed at the federation's 1961 convention.
The topic of fighting the right, whose main recent manifestation was the 1,000-Trumpite insurrection, invasion and attempted coup d'etat at the U.S. Capitol on Jan. 6, 2021, was a key theme of the conference. But as participants, especially African-Americans, noted, the right wing has oppressed people and voters of color for decades.
Which means they're familiar with what many call Jim Crow 2.0. That's repression so bad, and not just in the South, that workers must develop new tactics to fight new subjugation methods which have spread to border states like Kentucky and northern states such as Iowa.
After all, when Kentucky reduces the total number of polling places statewide from 3,700 in 2018 to 200 and when Iowa's draconian voter suppression law actually is worse than Georgia's infamous statute—according to the state AFL-CIO's Political Director Al Womble—workers have a big problem nationwide.
And there's now one state that scrubs voters from the rolls if they miss one election, even a primary.
"We had some of the largest turnout" percentage-wise, "in the country in 2020," Womble told the group, elaborating on examples Hall gave. "We had lines" at voting sites "a mile long, and the Republicans" who now have a stranglehold on state government "realized that the more people are physically voting, the more labor-supporting candidates are winning."
Voting restrictions hit
So voting restrictions, Hall said, particularly aim at disenfranchising the voters who have proven to be the most-obstinate foes of the Radical Right's tyrannical agenda: Voters of color, particularly Blacks.
Shades of the post-Reconstruction Era of literacy tests, license restrictions, whites-only Southern primaries—which the Supreme Court outlawed in 1944—and poll taxes, now banned by the U.S. Constitution, that reached as high as $400. Replacing those taxes are high fees people must pay for confirming ID documents, such as drivers' licenses and birth certificates.
In addition states have banned some forms of confirming identification needed to establish residence and the right to register to vote. The partisan split shows up there, too. Both swing state New Hampshire and deep-red Texas don't let college students use institutional ID cards to prove residence. But deep-red and gun-crazy Texas allows the gun permits as a form of ID.  Gun owners skew heavily Republican; college students skew Democratic.
Tactics discussed included intensive year-round face-to-face political education, and organizing mass movements with like-minded organizations to both hit the streets and lobby in state capitols and Washington for expanding the franchise and against repressive measures.
Others included not only ensuring all workers and their families are registered, but following-up to ensure their registrations are current, while educating workers on the importance of exact signature matches between their names when they registered and their names as they sign voter ID books before every election.
Or as Hall put it, one difference as small as a hyphen in your name can lead to you being disenfranchised. "In Georgia this year, 53,000 people were cancelled" from voting "because of a transposed letter" in their names, she elaborated.
Hall and Woodards encouraged participants to run for local office, and also to serve as election monitors and poll workers in 2024, to counter the expected onslaught of rightists intent on challenging and intimidating pro-worker voters, again especially voters of color.
Other ideas included making mail-in balloting easier, not harder, opposite what the  Supreme Court did in a recent Arizona case, and making Election Day a holiday. One woman said it's a holiday in her union contract. Another contract, at People's World, the pro-worker Chicago-based news website, makes primaries as well as general elections paid holidays.
Participants also suggested lobbying to make it harder to "purge" voter rolls—again the opposite of what happened in one red state, where a new law purges people if they miss even one election. Before the 2022 balloting, "87,000 were purged in Georgia, and 70% of them were Black," said Hall.
Still other participants advocated making it more difficult to challenge both voters and election results. In the waning days of the Democratic-run 117th Congress, lawmakers closed most of that latter loophole by enacting a comprehensive overhaul to the 1887 law mandating how electoral votes for president should be certified and counted.
For hours on Jan. 6, 2021, the Trumpite invaders disrupted the count and the certification of Democratic nominee Joe Biden as the White House winner. Their failure has only further emboldened the fascist foes of workers and people of color.
Hall's conclusion: The right "wants to ensure you do not exist" electorally.