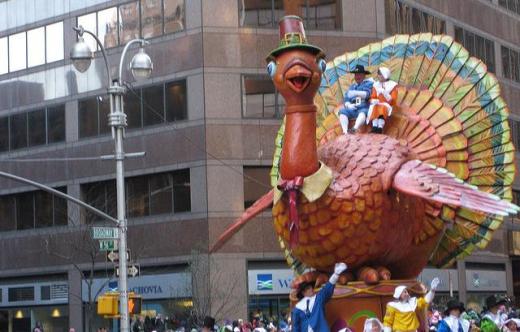 Thanksgiving is a grand American holiday: secular, focused on family, food, friends, celebrating and giving. Celebrating the bounty of nature and the hard work that goes into harvesting the bounty. Giving thanks for what is good in your life and the world, and giving back to the community and those who need a helping hand. (Plus, no pressure to buy, buy, buy — that is, presents or decorations or turkey lights, only food and ingredients for stuffing and pumpkin pie.)
It is a wonderment why some would want to equate capitalism and Thanksgiving, given the very cooperative and social progress substance that is known as an American Thanksgiving.
But we know why some would do that. Because even on holidays that many Americans rightfully think would be politically "neutral," the class struggle doesn't take a day off. Tea party Republicans and other far-right ideologues at the Cato Institute and beyond push the historical hypothesis that "rock solid" private property rights and "free enterprise" saved the pilgrims. It wasn't the cooperative living, and sharing of land and harvest, they say, and it certainly wasn't any neighborly help from the Pilgrams' savior and teacher, Squanto (Tisquantum), and his people of the Patuxet nation.
It's a testament to the American people's skepticism — and anger — at Wall Street and the so-called free market system that crashed and burned and now leaves a 10 percent — plus — "new normal" jobless rate, which has led to the extreme right ideological machine to have to constantly belch out their ideas designed to prop-up the "rightness" of casino capitalism among Americans. And even on and about Thanksgiving!
That said, who wants to be ranting and raving on Thanksgiving? So here's a thought and something to be thankful for, especially during these trying times. Let's give thanks to unions. Yes. That's right. Unions. Organizations of workers, whether blue collar, white collar or pink collar that are the backbone of the movement for economic, political and social progress.
Yes. Let's give thanks to unions. Why, you doubters may ask? For one thing, it makes everyone happier.
According to a recent study, unions make not only their own members happier — they make non-union members happier!
This Thanksgiving — and looking toward the new year — we should give thanks to labor unions, leaders, members and families present and past — and resolve to spread the happiness through the hard work of organizing.
After all, Thomas Jefferson wrote, life, liberty and pursuit of happiness — not pursuit of private property. That's a very American concept, too.
Happy Thanksgiving.
(Photo: Ben+Sam/CC)