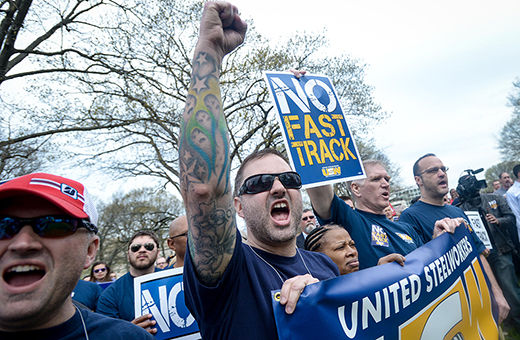 Armed with fact sheets showing net losses of U.S. jobs under every so-called "free trade" pact with or without presidential "fast-track" trade promotion authority, unionists, environmentalists and their allies descended on Capitol Hill in the week of Apr. 12-18 for mass lobbying against fast-track and its daughter trade pacts.
Exhorted by leaders of the Blue Green Alliance – a coalition of unions and environmental groups – and fiery speeches by Steelworkers President Leo Gerard and leaders, more than a thousand people lobbied lawmakers on the two allied issues on Apr. 15. The lobbying continued through the week, ending with Day of Action nationwide, on Apr. 18.
Their descent was timely: With the support of President Obama, who backs fast-track, three of the four leaders of Congress' two panels that deal with trade were expected to craft and introduce fast-track legislation. The odd man out: Rep. Carl Levin, D-Mich.
The measure would give the president and his successors virtually uncontrolled power to negotiate such "free trade" pacts behind closed doors, without congressional or public input, and without worker rights or environmental protections.
The pacts, led by the proposed 12-nation Trans-Pacific Partnership (TPP), would also establish special secret trade courts that corporations could use to overturn federal, state and local laws that might interfere with future profits. Those secret panels, dominated by corporate and Wall Street lawyers, could kill job safety and health laws.
"We're not anti-trade. We're just anti-trade deals that trade away our jobs," Steelworkers President Leo Gerard declared. USW members were a large contingent of the workers who charged Capitol Hill, since they were in town for their legislative-political-Rapid Response conference.
"Pick one," Gerard said of any of the so-called "free trade" pacts of the last 20 years. "NAFTA? After NAFTA, our imports (from Mexico) quadrupled" and slid into deficit as U.S.-based multinationals closed plants here and opened them there for export of goods to the U.S.
"Korea? We had an even trade balance" before that free-trade pact three years ago. "Now we're on the way to a $35 billion-$36 billion deficit" which costs U.S. jobs, he declared.
"How many more thousands of jobs do you lose when exports are higher than imports?" year after year, Gerard added. "Who's going to talk about that? It has to be us."
Present trade law lets U.S. firms and unions hurt by unfair and subsidized imports bring trade cases before the federal government, and USW has led the way for both labor and business in such suits, winning 26, losing four and with three still outstanding, he pointed out.
But there's a big flaw in increased enforcement, and Gerard urged the group of both unionists and environmentalists to cite it: You can't sue until after you're hurt. By the time a ruling occurs, 18 months later or so, the hurt firm may be out of business and workers out of jobs.
That means a rewrite of trade law must make it easier to stop the damage before it begins, a fact sheet given to unionists and environmentalists, to use in their face-to-face talks with solons and staffers, says.
Fast track would also open the way for the TPP and that's supposed to be the model for other future trade pacts, the fact sheet adds. Congress then would not vote on the pacts themselves, but only on presidentially drafted laws to implement them, with no changes.
Those laws, like the trade pacts, could omit worker rights, environmental standards or other curbs to corporate profit, Gerard and other USW leaders said.
The TPP "merits concern" because it would give firms and investors "rights and privileges" that make it safer to take production overseas to low-wage, labor and human rights violators.
Fast-track would also let countries and firms manipulate U.S. domestic content rules, the fact sheet says. NAFTA required a duty-free product entering the U.S. from Canada or Mexico have 62.5 percent U.S. content. By the time of the Korea pact, that was down to 35 percent.
Photo: USW.org