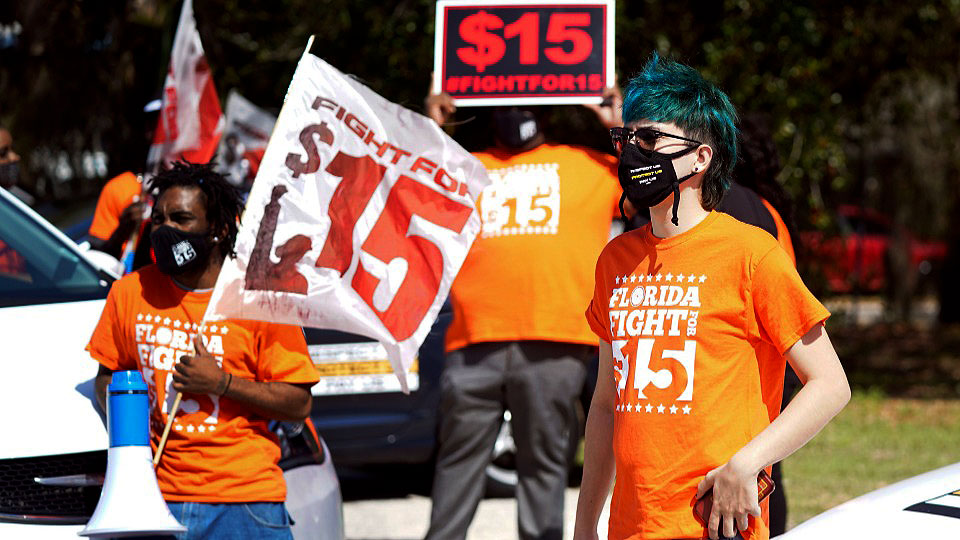 WASHINGTON (PAI)—With notable union backing, led by Service Employees President Mary Kay Henry, the New Poor People's Campaign turned up pressure on Congress to approve raising the federal minimum wage to $15 an hour, ahead of key votes on Capitol Hill.
The pressure came in nine live demonstrations from coast to coast, despite rain in New York, Chicago, Portsmouth, N.H., rain-sleet in D.C., and Charleston, W. Va., cold clear weather elsewhere—except in sunny L.A. and Phoenix—and the coronavirus pandemic. NPPC backers paraded with signs proclaiming lawmakers must raise the wage, now $7.25, in stages by 2025.
Their particular targets were two dubious Senate Democrats, West Virginia's Joe Manchin, and Arizona's Kyrsten Sinema, NPPC co-chair the Rev. Liz Theoharis said. If the two defect, in a 50-50 Senate, the minimum wage hike goes down the drain, at least as part of Democratic President Joe Biden's $1.9 trillion American Recovery Plan Act.
That measure, the economic aid package designed to help pull the nation out of the coronavirus pandemic-caused depression, is scheduled for a U.S. House vote by Friday, Feb. 26, with the Senate scheduled to handle it the following week.
Lawmakers are under a tight deadline because one key aid to workers, federal weekly jobless benefits, expires March 14. The House version of the bill would extend them through Aug. 29 and raise them from the current $300 weekly to $400.
That led NPPC members out into the streets, and led to Henry's strong support via video, aided by LaTanya Jones-Costa, a home health care worker from Atlanta who's also part of "Fight for 15 and a Union." The Communications Workers and One Fair Wage, led by noted restaurant worker advocate Saru Jayaraman, also strongly support the NPPC's wage hike drive.
"We want $15. We want a union. We want health care. And we don't want a handout," declared West Virginia minimum wage worker Pam Garrison, at the outdoor demonstration there near Manchin's office—and between the offices of the state lottery and a hospital.
In his first job, at the minimum wage after getting out of the Army in 1990, West Virginia lumber mill worker Matt Kerner said, "the plant manager told one guy that 'The minimum wage is our way of telling you that if we could pay you less, we would.'"
"Low-wage workers across the country are counting on you," was his message to Manchin. Others who want to join the campaign can do so by clicking here.
"We are essential, but they treat us like we're not essential," said Haley Carrera, who led the Phoenix group. "I'm a food service worker. I touch forks, knives, menus, and masks that people take off in restaurants.
"I go back to the four one-dollar bills I look at on my dresser," her daily share of tips above tipped
workers' $2.13 minimum wage. "I am worth more. We are worth more." The minimum wage hike in the House bill would raise the tipped workers' minimum to $15, in stages, too, but in 2027. And they could still get tips on top of that.
"We have" minimum wage "health care workers without health care, and I had one fully pregnant woman in my hot kitchen working for hours and hours and hours. There are many like her. This is atrocious."
"Every server, busser, and chef had to split our cash tips at the end of each day and receive our share of credit card tips at the end of the week," added Thesoa Alexander Galante at the D.C. demonstration. "But some refused to share tips," leaving others with less. "Why can't we have more respect and why can't we have a livable wage?" he asked.
"The two million members of SEIU stand with you" as do the CWA and One Fair Wage, Henry said via video, before turning it over to Jones-Costa. "We are demanding Congress provide $15 an hour, provide COVID relief, and the money state and local governments need" to keep workers on board to battle the pandemic.
"I'm a 23-year home health care aide," Jones-Costa said. "Home health care is a calling. We're your confidantes, housekeepers, and cooks" for the old and the disabled. "But my agency only pays $11 an hour with no health care" and right now, with seniors and the disabled—along with much of the rest of the country—housebound by the pandemic, work has dried up.
And when she does find work, Jones-Costa says she's often barred from donning anti-viral personal protective gear, a ban that's common in GOP-run states. "I have to make the difficult choice to expose myself to COVID-19 or not get paid," she said.
If the $1.9 trillion bill survives, it would give her and 27 million other minimum wage workers a raise. And it would order Medicaid, which is mostly federally funded but run by states, to provide home health care workers with paid family and medical leave, hazard pay, overtime pay, and other benefits. It also would tell Medicaid to pay for specific training for the workers in handling COVID patients.
The pending House version of the bill also has $368 billion for the state and local governments. Right-wing Republicans oppose that, along with the minimum wage hike. At a Senate Banking Committee hearing the week before, Sen. Pat Toomey, R-Pa., complained about sending money to "big cities," GOP code words for helping people of color.
Whether the minimum wage hike will make it all the way through Congress to Biden's desk is uncertain. Republicans are expected to unanimously oppose it. Catering to corporate lobbies, particularly for low-wage employers such fast food restaurants, they also oppose it on class and—though they won't say so—racial grounds.
That irks the Rev. William Barber II, founder and co-leader of the NPPC. "They're playing Russian Roulette with people's lives," he said of the lawmakers.
Like free stuff? So do we. Here at People's World, we believe strongly in the mission of keeping the labor and democratic movements informed so they are prepared for the struggle. But we need your help. While our content is free for readers (something we are proud of) it takes money — a lot of it — to produce and cover the stories you see in our pages. Only you, our readers and supporters, can keep us going. Only you can make sure we keep the news that matters free of paywalls and advertisements. If you enjoy reading People's World and the stories we bring you, support our work by becoming a $5 monthly sustainer today.