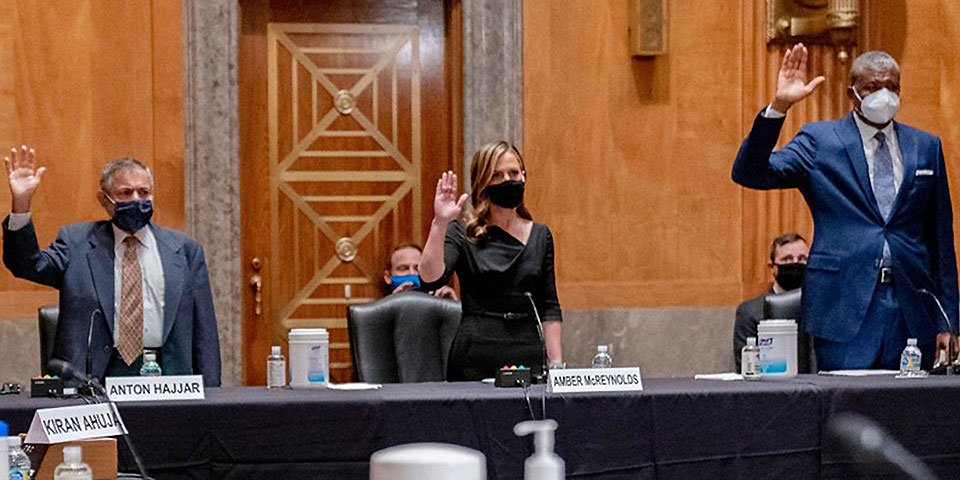 WASHINGTON —The nation's two big postal unions, the Letter Carriers (NALC) and the Postal Workers (APWU) are backing President Joe Biden's three nominees to the U.S. Postal Service board—nominees expected to oversee the performance of incumbent Trump-backed Postmaster General Louis DeJoy and his management team.
"We favor the confirmation of the three new nominees. It is important to finally, after many years, have a full nine-member board," NALC President Fredric Rolando e-mailed.
Postal Workers President Mark Dimondstein previously endorsed the three. One, Anton Hajjar, is a former counsel for APWU.
DeJoy, the controversial Postmaster General and GOP big giver whom then-Oval Office occupant Donald Trump foisted on the USPS Board of Governors 11 months ago caught a lot of flak—and calls for him to be fired—after his moves last summer in the name of "efficiency."
DeJoy's minions removed sorting machines that handled oversize envelopes, notably envelopes that contained election materials. They ordered ubiquitous blue mailboxes yanked out of Democratic-run central cities, banned overtime, and forced mail trucks to leave for runs before 5 p.m. even if they had to leave first-class mail on the floor. All that drew wide criticism.
DeJoy's moves slowed down mail delivery of medicines, bills, cards, and letters. His critics put everything together and concluded DeJoy was furthering Trump's aim of destroying mail-in balloting before the 2020 election. DeJoy suspended his moves after a summer of criticism, but his reform plan and especially its slowdowns, started the flak again, with new calls for the Board of Governors to fire him.
Demands to dump DeJoy were part of two million signatures on petitions which APWU delivered to postal headquarters earlier this year. But they never came up in discussions the three nominees—Hajjar, former top USPS official Ronald Stroman and Amber McReynolds, who now runs a non-profit after 13 years as Denver's elections chief—had with senators.
The nominees "all told me they have not been pressured to fire the Postmaster General," Sen. Rob Portman, R-Ohio, said. "Did anyone talk with you about the Postmaster General's performance?" Sen. Ron Johnson, R-Wis., a committed Trumpite, later asked. "No, senator," all three replied, one by one.
Also not directly mentioned: The main cause of USPS deficits since a GOP-passed postal reorganization law, an annual $5 billion prepayment of future retirees' health care costs. That has accounted for 84% of USPS deficits since then, Rolando has said. Portman put the deficits at $87 billion and USPS' unfunded pension liabilities at $140 billion.
The three postal board nominees promised to work with lawmakers on the finances, too. NALC, APWU, and their allies in and out of the labor movement have campaigned for years to get lawmakers to repeal the $5 billion mandate.
APWU President Mark Dimondstein goes so far as to say past GOP-run Congresses created the red ink as part of a corporate/right-wing plan to privatize the USPS, rip up its union contracts and either fire workers or cut their pay and pensions.
What did come up at the Senate Governmental Affairs confirmation hearing for the three—plus Biden's nominee, Kiran Ahuja, to run the Office of Personnel Management, the government's HR department—is that mail service is too slow.
And Biden's three nominees have heard about that. So have the senators.
"I've heard many complaints" from customers about slowing service, Hajjar said. "But they're not bitter. They're disappointed." As for DeJoy's 10-year "reform" plan, "I'm concerned about other parts, such as reducing delivery standards and raising prices."
"The service declines are completely unacceptable," Hajjar declared. Stroman and McReynolds sounded similar themes. The three also pointed out USPS jobs are a route into the middle class for formerly exploited workers of color. DeJoy's reforms would slash jobs.
"We must ensure every community, including rural communities, must have reliable and effective service," said McReynolds, when lawmakers raised the point that past postmasters general closed sorting centers around the nation, thus slowing delivery on rural routes.
"We have to restore the service levels" DeJoy cut, she added, without mentioning his name. "They have been declining over the last few years. And we have to engage with stakeholders in a comprehensive way" about how to do that, she added.
Stroman blamed the slowdowns on what he called "a disconnect between processing and transportation" where postal processing wasn't done in time for all the mail to go out in the trucks by 5 pm. "You have to solve processing first."
All the questions about the USPS left few, except about cybersecurity, for Ahuja, whose agency runs the two million person federal workforce. But cybersecurity is a big interest of committee chairman Gary Peters, D-Mich., especially after an enormous data breach several years ago that exposed personal information for 22 million present and former federal workers.
Ahuja said that since that disaster, OPM has successfully hardened its protections against such cyberattacks. But it needs more modern equipment, she told senators.
The Government Employees, the largest federal workers union, supports her. "Kiran Ahuja brings a wealth of experience in federal personnel matters, and her record of advocacy on behalf of women of color is reason for us to be optimistic that she will make it a priority to reverse the previous administration's active undermining of diversity and inclusion efforts across the government," union President Everett Kelley said in a statement.