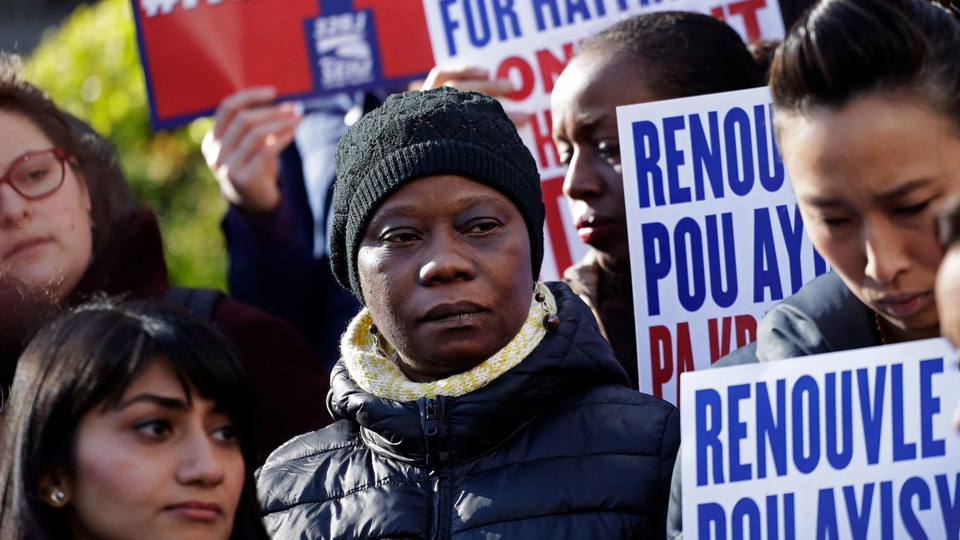 WASHINGTON—Organized by Painters President Ken Rigmaiden, five unions are banding together in a $1 million campaign to protect a group of black and brown migrants—refugees—who fled hurricanes, volcanoes, and political conflict. GOP President Donald Trump, by contrast, wants to throw them out of the country.
The unions have enlisted AFL-CIO Executive Vice President Tefere Gebre, himself a political refugee from war-torn Ethiopia years ago, to their cause. "I take this personally," Gebre said last month.
The refugees gained Temporary Protected Status (TPS) after fleeing such problems as rampant crime and gang violence in Honduras, the 2010 earthquake and hurricane that wrecked Haiti, wars in Sudan and South Sudan, and various disasters in Nicaragua. They renew their status here by re-registering with the feds every 18 months, paying $500-$700 each time.
But Trump and his Department of Homeland Security declare TPS means just what it says: Temporary. He wants to throw out all 329,000 or so migrants, many of whom have been in the U.S. for years and virtually all of whom are minorities.
The latest group Trump wants to evict is the largest—the 57,000 Haitians whose homeland is still far from recovery from the 2010 disasters.
The TPS migrants have been generally lost in the ongoing uproar over Trump's plans to deport the "Dreamers," the 800,000 or so people brought here as youngsters who were too little to decide for themselves, and who got their own protection from then-Democratic President Barack Obama in the Deferred Action for Childhood Arrivals (DACA) program.
Unlike the DACA youngsters—many now grown up and holding jobs, serving in the military, or attending college and secondary school—the TPS migrants fled as adults. But they, too, have jobs, homes, and families.
Especially jobs in construction, and that's what led Rigmaiden to form the coalition to protect them, called Working Families United. It includes the Painters, Unite Here, the Bricklayers, the United Food and Commercial Workers, and the Iron Workers.
Their coalition is running ads highlighting the workers' plight, their contributions to the U.S., and legislation by three senators that would let TPS recipients apply for the "green cards" that give them permanent residency, or, even better, citizenship.
"Ken was concerned about them," says Painters Communications Director John Doherty. "He knew unions had to step into the gap to represent the TPS people. It was especially important because of the rapid attacks on TPS," Doherty added in a telephone interview Nov. 22, after Trump announced he would deport the Haitians within 18 months.
The Haitians and at least two smaller groups, including Libyans, face a deadline to "sell their homes, close their businesses, pack their bags, and get out," Doherty explained. Trump also said he'd toss the Nicaraguans and Hondurans.
Of those TPS cardholders who work for others, some 23 percent are in construction—and thousands of them are union members. At an earlier Capitol Hill press conference, Rigmaiden estimated that up to 30 percent of his Painters could be TPS "blue card" holders.
"Stripping away rights is wrong," Gebre said then. "It'll harm our unions and our economy, and it undermines the labor movement's efforts to raise wages and working conditions."
That's because when the TPS blue-card holders face being thrown out of the U.S., they're liable to go into the underground economy instead, open to exploitation by venal and vicious employers, and unable to fight back for fear of deportation—just like undocumented people.
And those same employers, many of them in construction, will use the now-undocumented TPS cardholders to drive down other workers' wages and trash organizing drives, just as they use the larger group of some eight million undocumented adults in the U.S. now.
"We just want to make sure there's a decent pathway to citizenship" for the TPS recipients, Rigmaiden told the October press conference. Having them here helps his union, too, since "we constantly struggle to make sure we have enough workers in our trade.
"Why would we dispatch people who are already trained?" he asked. Evicting them, which Trump ordered his Homeland Security Department to begin doing, "is an attack on the American Dream."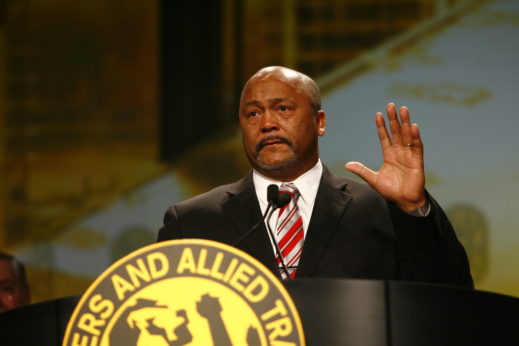 Rigmaiden, the Painters' first-ever African-American president, sees the racial aspect of Trump's eviction of TPS cardholders, Doherty said. "And look at how many will have to work in the shadows," he pointed out in a telephone interview. It's part of "a populism of 'divide and conquer'" workers, Ironworkers President Eric Dean added at the press conference.
That leaves Congress, and 350 of the TPS holders lobbied lawmakers from Oct. 22-25 on the issue. Speakers said support for TPS, originally enacted in 1990, has been bipartisan. Now they're not sure. "As the administration increases enforcement" against the TPS recipients, "it's critical members of Congress protect" them, Rigmaiden added.
"We need to keep being vocal, because time is limited," added Diana Forrester, political director of United Food and Commercial Workers Local 400. And the impact of Trump's stand goes far beyond TPS, she said then.
"My 9-year-old daughter Dylan, the day Trump was elected, asked me 'Mommy, is Trump going to deport us?' I told her 'Your mother is black, your grandmother is Mexican. We can't be hurt.' But her question hurts me every day. So we'll fight like hell" for the TPS recipients "and take nothing for granted."