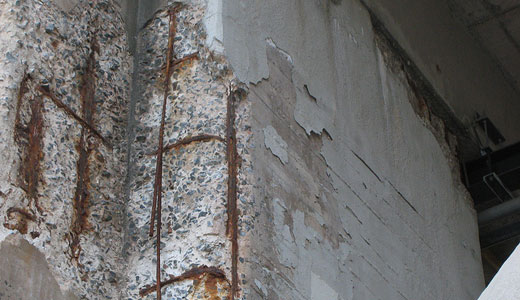 WASHINGTON – Rebuilding the U.S.' decaying infrastructure to also counteract climate change will produce good middle class jobs and grow the economy, two top union leaders, and a joint union-environmental coalition say.
And the vehicle to achieve that would be a new National Infrastructure Bank, sponsored by veteran Rep. Rosa DeLauro, D-Conn., to fund bonds and provide matching money for private cash for such construction projects, add Steelworkers President Leo Gerard and Utility Workers President Mike Langford.
The two union presidents, DeLauro, and Dave Foster of the BlueGreen Alliance all pushed the infrastructure bank plan in a June 27 telephone press conference. DeLauro reintroduced her infrastructure bank bill the same day.
If enacted, the bank would accept applications from cities, counties and states for infrastructure projects to sponsor. Those it approved would get funds from long-term
bonds the bank would sell, if sponsors raised more than half of their funds from the private sector. The bank could also subsidize state bond interest for such projects.
The tradeoff is creation of thousands of middle-class jobs in construction, repairs, upgrades to control carbon emissions and other environmental impacts, and to create basic products needed for the projects, such as steel, aluminum, glass and cement.
Gerard and the others bluntly described the infrastructure deficit. "In most Northeastern communities, water lines have burst. They're 50 or 60 or 100 years old, and some are still made of wood. We've got millions of miles of pipelines with leaks and seeps and the majority of those are more than 50 years old," Gerard said.
The nation's electric grid, wastewater mains and oil and gas lines "are the backbone of our way of life," Langford said. His union's members are spending their time rushing from crisis to crisis, fixing leaks, restoring the grid and repairing mains.
They're also lobbying state and local officials and public utility commissions to order repairs and modernization. Those repairs can be used to raise energy efficiency, Langford noted. Other nations are doing that, while the U.S. wastes energy.
"China can transmit 1 million volts of electric power over 1,200 miles with a seven percent loss of electricity. If we did that, the loss is 80 percent," Langford commented.
The catch is all this repair and reconstruction costs money. The American Society of Civil Engineers estimates the U.S. needs $3.6 trillion in infrastructure repairs by 2020. And the old ways of paying for it – mostly via federal funds – are unavailable.
That's where DeLauro's bill comes in. She says the bank's loans, evaluations, bonds and loan guarantees would attract and leverage private investment. And investment in the projects creates jobs.
DeLauro, known for accuracy in nose-counting among her colleagues, admitted she must build grass-roots support for the infrastructure bank, to pressure lawmakers to pass it. Bonds for the private sector should appeal across partisan lines, she stated.
The BlueGreen Alliance and its 14 member unions and environmental groups will campaign for that, Foster, a former Steelworkers vice president, said. Combined, the unions and environmentalists have 15 million members – and the infrastructure bank will be their cause in a new "Repair America" campaign.
"It's not just union members or progressive politicians who are for this," Gerard added. "If you talk with people who live near water line breaks or beaten down schools, there's a huge, huge appetite for fixing infrastructure."
Photo: The side of a crumbling bridge. Flickr (CC)