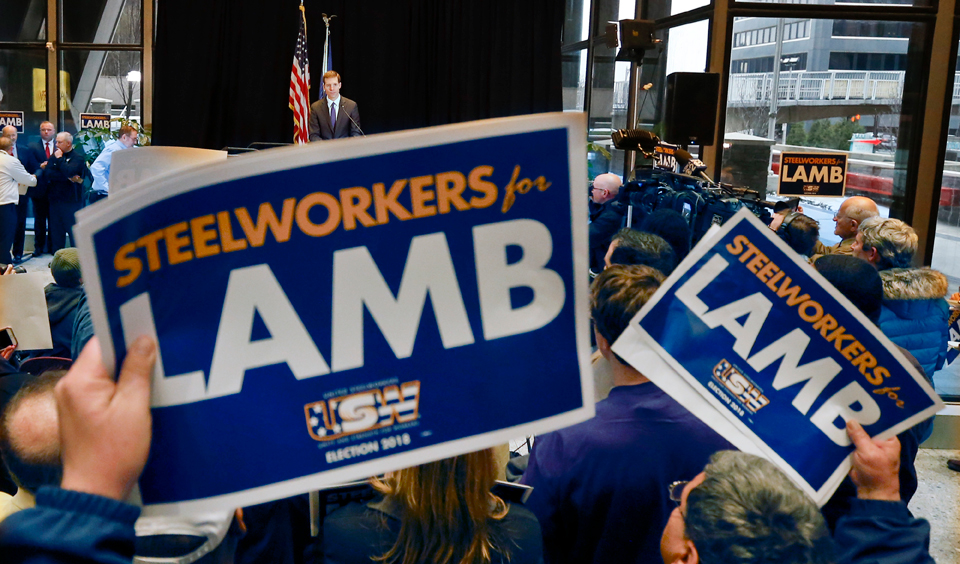 WASHINGTON—Union voters—especially from Mine Workers and Steelworkers—were a big part of Democratic congressional candidate Conor Lamb's upset on March 15 in the special election in southwestern Pennsylvania's solidly Republican 18th congressional district.
With all precincts reporting, Lamb, a 33-year-old former prosecutor and ex-Marine, won 113,813 votes (49.8 percent) to 113,186 (49.6 percent) for Republican state senator Rick Saccone, who tied himself to President Donald Trump in a district Trump won in 2016 by 20 percentage points.
The GOP threw huge amounts of money and people into the race, with Trump giving a stem-winding but disjointed speech while Saccone stood by on the Saturday before the election. Outside right-wing shady pro-Republican campaign finance committees poured $10 million into anti-Lamb ads, especially in the Pittsburgh media market. And the national party took over Saccone's inept campaign.
By contrast, Lamb thanked his grass-doors supporters. With a smile, he described an early meeting where they said, "Print something. Get going, or we're going without you." He added: "I'm proud you helped me refuse corporate PAC [campaign finance] money."
The GOP barrage didn't work. Lamb carried the Pittsburgh suburbs in the Allegheny County part of the district by more than 15,000 votes. And while Lamb lost the rest of the district to Saccone, an interactive map comparing the 2016 and 2018 races showed blue arrows, indicating increased Democratic percentages, everywhere. Trump won 71 percent of the vote in Greene County, AFL-CIO President Richard Trumka's home area, for example, but Saccone only managed 58 percent.
That's the type of result, outside political analysts said, from energized progressives and Democratic voters nationwide, that could result in a Democratic takeover of the U.S. House this fall. With Lamb's win, the GOP majority there is now down to 23 seats out of 435, but 114 seats, most of them GOP-held, are in play, one analyst says. That's the largest number in decades.
The Cook Political Report, the most-respected of the analysts, lists 54 U.S. House seats in play. Only eight are Democratic, and right-wing Republicans now hold five of the 11 U.S. House districts whom Cook lists as "leaning Democratic." One formerly safe GOP seat, in the Philadelphia suburbs, is now listed as "safe Democratic."
Lamb gave full credit to unions for his win, with almost half of his victory speech—given at close to 2 am—praising union stands, turnout, and support. Union leaders and activists stumped through the district, pointing out Lamb's stands and Saccone's anti-union record in the state legislature. That included sponsorship of so-called right to work legislation and votes for so-called "paycheck protection" bills.
"Conor won this race because he proudly stood with unions, shared our agenda, and spoke out for our members," Trumka said. Lamb "didn't just ask for our support. He earned it by opposing unnecessary 'right to work' laws, backing protections for coal miners' pensions, and supporting common-sense trade enforcement.
"His victory proves that the path to power runs through the labor movement."
Trumka also warned other politicians who defy workers do so at their peril. "Earning the support of working people is a high bar that must be cleared with meaningful words and actions, not blind deference to party operatives or corporate interests," he said.
"Working people are ready to move heaven and earth to help a genuine ally. But we won't waste a dime or a door knock on fair weather friends. If you want working people to rally around you, then you need to rally around us."
"We're practical people. We're serious people. Tonight was about regaining our voice and our vote," Lamb said. "People want to talk about honest things, not be drowned out by dark money distorting the truth and telling lies to our kids."
As unions turned out the troops, it was Trumka's successor as Mine Workers president, Cecil Roberts, who revved them up, turning on his preacher's voice in leading the charge.
Speaking to a packed crowd of UMWA workers and retirees in Greene County, Roberts described Lamb as a "union-supporting, gun-owning, job-protecting, pension defending, Social Security-believing, health care-believing Democrat." His speech, available in a video, was repeatedly interrupted with chants of "Conor! Conor!"
"He believes in us. He believes in folks from coal towns. He believes in folks from steel towns. He believes in folks from small towns. He's just like us and we're gonna elect somebody that believes in things and does things just like us," Roberts declared.
"You elect this man to Congress, and you won't have to lobby him one minute," Roberts told a pro-Lamb rally. "He's for your pensions, he's for your union, he's for your health care. This is a 'yes' vote."
"For weeks, union members have held thousands of conversations across southwestern Pennsylvania on the issues that affect working families and their jobs," said Pennsylvania AFL-CIO President Rick Bloomingdale. "This election is proof that when working people come together in a united labor movement, we can achieve outstanding results. In living rooms, on telephones, and at work sites, our brothers and sisters mobilized to elect a candidate that stands up for working people and the issues that matter in their daily lives. Conor Lamb has demonstrated that honesty, integrity and support for a fair economy for all is the future of American democracy."
"Our activism and mobilization will continue throughout 2018. Our work to lift up candidates that will fight for working people, their rights to collectively bargain, and work to unrig the system, is far from finished. On March 13th, we ran through the finish line in the race for the 18th District, but the marathon continues," added state fed Secretary-Treasurer Frank Snyder.