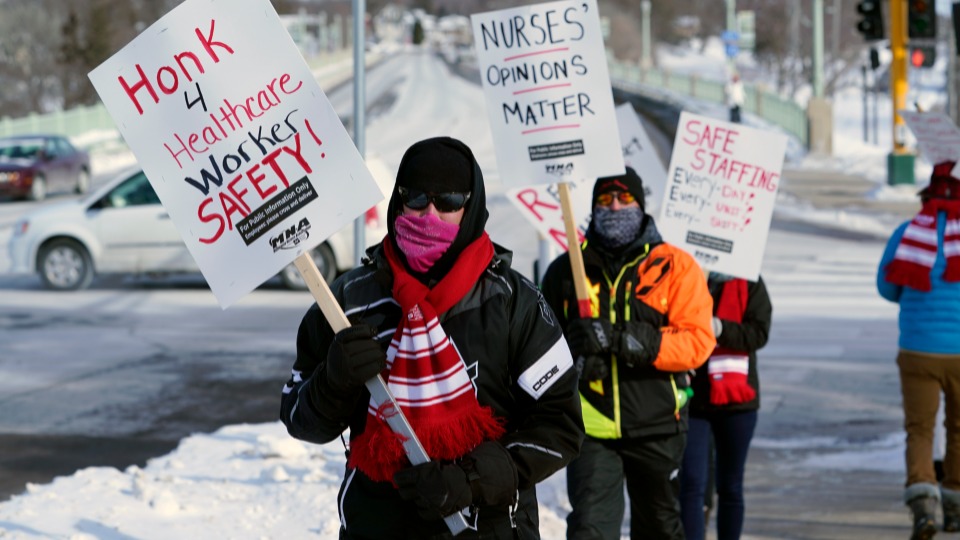 WASHINGTON (PAI)—Led by National Nurses United, unions are demanding the Biden administration's Occupational Safety and Health Administration (OSHA) restore its national standard ordering hospitals and nursing homes to protect workers against the coronavirus.
NNU's offensive took two forms. One was a Zoom virtual press conference, a National Day of Action, and a candlelight vigil in front of the White House on Jan. 13. It highlighted that the danger of a lack of protection, plus burnout and bosses' refusal to raise nurses' pay and improve working conditions, combine to drive nurses out of the profession.
"As we enter year three of the deadliest pandemic in our lifetimes, nurses are enraged to see that, for our government and our employers, it's all about what's good for business, not what's good for public health," said NNU President Zenei Triunfo-Cortez, RN.
The other was NNU's lawsuit, in the U.S. Court of Appeals for D.C., which handles most cases involving federal agency rules. It demands the judges order OSHA to restore a national anti-virus standard covering health care workers. The appeals court is one level down from the Supreme Court.
Ironically, NNU, the AFL-CIO, AFSCME, the Teachers (AFT), and NNU's Pennsylvania and New York affiliates, had to sue Democratic President Joe Biden's Labor Secretary, Marty Walsh, and his OSHA administrator, former California state job safety chief Doug Parker.
Biden, Walsh, and Parker planned to do what the Supreme Court banned them from doing: Issue that national standard forcing all firms employing at least 100 people—not just hospitals and nursing homes—to protect workers against the virus.
But corporate interests, led by the National Federation of Independent Business, a key cog in the radical right, and dozens of "Christian" firms, convinced the six GOP-named High Court judges to toss that OSHA rule, letting companies nationwide off the hook.
And in oral arguments to the justices, NFIB's lawyer freely admitted that disruption of revenues and profits was a key reason to overturn the economy-wide rule.
After the justices' pro-corporate, anti-worker ruling, some firms still will implement worker protection plans. But others, like Starbucks, said they will encourage workers to protect themselves—but the firms won't follow the now-dead OSHA mandate.
Starbucks' Jan. 19 announcement may be another arrow in the quiver for supporters of unionization at the chain's coffee shops. Health care, after all, is a mandatory subject of bargaining during contract talks, after the union wins representation rights.
Starbucks' announcement also points up the need for OSHA's national mandate and Emergency Temporary Standard covering all firms with at least 100 workers, which the GOP-named justices tossed.
A specific standard is easier to implement and enforce than cases under OSHA's "General Duty Clause" which says firms have "a general duty" to protect workers.
Meanwhile, House Education and Labor Committee Chairman Bobby Scott, D-Va., and Workforce Protections Subcommittee Chair Alma Adams, R-N.C., took another tack. They wrote to Biden and Walsh, protesting DOL's decision to withdraw its Emergency Temporary Standard covering just health care workers against the coronavirus. They want Walsh to withdraw the withdrawal.
Biden withdrew that rule after GOP-appointed judges held it up. Buried deep within its text was OSHA's statement that, once it was put out for comment, evaluated, and approved, the agency planned to make it permanent, too.
Reflecting the right-wing's hate of both workers and Biden, the panel's top Republican, Virginia Foxx of North Carolina, spoke for her party when she called the OSHA standard "tyrannical," "authoritarian and unlawful," and applauded the justices for throwing it out. She charged it would have let OSHA fine "job creators"—businesses—"out of existence."
The justices ruled 6-3 along party lines against OSHA's economy-wide anti-virus rule. Then two of the Republican-named justices switched to join the three dissenters to vote 5-4 for a narrower rule. It requires hospitals and nursing homes accepting federal Medicare and Medicaid money to implement anti-virus protection plans for their workers.
Former GOP Oval Office occupant Donald Trump, a pandemic denier, named two of the four dissenters. Those four wanted to toss that requirement, too, leaving the RNs and other health care workers—and their patients—completely at the mercy, or lack of it, of their bosses.
The court's ruling against OSHA's wider standard "disappointed" Walsh and Biden. NNU was even more pissed off.
"Our employers claim there is a 'nursing shortage,' and that's why they must flout optimal isolation times, but we know there are plenty of registered nurses in this country," said Triunfo-Cortez.
"There is only a shortage of nurses willing to work in the unsafe conditions created by hospital employers and this government's refusal to impose lifesaving standards. This is a vicious cycle where weakening protections just drives more nurses away from their jobs."
"Being left unprotected by the government and by their profit-driven hospital employers which have failed to invest in safe staffing and provide critical health and safety protections, has created such unsafe working conditions that nurses are being driven away from the profession," the union added.
NNU and its union allies—who together represent 655,000 nurses, paraprofessionals, other health care workers, and EMTs—were similarly blunt in their court papers.
"Nurses and other health care workers are the heroes of this pandemic," the unions' lawsuit declares. "They have exhibited unimaginable levels of endurance and compassion, but they have also faced the greatest risk of contracting Covid-19," becoming ill from it, suffering "long-term sequences" or "even dying" of it.
All because OSHA "has failed to protect them as expressly required by law."
"The failure to retain the existing ETS," which OSHA junked after the court's ruling—the junking the lawmakers also protested—"violates the unambiguous command of the OSH Act.
"When OSHA determines an emergency situation exists, as it did here, and issues an emergency standard," that standard must stay in effect at least six months until a final rule is issued. That's what OSHA had planned when it issued the ETS.
"OSHA does not have the discretion to create a temporal hole of indefinite duration" within its rules "while a pandemic rages," the unions said.
They want the appellate judges to rule, via what's called a writ of mandamus, for an OSHA health-care-wide standard now. No date was set for a hearing on their suit.