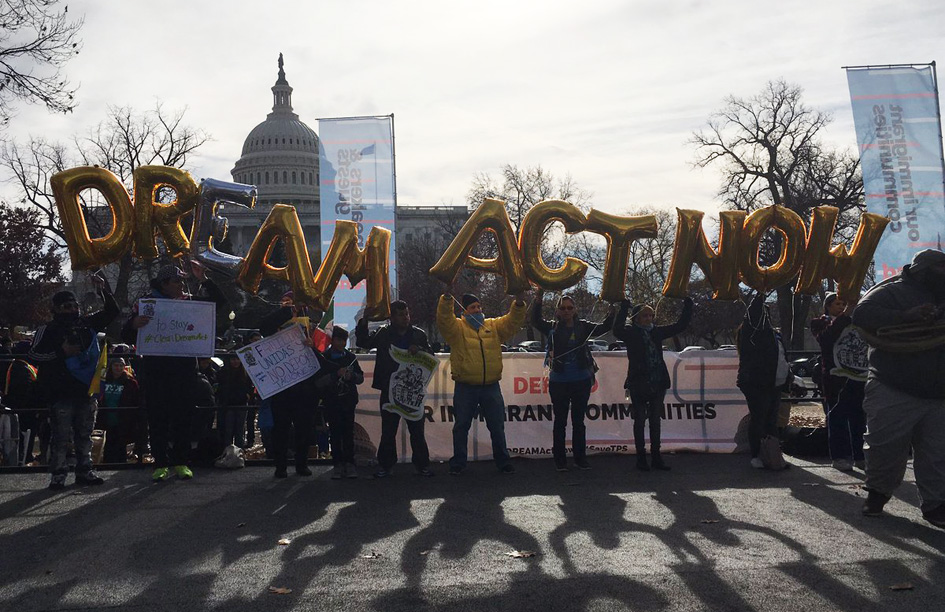 WASHINGTON—Union leaders and Dreamers are demanding Congress attach the "Dream Act," permanently extending the program that protects undocumented people who were brought to the U.S. as young children, to the must-pass money bill to keep the government going.
But whether Capitol Hill's ruling Republicans will listen is doubtful. The unionists and the Dreamers aimed their Dec. 6 rally at the Senate, but Majority Leader Mitch McConnell, R-Ky., contends Congress doesn't have to do anything about the Dreamers until next year.
Over in the House, a hardline bloc of anti-everything Republicans, backed by President Donald Trump's own racist views, will kill the money bill if it has any Democratic priorities. Those include reinstating the five-year-old Obama-era Deferred Action for Childhood Arrivals (DACA) program for the Dreamers. Trump dumped DACA and wants to evict all 690,000 Dreamers from the U.S.
As a result, not even peaceful civil disobedience on the U.S. Capitol steps, which saw the arrest of Teachers President Randi Weingarten, among others, nor a crowd of more than 5,000 massed in front of the building may be able to move lawmakers. "If we don't get it, shut it down!" was a frequent chant.
A prominent home-made sign featured a black hand with "No human being is illegal" on it.
Congress needs to pass the temporary money bill by midnight Dec. 8 or most of the government—from running national parks to issuing Social Security checks—shuts down. The GOP leaders are now discussing another temporary money bill, running through Dec. 22.
But with the right-wing House GOP's so-called "Freedom Caucus" promising to vote against any money bill at all, and with 60 votes needed to pass it in the Senate, the GOP leadership is forced to bargain with the Democrats for support to offset those "no" votes.
That gives the Democrats and the Dreamers legislative leverage, and some Dems intend to use it.
"What makes America great are the people who are standing behind me—the leaders, the teachers—who every single day are in schools helping children—the DACAmented teachers who are standing right here behind me," Weingarten said, gesturing to local leaders from Texas and Florida who were arrested, too.
"This is about Areli Zarate, who at age 8 escaped grinding poverty in Mexico and is now a high school teacher. Lee-Ann Graham, who was 14 years old when she moved to this country from Trinidad and Tobago, is now a paraprofessional in New York City. Jessica Esparza, whose parents brought her to the United States from Mexico without proper documentation when she was 11 years old, started in seventh grade to learn English, and thanks to the DACA program, she is now a registered nurse.
"It is quite horrible for this president to basically take and strip away the pathway they used to have to citizenship. That is why we are standing here together to say we need a clean Dream Act right now."
Bricklayers President Jim Boland, AFL-CIO Executive Vice President Tefere Gebre, and UFCW Secretary-Treasurer Esther Lopez also attended the rally.
"BAC members and staff join thousands of union brothers and sisters, advocates, community leaders, family, and friends in urging the Congress to take IMMEDIATE action to pass the Dream Act & to defend the Temporary Protection Status!" the union tweeted afterwards.
TPS covers hundreds of thousands of refugees—all of them minorities—from wars and natural disasters in Latin America, Africa, and Syria. They came here, get "blue cards," and must renew them every 18 months, paying $500-$700 each. Trump plans to deport them, too.
Voters also support the Dreamers. The American Values Survey reports 60 percent support not just for the Dream Act but providing them with a path to citizenship. That includes half of all Republicans.
But not all the Democrats nor all unions are on board the pro-Dream Act train. While five senators, led by Minority Whip Dick Durbin, D-Ill., plan to vote against the money bill if it lacks the Dream Act, others told the Washington Post they have other priorities.
Sen. Sherrod Brown, D-Ohio, for example, says the money bill must continue funding for coal miners' pensions. Congress enacted the pension plans 70 years ago. They're run by the Mine Workers, but the plans lack money due to coal company bankruptcies and production declines.
Sen. Claire McCaskill, D-Mo., said her top priority for the money bill is to re-fund the Children's Health Insurance Program (CHIP), which covers—or covered—9 million poor kids nationwide. Congress let its money lapse at the end of September and five states will run out of their cash for it at the end of December.  The House version of the temporary money bill continues CHIP funding, but only for those states with a "temporary shortfall."
Sen. Tim Kaine, D-Va., told the Post he wants both CHIP and DACA in the money bill.
And major federal unions, the Government Employees and the Treasury Employees, want lawmakers to pass a temporary money bill, called a continuing resolution, but are silent about attaching Dreamers, CHIP, or anything else to it. Both AFGE and NTEU warn of the consequences of a shutdown.
"There are no winners when the government stops functioning," NTEU President Tony Reardon said. "Taxpayers lose important services, federal employees lose income, the economy suffers, and everyone loses faith in our institutions."
"With the December holidays approaching, federal employees are threatened with loss of pay and cancelled vacations," Reardon said. "This type of brinksmanship over government funding has become a chronic problem in Washington and it needs to stop."
"Frontline government workers across the country do not get paid during a shutdown. And in cases where certain employees are excepted from the shutdown—like those in public safety, national security, and law enforcement—their previously approved leave is revoked and they are forced to work," NTEU added.