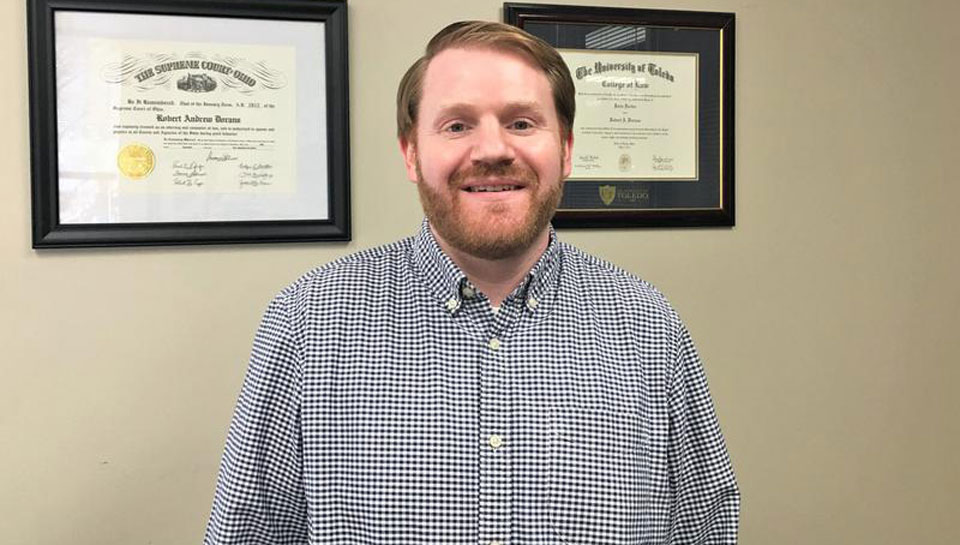 COLUMBUS, Ohio—With a strong shove from area building trades unions and a statewide construction union coalition, the Columbus, Ohio, City Council voted 7-0 last month to yank city business from firms that steal their workers' wages, or that misclassify workers as "independent contractors."
The anti-wage theft ordinance, one of the toughest in the U.S., also bars awarding any other city contracts to those firms for four years. And it imposes stop-work orders on violators' construction projects, and bans tax breaks, business licenses, and construction permits for those law-breakers.
There could be further sanctions, since the ordinance tells city officials to forward the results of investigations and decisions against wage thieves to federal, state, and local enforcement officials, such as the county DA or the Ohio Labor Department.
Wage theft, under Columbus's ordinance, covers companies that don't pay workers the minimum wage, construction firms that don't pay locally prevailing wages—as set by the U.S. Labor Department—that don't pay overtime, and that misclassify workers as "independent contractors" to escape paying unemployment insurance, Social Security and Medicare payroll taxes and workers' comp.
By misclassifying workers as "independent contractors" under federal labor law, firms also ban workers from its coverage and from the right to unionize.
The Columbus wage theft ordinance is important and not just because it's Ohio's capital and largest city, with almost 900,000 people, but also because it could be a precedent elsewhere. Studies by the Economic Policy Institute and Good Jobs First show wage theft is a national problem, and that strong deterrence can force other firms into obeying the law.
In 2017, EPI analyzed data from the 10 most-populous states, including Ohio, and concluded "2.4 million workers—or approximately 17% of eligible low-wage workers in those ten—lose $8 billion each year in unpaid minimum wages. Based on these findings, EPI estimates 'total wages stolen from workers due to minimum wage violations exceeds $15 billion each year,'" the National Employment Law Project reported.
"Enforcement enhances deterrence," NELP added. "An enforcement agency"—in this case, the city government—"should consider available information on how employers in different industries react to enforcement to better understand how an investigation may 'ripple' through an industry or geographic area to deter additional actors. In addition, an enforcement agency should carefully consider what type and level of penalties are likely to deter employers from violating the law in the first place."
Councilman Robert Dorans, the ordinance's sponsor, called enacting the ordinance giving workers "a fair day's wage for a fair day's work." Dorans is also chief counsel for the Affiliated Construction Trades of Ohio, the larger of the two union coalitions lobbying for the legislation. He also called the measure "good for reputable employers" because it levels the playing field by eliminating low-road competition.
"The council believes establishing a wage theft prevention commission dedicated to investigating violations of this ordinance, recommending penalties and remedies for violations and receiving wage theft and payroll fraud complaints will serve the interests of workers, law-abiding businesses and residents of the city," he told an earlier council committee hearing.
"This legislation is being put into place to discourage the use of independent contractors by making the employers show us, the city, these individuals do qualify as independent contractors," Dorans said. And it bans construction contractors who do city business from using "subcontractors who violated state or federal wage and hour laws in the past four years."
Publicity will be another deterrent. The ordinance says Columbus will publish a monthly list of wage thieves. Firms who settle wage and hour complaints with their employees will not be penalized. But the ordinance only addresses wage theft issues related to city contracts, projects, and economic incentive packages. It does not address wage theft or worker misclassification in the private sector.
"The intent of this legislation is to take a meaningful step forward as a city to push back on this type of abuse within our community," Dorans said.
Mark Fluharty, executive director of the Central Ohio Labor Council, told the council committee that wage theft hurts everyone. "Wage theft victimizes employees across jobs, industries and income levels, from food services to construction to high tech," he said. "Women and workers of color are hit disproportionately hard."
Columbus/Central Ohio Building and Construction Trades Council Executive Secretary-Treasurer Dorsey Hager told the committee he believes the effort will benefit contractors, union and non-union, that follow the rules.
"Our organizers and businesses representatives visit many jobsites and are approached by countless workers…suffering from wage theft–many of whom live in Columbus," he said. "Many do not have the financial resources to defend themselves and are some of the city's most vulnerable–the working poor–who are being taken advantage of by ruthless contractors."
"This legislation is good for the workforce, the law-abiding contractor, the city treasurer and the city of Columbus," he added.
Elizabeth Brink, chief administrator for the Columbus City Auditor, said a misclassified worker often does not realize that as an independent contractor, he or she is responsible for paying various taxes usually removed from a paycheck by an employer–that is, until the worker receives an unexpected tax bill, which the worker might not be able to pay.