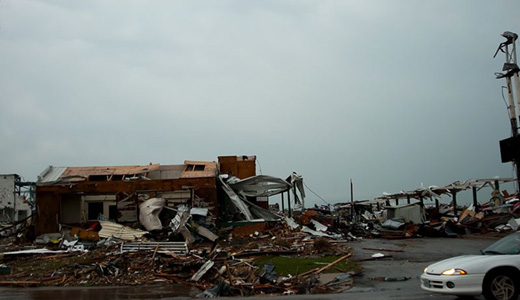 Unions organized to come to people's aid as tornadoes struck Texas and Oklahoma this week, and Alabama before that.
North Texas saw a wave of storm-related destruction on Tuesday, including reports of hail, damaging winds, and at least one tornado spotted in Denton, with 70 mile per hour wind gusts. There was also devastating damage in Saginaw. Mark Fox, a meteorologist with the National Weather Service, remarked, "This is one of the biggest storm systems to hit the area since 2007."
In Oklahoma, the aggressive storm system turned homes into splintered wreckage and vehicles into twisted shells. "My husband and I were driving around yesterday and went past a house and there was a vehicle in the pond in the front yard," Valerie Thomerson, Mayor of Piedmont, Okla., told the Huffington Post. "The only way I could tell it was a vehicle was I could see four wheels above the water. It was a crushed ball."
But worst of all, over in Joplin, Mo., the carnage was greater and more widespread, with the tornado of Sunday evening causing the highest death toll from a single tornado in more than 50 years, according to ABC News. WeatherOnline reported that the disaster left 123 people dead.
The station reported that Joplin resident Lauren Miller wiped tears from her eyes as she picked through the wreckage of her grandmother's home, retrieving family photos. Miller's grandmother hid in the cellar while the house above collapsed, and survived. But Miller's other grandmother, out for a Sunday evening dinner, was not so fortunate. "It's not easy," Miller told WeatherOnline. "I don't think the worst has come yet. This is all adrenaline and coping."
Elsewhere in Joplin, reported The Joplin Globe, 19-year-old Tyler Hall had been forced to take shelter in a back room at Home Depot, where he was working, when the tornado struck. A concrete wall collapsed onto Hall and four other workers who were huddled together there. He and his co-workers crawled out from beneath it as the tornado passed.
Mark Woolbright, vice president of the International Association of Fire Fighters, 2nd District, and Missouri State Council of Fire Fighters President Tony Kelley were on the scene on May 23, helping wherever and however they could. "The situation in Joplin is still chaotic," Woolbright said on the union website. "But we do know at least four of our members have lost their homes and some fire stations may have suffered significant damage."
This string of chaotic weather came less than a month after one of the worst tornadoes in recent history ripped through Alabama, according to the Locust Fork News-Journal. In that case, unions also arrived to assist in any way possible. "I've been in the labor movement since 1998, and seeing more than 150 of my union brothers and sisters come together to help one another and their communities is the proudest moment of my life," Terry Davis, the AFL-CIO Community Services liaison for central Alabama, told the News-Journal.
The United Steelworkers reported that USW workers from Fairfield, Ala., collected supplies and provided ice and physical assistance to the Alabama tornado victims. USW Local 2122 opened its union hall to the community. On its Facebook page, the union local has posted numerous status updates, urging any tornado victim to come to the union hall to pick up products that can help them.
Meanwhile, the Republicans have focused on reducing funding for the federal agencies that monitor and react to disasters, as slate.com reported. Under the Republican budget plan, the National Weather Service, part of the National Oceanic and Atmospheric Administration, saw its funding drop by $126 million. Democrats responded by attempting to add more money to NOAA's budget. Rep. Dan Lipinski, D-Ill., proposed an amendment to the House Committee on Appropriations that would have directed $710,641,000 to the National Weather Service Local Warnings and Forecasts. Lipinski's spending proposal, however, was ruled out of order by the GOP leaders, and not voted on, the slate.com column noted.
Republican House Majority Leader Eric Cantor said May 25 that before House Republicans would support replenishing the federal disaster relief fund needed by the devastated people of Joplin, it would have to be offset by "spending cuts" elsewhere.
Photo: A scene of devastation, a day after the deadly tornado tore through Joplin, Mo., on May 22. Eje Gustafsson, Wikipedia