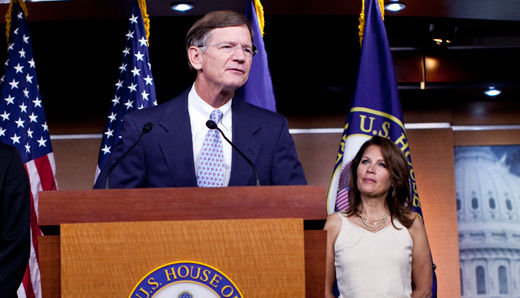 WASHINGTON – Two top union leaders, AFL-CIO President Richard Trumka and Service Employees Secretary-Treasurer Eliseo Medina, are blasting the Republicans' latest anti-worker gambit: Forcing firms to use a faulty employee verification scheme, called "E-verify," to check the legal status of every job applicant.
The right-wing plan would open up to 60 million workers to the threat that they could be misidentified as not being citizens or legal residents, by requiring their present government and private employers to check their status all over again.
And employer response in such cases, Medina noted, has not been to give workers a chance to produce papers proving their legality – as E-verify requires – but to immediately fire them.
The "Legal Workforce Act," authored by right-wing House Judiciary Committee Chairman Lamar Smith, R-Texas, goes even beyond E-verify in punishing workers, the union leaders said.
They noted that if employers didn't want to use the system, Smith's scheme would let them avoid it by simply declaring employees to be "independent contractors," a common employer dodge that strips workers not just of their labor rights, but of mandatory employer tax payments for Social Security, Medicare and workers' comp.
Smith is long known for his anti-Hispanic crusade and his demand that all undocumented workers in the U.S. be rounded up and immediately deported. Details of his law prompted the sharp comments from Trumka, Medina and Service Employees International Union Executive Vice President Mitch Ackerman.
"This is a bad, bad, bad idea. It'll be bad for the economy, bad for workers, bad for business and bad for society," Medina told a June 16 telephone press conference.
"It would make E-verify mandatory on all" federal, state and local "government workers nationwide, and that's 18 million people. Each and every one would have to be re-verified to make sure they are in the country legally." The measure would also apply to every new worker hired, and Medina said businesses fill 40 million slots yearly.
"Are soldiers federal workers? Are you going to pull every single soldier off the front line in Afghanistan to see if they're legally entitled to put their lives at risk for their country?" Medina asked.
Previous SEIU lawsuits against use of E-verify, which right now is voluntary for firms, show its database is riddled with errors on approximately 20 percent of its names.
Smith's bill is in line, however, with the overall trend in the GOP, which emphasizes anti-Hispanic measures – everything from immediate local arrests and deportation of undocumented workers to use of federal immigration agents on raids on businesses that employ many "foreign-looking" workers.
Those raids frequently occur at employer request during union organizing drives, especially in meatpacking plants.
"Smith thinks if he talks tough about holding employers accountable for breaking workplace immigration laws, no one will notice that his bill allows employers to avoid E-Verify altogether by incorrectly classifying employees as independent contractors," Trumka added in a June 15 statement.
"Smith thinks if he talks tough about protecting the jobs of U.S. workers, no one will notice he is laying the groundwork for a vast expansion of temporary foreign guest worker programs, programs which will displace U.S. workers and drive down wages.
"Unemployed workers are fed up with tough talk on immigration that adds up to nothing more than a free pass for Big Business and the Farm Lobby to continue with the same business-as-usual" approach, Trumka said.
Medina said that in addition to mobilizing workers, community groups, church groups and activists against Smith's bill, he personally has been talking to business about opposing it. The U.S. Chamber of Commerce, which in the past has cooperated with unions on failed efforts for comprehensive immigration reform, has reversed course and supports Smith's legislation.
That disappointed Medina and prompted Ackerman to blast the business lobby for "working on behalf of large corporations, not small businesses." The smaller firms, both said, would find such extensive checking a huge burden.
Medina said the smaller firms he talks with "are absolutely opposed" to Smith's bill; so is the U.S. Hispanic Chamber of Commerce.
Still, Medina conceded Smith's bill – despite what he called the congressman's "xenophobia" – will probably pass the heavily GOP House. Both Medina and Ackerman predicted it will die in the narrowly Democratic Senate. But the Senate killed comprehensive immigration reform, pushed by then-GOP President George W. Bush and the late Sen. Edward M, Kennedy, D-Mass., in 2007. Still, said Ackerman, "I can't imagine any (Senate) Democrats voting for this."
Photo: Rep. Lamar Smith, R-Texas, and Rep. Michele Bachmann, R-Minn., on Capitol Hill. Drew Angerer/AP