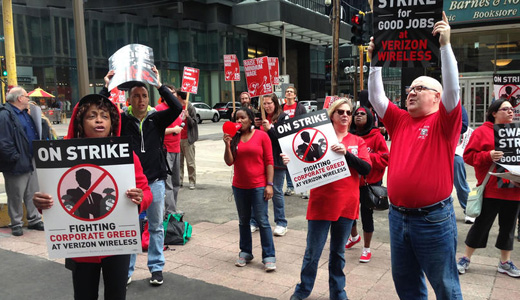 MINNEAPOLIS – Unions and other supporters of striking workers rallied outside Verizon stores in the Twin Cities this week, part of a nationwide effort to back 39,000 Verizon workers who are on strike on the nation's East Coast.
Members of the Communications Workers of America(link is external) and International Brotherhood of Electrical Workers(link is external) were joined in front of the Verizon store in downtown Minneapolis Thursday by members of several other unions and organizations, including AFSCME, SEIU, Teamsters and the 15Now movement. They said the main issue in the strike is fair wages.
Verizon Wireless is resisting wage increases for workers at its retail stores and technicians who maintain the wireless network, while raking in more than $1.5 billion a month in profits, the unions said. "The company can afford fair wages and benefits for wireless workers," the protesters said.
Demonstrators marched up and down Nicollet Mall in front of the store and unfurled a huge banner that read, "CWA on Strike." In a twist on the usual chant of "No justice, no peace!" they shouted, "No justice, no dial tone!" adding "If the workers don't get it – shut it down!"
Greg Nammacher of SEIU Local 26 said the janitors and security officers who work in the downtown buildings support better wages for the Verizon workers. Solidarity, he noted, had helped Local 26 members win fair contracts earlier this year.
"These are the kind of things we can win when we all stand together," Nammacher said.
Kip Hedges, an activist for the 15Now, said the fate of the Verizon workers affects all workers.
"We can't afford to let thousands of unionized workers fighting for all of us to go down," he said. "That cannot happen."
He also compared the struggle at Verizon to the efforts by 15Now and others to get a measure on the ballot this fall to raise the minimum wage in Minneapolis to $15 an hour.
In addition to walking the picketline, a group of Verizon strikers went to the Philippines this week to investigate the extent to which the company is outsourcing their jobs. According to the CWA website(link is external), the group found Verizon is offshoring customer service calls to numerous call centers in the Philippines, where workers are paid just $1.78 an hour and forced to work overtime without compensation.
This article was reposted from Workday Minnesota.
Photo: Workday Minnesota