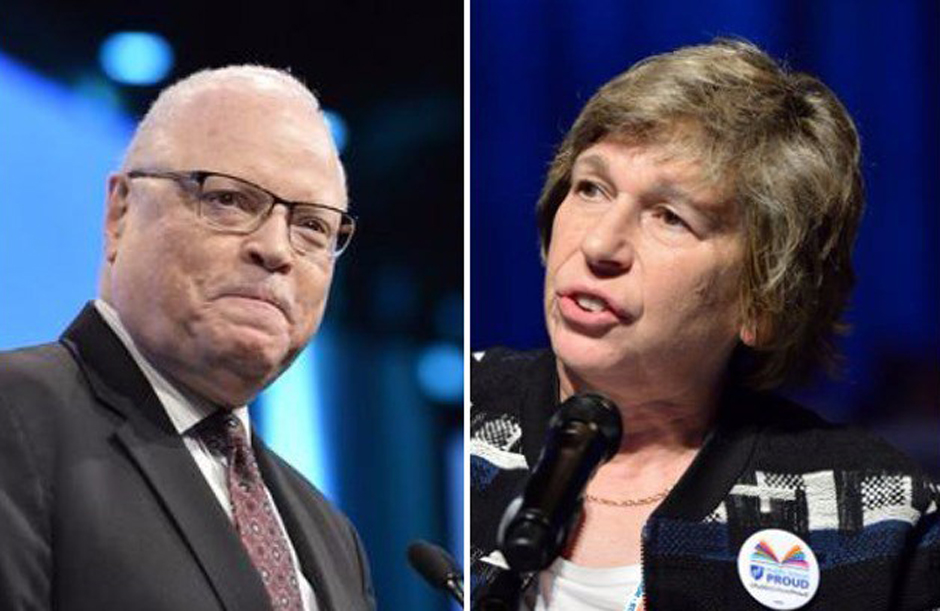 WASHINGTON—Stressing Brett Kavanaugh's anti-worker court rulings and writings – and educating their members while urging them to contact their senators – unions have started their mass mobilization against President Trump's nomination of Kavanaugh to the U.S. Supreme Court.
Their objective: To convince enough key senators to turn against the judge, whom Trump picked from a list of jurists submitted by two right-wing groups, so Kavanaugh's nomination goes down the drain.
Sens. Heidi Heitkamp, D-N.D., Joe Manchin, D-W. Va., Joe Donnelly, D-Ind.,  Claire McCaskill, D-Mo.,  Lisa Murkowski, R-Alaska, and Susan Collins, R-Maine, are considered undecided. The GOP controls the Senate 51-49, but Sen. John McCain, R-Ariz., is home battling brain cancer, cutting the margin to one. To beat Kavanaugh, foes need all 47 Dems, and both independents, plus two defectors.
Kavanaugh's judicial writings pushed the AFL-CIO to rev up its field operation educating members about him as soon as Trump unveiled his pick, federation President Richard Trumka told an August 2 telephone press conference. In late July, the fed announced its formal opposition to Kavanaugh.
Teachers (AFT) President Randi Weingarten, AFSCME President Lee Saunders, National Education Association Vice President Becky Pringle and Monika Roberts, an SEIU Local 500 member, also detailed what their unions are urging members to do to get senators to reject Kavanaugh.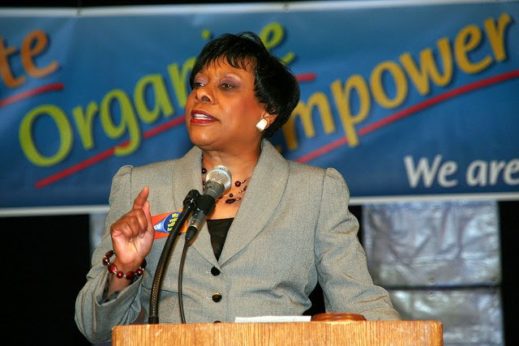 "As you see more of Kavanaugh's record, you see a judge who embraces corporate power as opposed to understanding the full impact of the Constitution and its opportunity for all," Weingarten added.
Trump selected Kavanaugh, a former George W, Bush White House aide and GOP political hack, before joining the federal bench a dozen years ago, to replace Justice Anthony Kennedy, the court's "swing vote." Kennedy retired July 31.
Trump and Senate Majority Leader Mitch McConnell, R-Kent., want to put Kavanaugh on the High Court before the November election and, if possible, before the justices start their new term on the first Monday in October.
The unions, along with the Alliance for Justice, are building coalitions with other groups concerned about other issues – notably reproductive choice – to oppose Kavanaugh.
Trumka said it didn't take much for the fed to rev up the troops against Kavanaugh. The leaders said the judge's record is festooned with anti-worker rulings in job safety and health cases and even against an organizing drive by Unite Here at Trump's former hotel-casino in Atlantic City, N.J.
"This is at the top of the list for our members," Trumka explained. "We didn't have to tell them. They're telling us."
Saunders said AFSCME is talking individually with members, emphasizing how the right-wing Federalist Society set up the list and litmus test Trump used to pick Kavanaugh and how the so-called Judicial Crisis Network is spending millions of dollars in TV ads for the judge. The two groups "are using money to control the country," Saunders said.
"It's back to the basics: Educating our members, working with coalition partners, mobilizing, organizing, using social media, our website and one-on-one talks," Saunders added. "Our members are responded and voicing their concerns."
AFT members have already made 20,000 phone calls to senators against Kavanaugh, said Weingarten. They're planning more calls in coming months and a union-wide town hall on the Kavanaugh nomination next week.
And Weingarten, a New York City middle school civics teacher, said her well-educated members are upset not just about Kavanaugh's record on workers' issues but about his expansive views of the presidency. Kavanaugh has said, off the bench, that no president should be subject to criminal or civil prosecution, or even questioning in such cases, while in office.
"They're educators who understand no one should be above the law," she declared.
"Our three million members are on the same page" when NEA contacts them, Pringle said. "Kavanaugh would further tip the balance of justice to the wealthy and away from our students and our teachers, and will not protect the professional rights of men and women" who work in U.S. schools. "And he'd replace public schools with vouchers," funneling tax dollars to parents of private school kids.
NEA members have already sent 60,000 messages to Congress against Kavanaugh, she added. "Our educators rose up" in strikes for better schools for their kids in the right-to-work states of West Virginia, Oklahoma, Kentucky and Arizona "and they'll continue to do that" nationwide against Kavanaugh.
"We'll talk about the threats to worker rights, to health care and to economic justice in all our communities, especially communities of color," Saunders said.
"From union rights to affordable healthcare to voting rights, there's too much at stake for our families to be silent. That's why I'm standing with millions of SEIU members calling on the Senate to reject this nomination," said Monika Roberts, an SEIU Local 500 member and recently-retired elementary school administrative secretary.
The Service Employees staged an American flag-festooned anti-Trump anti-Kavanaugh rally outside the court the night Trump selected the judge, and have since turned to a toll-free number (1-866-426-2631) and hashtag #SaveSCOTUS for their 2 million members to contact their senators.
Those on the press conference call all said their members would remember in November which senators supported Kavanaugh and which senators opposed him and supported workers – and vote accordingly.
"This is what elections are made of," said Weingarten, the civics teacher. "Elections do have consequences."