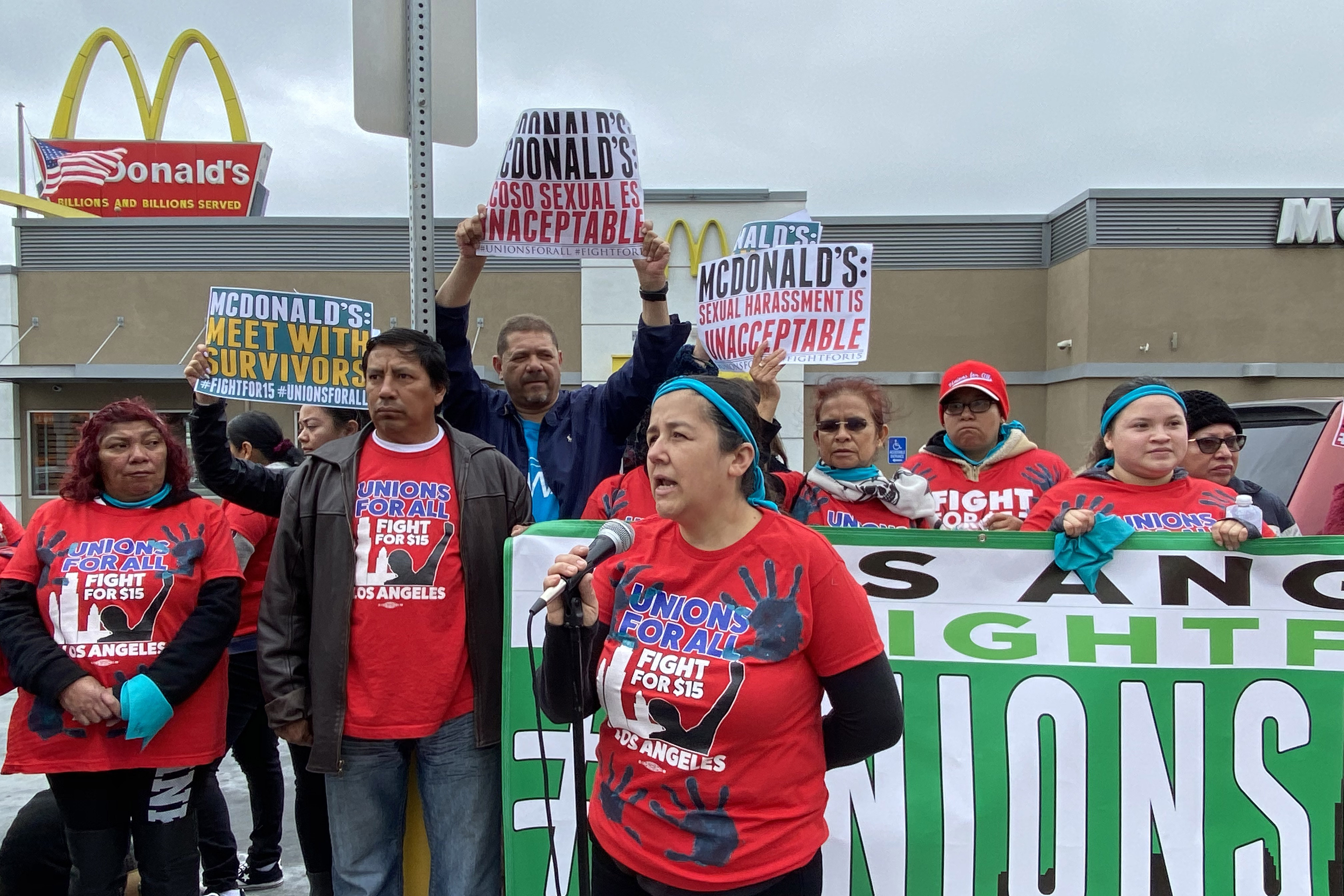 Unions moved quickly to try to protect workers and families from the spreading coronavirus, even as it potentially costs their members jobs. Many businesses, state, and local governments and even major league baseball and the NBA restricted attendance to prevent crowds that could transmit it.
So far, so good, but fast food giant McDonald's appeared to be slow on the uptake, "Fight for $15 and Union" said.
Individual protection wasn't the unions' only action to aid workers, consumers and the public. The Teachers, the Flight Attendants, Unite Here, the AFL-CIO and other unions pushed hard for emergency paid sick and family leave legislation to distribute up to $4,000 per affected worker per month. That emergency leave was part of a multi-billion-dollar relief package the Democratic-run House planned to approve on March 12.
The package would also include emergency jobless benefits, federal payment for personal coronavirus testing, and more money for Meals on Wheels, food stamps and similar programs.
"It's like the house is on fire," U.S. House Speaker Nancy Pelosi, D-Calif. "If they (workers) are losing their jobs because no one is coming to the restaurant" to eat, "we have to be there for them."
The Republican reaction to the coronavirus crisis is another matter. House Minority Leader Kevin McCarthy, R-Calif., called the relief package "partisan and irresponsible." Senate Majority Leader Mitch McConnell, R-Ky., denied demands to cancel or delay a scheduled congressional recess so lawmakers could work on it. And GOP President Donald Trump concentrated on relief for businesses, while banning travel to and from continental Europe and on blaming foreigners.
Trump also called for a payroll tax cut. That idea drew bipartisan scorn, and would not help workers who lost jobs due to the coronavirus. And Trump did not comment on lawmakers' demand to suspend new administration rules which would throw thousands of people off of food stamps.
The World Health Organization officially declared the spread of coronavirus a worldwide pandemic on March 11, with its chief hoping the use of that alert would spur those nations that have lagged in the fight to move, and fast. Thar includes the U.S., nonpartisan analysts said, though the WHO chief did not.
As of the morning of March 12, more than 111,000 people worldwide have been infected with the coronavirus, and 3,817 have died. WHO reported a 3.4% death rate from the coronavirus, compared to the reported 2% death rate from the infamous Spanish flu a century ago. That virus killed millions worldwide.
Affected U.S. workers range far beyond those who are obviously endangered, such as Flight Attendants whose carriers are cutting flights by the hundreds, health care workers tending coronavirus victims – many of whom lack protective equipment due to corporate irresponsibility – and teachers whose schools suddenly are closed.
For example, the Teamsters have been campaigning for years to unionize truckers in the nation's largest port, Los Angeles-Long Beach. But most of its cargoes come from China – and now there aren't any cargoes from China.
So the trucking firms are telling the drivers, many of whom lack both health insurance and jobless benefits, because they're misclassified as "independent contractors," not to come to work. They won't get paid, either.
And Fight for $15 and a Union, in an understandably angry tweet, slammed McDonald's for protecting only 5% of its fast food workers. "How about the other 95%?" its tweet asked.
By contrast, the NCAA banned fans from its tournament games in various arenas and several college basketball leagues called off their tournaments. The NBA suspended its season after one Utah Jazz player tested positive. So did pro hockey and soccer. New York City banned gatherings of more than 500 people. On March 12, baseball postponed its season-opening games.
Some 200 D.C.-area churches – including the Washington National Cathedral, which seats more than 2,400  – suspended services. Chicago called off its St. Patrick's Day parade. City Mayor Lori Lightfoot cited the risk of coronavirus transmission in huge crowds. (So did the saint's homeland, Ireland.)
Unions both lobbied for federal action for workers and issued pamphlets and guidance for members. The Teamsters' 11-page PDF pamphlet, at www.teamsters.org highlighted not just what workers can do to protect themselves, but what they can demand of their bosses.
"Several workers employed at a long-term care facility as well as firefighters in Washington State and two health care workers in California have been either quarantined or diagnosed with COVID-19," it explained. "Working people are at increased risk if they frequently interact with potentially infected or infected individuals."
The higher risk is for health care workers, first responders, airline crews, transportation operations crews – such as the port truckers – correctional workers, teachers, cleaning workers, "death workers," workers whom bosses deem "essential," and "other workers with broad exposure to the public," the PDF said.
The Association of Flight Attendants instructions were just as detailed. Its members are particularly vulnerable due to contact with sick airline passengers. "Wear disposable gloves when tending to a sick traveler or touching body fluids or potentially contaminated surfaces. Remove gloves carefully to avoid contaminating yourself, then wash hands," the union's guidance began.
After that, "When tending to a sick traveler from an infected region who has fever, persistent cough, or difficulty breathing, use additional protective equipment in the Universal Precaution Kit face mask, eye protection, and a gown to cover clothing."
AFA then told flight attendants to throw the gloves, face mask and "other disposable items" into a biohazard bag, clean and disinfect contaminated surfaces – and report the hazardous traveler to the Centers for Disease Control (CDC) "as soon as possible before" the flight's arrival.
Several unions gave Trump flak for inaction, especially for his inattention to workers who get sick, or lose paychecks and jobs because their bosses shut down as sales and revenue fall.
"As the largest union of healthcare workers, SEIU is concerned President Trump is jeopardizing the health and lives of millions of people by downplaying the severity of this coronavirus, COVID-19," said Service Employees President Mary Kay Henry.
"Instead of prioritizing release of safety guidelines and development of treatment plans, the administration is prioritizing stock prices, spreading false science, and unfairly targeting immigrants and travelers from Asia as a means to distract Americans from the fact this administration is failing to address this health emergency."
AFA President Sara Nelson was particularly caustic about Trump's 30-day travel ban to and from Europe, except for the United Kingdom. She called the ban "irresponsible, and pointed out even Britain's own Health Minister has contracted the coronavirus.
"Without any consultation with the industry, we don't even know what this means. President Trump said one thing during his TV address and the administration appears to be walking back several key statements. This only creates more confusion and proves this is about politics, not public safety."
"There is no explanation for how this will help fight the spread of the virus. It makes little sense when the virus is already in the United States…To fight this communicable disease, COVID-19, just like any we have faced before, we need to act together. We need government coordinating public and private actions, with healthcare authorities leading, and all stakeholders at the table to raise specific concerns and offering solutions."
"It appears [Trump's] announcement is an attempt to distract from the administration's failure to adequately test for the virus, failure to contain the spread, suppression of advice from leading scientists, and failure to consult with stakeholders. We do not accept the false narrative of a 'foreign virus' intended to stoke distrust among Americans, rather than focus on saving lives."
"The CDC weakening its protection guidelines in the face of a pandemic is unconscionable," AFL-CIO President Richard Trumka said. Trump did not mention the CDC move in his 10-minute speech.
"America's health care workers have shown true courage by tirelessly working the frontlines during the COVID-19 (coronavirus) outbreak. These workers are among the most at risk of contracting the virus and if they are not properly protected, the effects could be devastating.
"The government needs to do its job and strengthen its recommendations and hold employers accountable for implementing those protections. Cases of COVID-19 in America are already rapidly multiplying, and if our country is not protecting its health care workers, things will only get worse."
Reported coronavirus cases and deaths are declining in the site of its outbreak, Wuhan, China. But they're rising in Italy, Iran and at a particular nursing home in Washington state.
The Teamsters pamphlet went into considerable detail about anti-coronavirus measures. Those measures "depend on the type of work being performed and exposure risk, including potential for interaction with infectious people and contamination of the work environment," the Teamsters' PDF said. But the union also said bosses must shoulder responsibility, too.
"Employers should adopt infection control strategies based on a thorough hazard assessment, following the 'hierarchy of controls,' including using appropriate combinations of engineering and administrative controls, safe work practices, and personal protective equipment (PPE) to prevent worker exposures. Some OSHA standards that apply to prevent occupational exposure to COVID-19 also require employers to train workers on elements of infection prevention, including PPE."
And AFA partially faulted the airlines, which have been cutting flights by the thousands and laying off crew members. On the one hand, "management has taken actions that exceed Centers for Disease Control guidelines and instruction."
But airlines haven't agreed, yet, to the union's recommendations for action, and particularly to pay crews for grounded flights. "AFA is working to ensure Flight Attendants are receiving contractual pay and rescheduling protections. There is on-going assessment of the schedule, risk mitigation and passenger demand."
Zenia Javalera, president of Seattle-area Service Employees Local 6 in Seattle noted non-union workers are especially vulnerable to the coronavirus as they "do not have access to healthcare and cannot afford to miss time off work."  She, too, called for paid family and medical leave to cope with the emergency. Seattle is the site of the largest U.S. outbreak, in a suburban nursing home.
"Whether they work at hospitals, airports or office buildings," those workers, union and non-union "are being asked to deep clean and disinfect known sites of contamination…I urge area employers to mobilize against the virus and immediately."
"Grant any worker with symptoms paid sick leave to fully recover from illness before returning to work. Do whatever they can to increase worker access to our healthcare system. Distribute workplace-specific materials and equipment to keep workers safe and healthy. Hold labor-management meetings to listen to front-line workers and make workplace-specific plans to contain the virus, and develop workplace trainings to maximize worker and public safety."
McDonald's meanwhile, had another reaction to the coronavirus, Fight for $15 tweeted. "Worker health is public health," its tweet said. "I'm going on strike because McDonald's is putting our workers, our families and our customers at risk. The company decided to give just 5% of the workers who wear the McDonald's uniform emergency leave for Coronavirus. What about the other 95%?"
Then the workers, at least in Florida, rethought the threat of massing together on a picket line. They decided still to strike – via computer, from home.