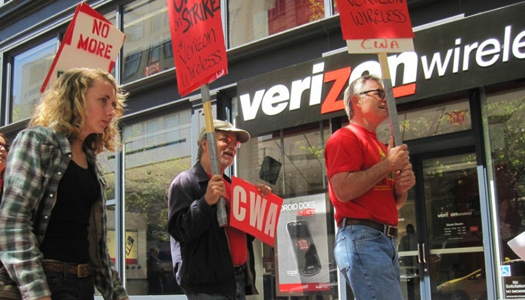 WASHINGTON – Some 40,000 Verizon workers from Maine down through Virginia marched back to work today after a company-forced 45-day strike won them raises, added 1,400 union jobs in the firm's call centers, forced union recognition in two stores in Verizon's rapidly growing wireless division and halted foreign outsourcing of other call center jobs in its tracks.
The workers – members of the Communications Workers and the Electrical Workers (IBEW) — will vote on the four-year pact by June 17. It gives the workers a compounded 10.9 percent raise over its life, a $1,250-per-worker ratification bonus in its first year and at least $700 yearly per worker in corporate profit sharing over the following three.
And while Verizon won increases in workers' share of health care cost payments, the raises and the bonuses more than made up for them, the two unions said.
The highly profitable telecom forced its workers to walk on April 13 after nine months of fruitless talks on a new contract.
But given Verizon's multi-billion-dollar profits in recent years, its intransigent demands to shift jobs from the U.S. to Mexico and the Philippines – where call center workers would make $1.78 an hour with no overtime – and its refusal to recognize CWA at Verizon Wireless stores, the forced strike quickly became a nationwide symbol of runaway corporate greed.
Verizon demanded unlimited rights to send installation workers away from their homes for two months at a time, the right to transfer call center jobs out of the U.S., and to double the workers' share of health care costs. It also offered only a 6.5 percent raise over four years.
Under pressure from both Obama administration Labor Secretary Thomas Perez, who brought the two sides together to restart negotiations, and negative publicity and dropping stock prices, Verizon finally settled and the unions won a lot more.
The pressure nationwide on Verizon came from major shareholders – including California and New York public worker pension funds-challenging its management and from solidarity protests from coast to coast. Sen. Bernie Sanders, Ind-Vt., a Democratic presidential hopeful, joined a CWA picket line in Philadelphia and 20 U.S. senators urged Verizon to settle.
Praising Perez and Federal Mediation and Conciliation Service Director Allison Beck for their role, CWA President Chris Shelton called the pact and its new jobs "a huge win not just for striking workers, but for our communities and the country. This contract is a victory for working families across the country and an affirmation of the power of working people."
IBEW President Lonnie Stephenson called the pact "a fair and mutually beneficial agreement that gets our members back on the job." IBEW represents 10,000 Verizon workers. CWA represents the rest. "When we stand together we can raise up working families, improve our communities and advance the interests of America's working people," Shelton added.
"Our children and our families have been depending on us to stand up for what's right and what's fair," Fitzgerald Boyce, a Verizon field technician in New York, told CWA. "Striking wasn't an easy decision for our families, but we knew that we had to fight to save good jobs and our way of life. We fought hard and we won."
"Because we fought together as a union, my kids will be able to see me at night. We were all so worried about the potential of transfers and more offshoring, but now Verizon is going to bring more jobs back. All American companies should be doing more to keep good jobs in the country," added Pennsylvania call center worker Christina Martin.
"For the first time, Verizon Wireless retail workers have a union and a fair contract," said Mike Tisei, a Verizon Wireless retail worker in Everett, Mass., one of two wireless stores CWA has organized. The other is in Brooklyn. The contract orders the firm to recognize the union at both.
"For the wireless retail workers who joined CWA in 2014, that means a better quality of life and meaningful economic security for our families. Today is a great day for my family and working families along the East Coast, and it's only possible because we stood together," Tisei told the union.
Other contract details include:
1) An immediate 3 percent raise on the first Sunday after ratification, followed by 2.5 percent yearly raises for three years, through August 3, 2019.
2) Defeat of Verizon's plan to close 31 call centers, cutting 700 workers. Instead Verizon will hire 1,400 new U.S. call center workers, 850 of them in the mid-Atlantic region, plus 100 more techs in the Potomac area. It will reclassify some "term" workers to regular full-time jobs.
3) "All existing job security provisions, including no involuntary layoff, forced transfer, and downgrade, were maintained despite the company's determined effort to eliminate them," the union fact sheet said. "Other employees are covered by existing provisions of the contract regarding layoffs, transfers, and other job protections which remain in full force and effect."
4) Required company-union meetings within three months of ratification to hash out differences on "training, productivity, performance requirements, forced overtime, performance feedback, scheduling issues, and monitoring."
5) An extra buyout clause. "Employees who elect to voluntarily leave the services of the company and are accepted under the special" plan "will receive one supplemental voluntary termination bonus of $40,000 in addition to the $10,000 stipulated in our agreements," the summary says.
Photo: Verizon workers, members of the CWA (pictured) and IBEW, achieved a major victory. | modernsara/Flickr (CC)