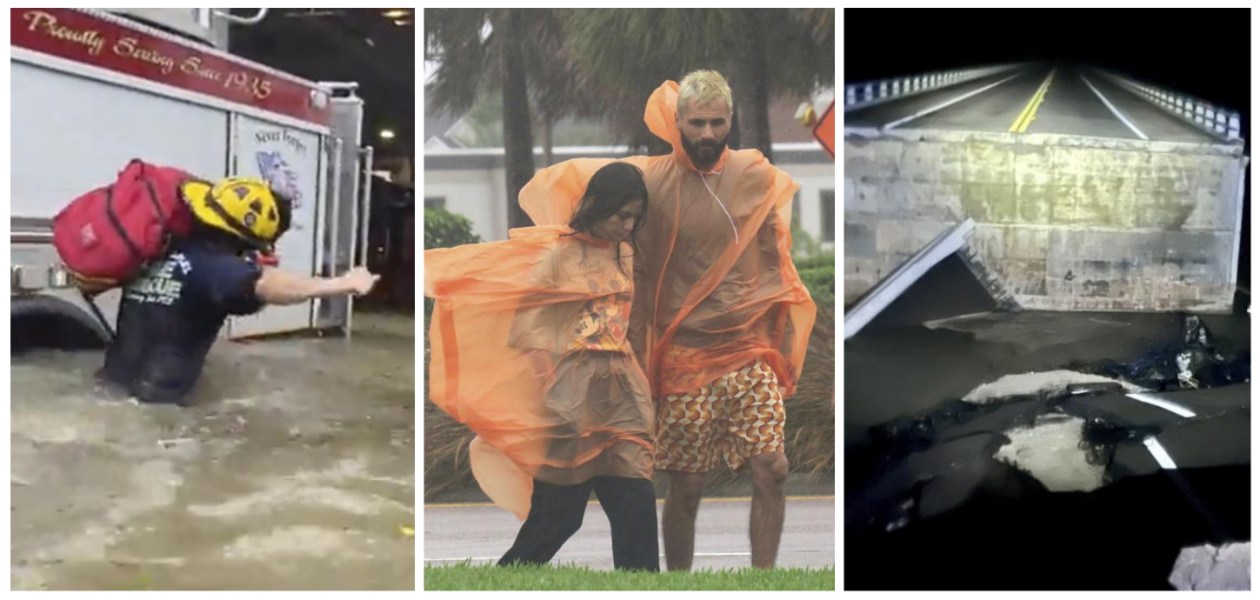 TALLAHASSEE, Fla.—With Hurricane Ian devastating Florida, even as it was downgraded to a tropical storm before moving out to sea, the Florida Education Association, the state's joint NEA-AFT affiliate posted a comprehensive directory of where state residents could get hurricane aid.
Besides FEA, which represents teachers and school staffers in every Florida county, aid is available from Union Plus and from Teamster Privilege for those who hold a Union Plus mortgage or credit card. Union Plus has $500 emergency disaster grants, among other aid. Information is at 800-622-2580 or online.
FEA's aid page includes shelter locations, Red Cross disaster centers, legal aid for people to cope with insurance claims, and available food from pantries, food banks and the U.S. Agriculture Department, among other assistance. The entire aid page is at https://feaweb.org/member-center/hurricane-resources.
Meanwhile, residents of other states face Ian impacts, too.
Ian's high winds and torrential rain lashed Jacksonville, in the northeast, after the hurricane roared up central Florida from the Tampa-St. Petersburg-Fort Myers area.
"Tropical Storm force winds will continue through Friday with brief gusts to Hurricane strength possible along the Atlantic Coast," the National Weather Service tweeted. "Numerous downed trees, power outages, damage to structures and mobile homes possible."
And now that Ian's out to sea again, NWS says, Ian may return to hurricane force winds and rain before hitting the Georgian and Carolinian coast.
The federal forecasts add Ian will weaken to heavy rains as it moves straight north and inland, sweeping through the middle of South Carolina and western North Carolina before hitting the coal country of southwestern Virginia and eastern Kentucky.
Through all this, scientists are pointing out that global warming intensifies the punch of such storms—evidence climate deniers, almost all of them right-wingers, studiously avoid or reject. Those same right-wingers, including Gov. Ron DeSantis, R-Fla., are not shy about seeking federal disaster aid when hurricanes hit.
It also produces faster acceleration of the storms' punch, analyst Andrew Freedman warned on Axios. That's what happened with Ian. It was a tropical storm in the Caribbean and when it hit western Cuba, but its winds went from 120 mph to 155 mph plus overnight as it approached Tampa-St. Pete.
Such a fast intensification can throw evacuation plans, no matter how well-developed, off, putting people in danger, he added.
"The danger of a rapid intensification shortly before landfall is that people will be caught off guard by the stronger storm, and get stuck in a vulnerable spot for storm surge flooding, damaging winds or both.
"Emergency management officials design their evacuation plans based on storm intensity and movement. Sudden shifts in either one can render their planning inadequate."
That's what happened to Floridians when Ian became a 155 mph storm, he said. "All landfalling storms now contain more dangerous coastal flooding in their arsenals, due to human-caused sea level rise."
Waves reaching 16 feet hit Fort Myers, National Public Radio reported.
"The trends seen in the past several years, together with studies of how hurricanes are changing in a warming world, point to a key role for human-caused climate change,' said Freedman.
"Warm, tropical waters are the main source of fuel for hurricanes, and the oceans are absorbing about 93% of the extra heat going into the climate system from human-caused emissions of greenhouse gases. Air temperatures are also increasing, and when that happens, the air can hold more water vapor. This is helping to make hurricanes wetter than they used to be," according to a 2020 National Academy of Sciences study.