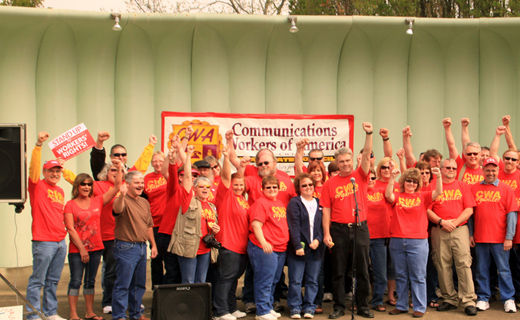 NEW YORK – Contract negotiations at General Electric Co., get underway on June 1 in New York City. The negotiations cover 10,000 IUE-CWA workers and another 6,000 workers from other U.S. unions.
Critical issues for workers are healthcare and retirement security, jobs and wages. IUE-CWA members want a fair contract, one that reflects the company's continuing financial success and workers' contributions to the company's bottom line. In 2014, CEO Jeffrey Immelt received $37 million in compensation, about 1,057 times the pay of an average worker of $36,134.
IUE-CWA members from every GE local have been holding solidarity rallies, culminating with a multi-local rally in Louisville on Saturday, May 30. IUE-CWA'ers will continue to mobilize for the fair contract they deserve.
IUE-CWA President Jim Clark, CWA District 1 Vice President Chris Shelton and Bob Santamoor, IUE-CWA GE Conference Board chairman, will kick off the negotiations. The contract expires June 21.
Clark said, "These will be difficult negotiations, but GE is financially healthy enough to meet our very reasonable demands. We have the full support of our membership behind us, and we are ready to work hard and get a good contract."
IUE-CWA represents workers work at multiple GE locations nationwide.
Photo: General Electric workers in West Burlington, Iowa. | CWA