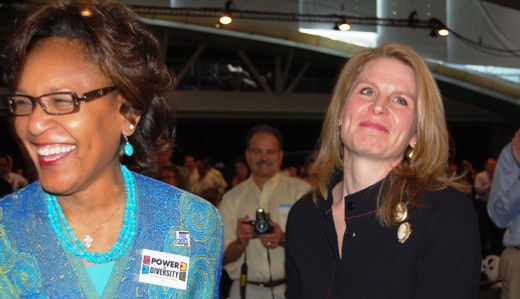 ORLANDO, Fla. – The labor movement, determined to build its membership among the nation's youth, will sponsor a Young Leaders Conference this June in Washington.
The announcement was made last week here at the AFL-CIO's executive council meeting by Liz Shuler, the federation's secretary-treasurer. There will, according to Shuler, be a series of preparatory gatherings in five cities between now and the time of the conference.
During an interview here Shuler said the summit, which will bring together the nation's young union leaders, is aimed also at drawing major participation from young leaders and members of a broad range of community and other organizations including student groups.
Shuler, 39, is the second woman and the youngest person ever to hold the second most powerful position in the U.S. labor movement.
"We'll use the summit to pick their brains about what would be the best ways to attract young people to organized labor," Shuler said. The intention, she said, is to begin building the labor movement in earnest among people between 18 and 35 years of age.
Labor Department figures indicate that among those 16-24 years old only 4.7 percent are unionized, compared to 15.7 percent of those aged 45-54 and 16.6 percent of those between 55 and 64.
Shuler warns, however, that the labor movement has problems in the area of youth participation that go well beyond just the issue of numbers.
"We have to get our house in order before we can attract young people," she said. "They're very transient workers and we must find out what will get them to be interested in unions and what turns them off."
In the overall economy, she noted, a new model of work is developing and "a lot of young people are caught up in that new model while many unions are not."
Shuler said that many attitudes prevalent in the labor movement also need to be changed. She recounted the difficulties she faced with people resenting her activism in her own union, the International Brotherhood of Electrical Workers local in Portland, Oregon.
"People told me I shouldn't be speaking up until I was around for at least five years," she said.
Shuler explained that "one piece of the problem is how to deal with seniority in the labor movement." She said there was a need to include young members in the line-up for succession to many of the currently graying union leaders. Shuler, herself, was promoted to the position of top aide to IBEW President Ed Hill before she was elected last fall to her current AFL-CIO position.
Shuler prepared and delivered a report on how to attract youth to the executive council during its meeting. In that report she identified six objectives that she said all unions, state federations and state labor councils must achieve if they are to make unions more attractive to young workers.
The report calls for creation of "a permanent and unified structure for young workers."
It proposes creation of a mentoring program to help train young union members to move into leadership positions.
It calls also for a major new focus on organizing drives in places where young workers are concentrated.
The report tackles another area, one Shuler calls the need for "long-term training and education."
"We're even going to have to reach down into secondary schools where we can build community and student partnerships," Shuler said, "providing resources for existing leaders and emerging leaders."
Photo: AFL-CIO Secretary-Treasurer Liz Shuler (right). PW/Teresa Albano